University Pastor Officiated a Gay Wedding—Now She Might Lose Her Job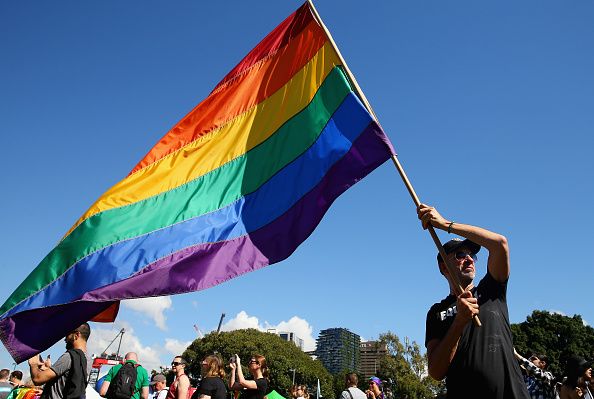 Last April, a Chicago university pastor officiated the wedding of a gay staff member who considered her a close friend.
On Friday, Rev. Judy Peterson faces a church disciplinary hearing, and might lose her job permanently.
Peterson, the campus pastor at North Park University and a well-regarded community figure for the past 11 years, was placed on paid sabbatical over winter break after a photo of the wedding surfaced on social media. The Evangelical Covenant Church, the Chicago-based denomination that oversees the evangelical Christian college, also suspended her credentials.
Covenant pastors "are not permitted to officiate at same-sex unions, blessings or marriages," according to the church's ethical guidelines. The directive runs in contrast with the denomination's long-standing tradition of supporting theological dissent and debate.
"Freedom for laity is a gracious posture, welcoming all wherever they are in their faith journey," church spokesman Ed Gilbreath said in a statement to The Chicago Tribune. "Freedom for clergy has boundaries."
In a now-widely circulated email to her chapel team, Peterson acknowledged that after saying yes to officiating the wedding of Marcus Mason-Vivit in fall 2016, she'd wrestled "with the reality of what officiating a same-sex wedding would cost me in regards to my reputation and standing in my own denomination." She'd weighed the pros and cons. She'd prayed with a church executive.
But her decision ultimately came down to a conviction: "If I'm going to die on a hill, I'm not going to die on the hill of exclusion, but on the hill inclusion."
"I have sat with countless LBGTQ young people who wrestle with whether or not they are worthy of love ... and who fear they will never be able to truly be themselves in the churches in which they were raised," she said. "And I have done my best to be their pastor."
Mason-Vivit told The Chicago Tribune he is "deeply saddened" that "someone so beloved by thousands of people had something taken away from her because of who I married and who I love and who loves me."
"We have a bit of hope that this is not the end for Judy," said Mason-Vivit, now 31.
The university, in a late December statement confirming Peterson's paid sabbatical, asked the student body "to pray for Pastor Judy, the church and the university. ...We pray for wisdom and we desire to work for constructive outcomes in an extraordinarily difficult situation for all."
University administrators and student leaders back on campus this week have rallied behind Peterson, hosting a town hall meeting and chapel chat to hear concerns. As of Friday morning, more than 4,500 people have also signed a petition demanding a moratorium on disciplinary measures for clergy involved in such weddings, as well as the "opportunity for pastoral guidelines regarding human sexuality to be discussed."
A Facebook group titled "North Park Stands With Judy Howard Peterson" has also accumulated more than 700 likes.
Alumnus Maddix Vickers, 32, is one of many supporting Peterson. Despite graduating, Vickers had returned to her office after coming out in 2011, according to The Chicago Tribune.
"I wasn't talking to my family, so I didn't really know where to run with it," Vickers said. "She was with me."