Pennsylvania Official, Girlfriend Charged With Spiking Drinks and Secretly Filming Drunk Woman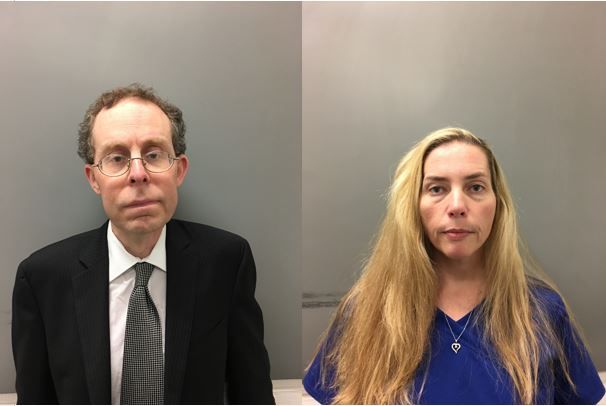 In Bucks County in Pennsylvania, Lawrence Weinstein was a pillar. The attorney was partner at a white-shoe law firm, was nearing the sunset of a six-year-term as an elected supervisor, and served as a liaison for veterans. After hours, however, investigators say he was a perverted predator. Weinstein, who with his girlfriend, allegedly spiked a woman's drinks until she became unconscious, snapped nude pics of her with cellphone, a webcam and spy spectacles.
"Can you see anything," Weinstein, 44, allegedly asked in a text to his 45-year-old girlfriend Kelly Drucker minutes past midnight on November 11, 2017, according to a Northampton Township Police criminal complaint obtained by Newsweek.
"Absolutely," Drucker allegedly responded of the moment the first victim was blacking out.
Drucker had been dining with the woman, identified in the complaint as "Victim #1" at a local Mexican Restaurant.
Their correspondence showcased Weinstein coaching Drucker to keep plying the woman with Everclear, tease her about having a threesome and get her drunk enough to return to Drucker's home where he could watch a peepshow using a webcam that was trained on the toilet.
This was the same webcam the couple apparently tested out on Drucker as a dry run.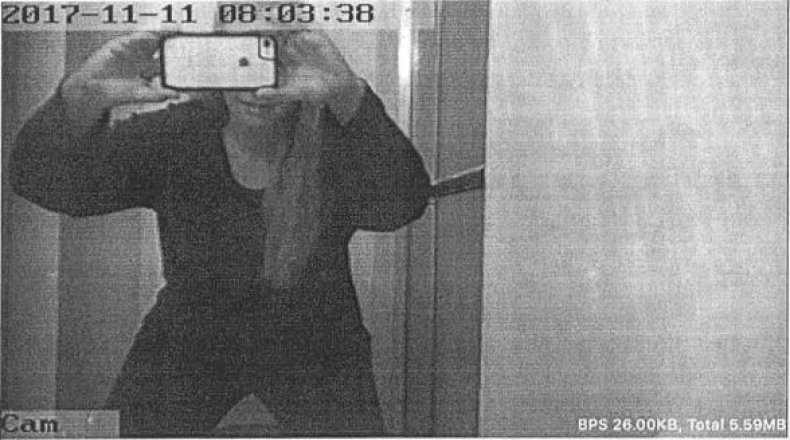 Once the woman lost consciousness, the complaint suggests Weinstein demanded to see images of her in various states of undress.
"Please send them ASAP," Weinstein texted back. "Please keep her pants down and get her naked."
Weinstein and Drucker were booked on Tuesday for multiple felonies, including violating Pennsylvania Wiretap Act, committing false imprisonment, invasion of privacy, reckless endangerment and criminal conspiracy, according to the Bucks County District Attorney's Office.
Newsweek's attempts to reach Weinstein and Drucker were unsuccessful. It was not immediately clear if they retained an attorney.
When quizzed about the night in question, Weinstein allegedly told the detectives that he traveled to Drucker's home when Victim #1 was there not to take advantage of her, but because he was "concerned" about the woman and wasn't sure "if he should call an ambulance," according to the Bucks County District Attorney's Affidavit of Probable Cause.
Both posted bail and are due back in Bucks County Magisterial District Court on October 18, court records show.
In less than a decade, Weinstein became a partner at the Ardmore, Pennsylvania law firm Silver & Silver. His expertise included Social Security Disability Workers' Compensation and Long-Term Disability, according to his biography, since scrubbed from the firm's website.
"I didn't learn about what happened until a day or ago or so," the firm's top lawyer, Mike Silver told Newsweek. "[Weinstein's] been put on administrative leave pending the investigation."
He said the decision "is in everybody's interest so that it can be resolved in a court."
Silver refused to answer if there were any issues with Weinstein's cases or performance before the underskirt photography accusations swirled.
At present, Weinstein status with the Disciplinary Board of the Supreme Court of Pennsylvania remains "Active"—meaning he isn't disbarred or under Administrative Suspension.
Robert Pellegrino, Northampton township manager, told Newsweek that he and his colleagues were floored by the news.
"It's reprehensible and it's something that he did on his own time," Pellegrino said. "We're really just shocked."
He confirmed that Weinstein was elected in 2013 to a six-year term on the Board of Supervisors (there are five elected positions in all).
But the attorney had tendered his resignation letter back on September 6 citing "a result of significant health and other personal issues."
At first blush, the "personal issues" seemed almost boilerplate.
"I didn't think anything of it at the time," he said.
Serving as the Svengali, the text messages show a determined, lusting man hoping to score a peek of an acquaintances privates.
The culpatory evidence was brought to light by a concerned father who was also Drucker's ex-husband.
In August, the father noticed his 13-year-old daughter was carrying a white iPhone. The father had reason to be concerned. A year before, the teen was preyed on by an adult man who tried to compel her to send nude photos of herself.
In this instance, the daughter told her dad the device was "her mother's old cell phone," according to the affidavit.
The father started to look at the phone and, the affidavit suggests, "discovered numerous text messages, photos and videos exchanged between Kelly Drucker and her boyfriend, Larry Weinstein."
The X-rated pics and clips, also allegedly included "naked photos and videos" of the girl's mother "going to the bathroom."
The find was turned over to authorities who used the material as a play-by-play account to discover the couples' "mission."
It began back in October 2017 where Drucker wined and dined a woman who appears to work with Weinstein.
After allegedly spiking her beverages with stronger proof alcohol, Weinstein told Drucker to tell the woman "how hard" she worked for Northampton Township and "what a good job she does," in order to comfort her, the affidavit states.
The scheme was for Drucker to "stay sober" while the targeted woman would "get bombed" with "½ Everclear and ½ wine." They allegedly planned to prevent her from using the bathroom until she retired to Drucker's home—where the rigged webcam and spy glasses would be at the ready.
"Don't let her go to the bathroom until she gets back to your place," Weinstein allegedly commanded Drucker in one text.
Repeatedly, the document suggests, Weinstein is captured in the text exchange telling Drucker to fill the woman's glass ("keep her drinking") and demands that she "pee[s] at your house no matter what" and "More drink must pee and pass out."
Once the drunk woman is back at Drucker's home Weinstein to get the woman in the bathroom and utilize the spy glasses, which apparently are fit with a chip that can record.
"Go help her with glasses on and lights on and get her naked!!! I will reward you.… Get her naked and pictures," he texts, according to the complaint.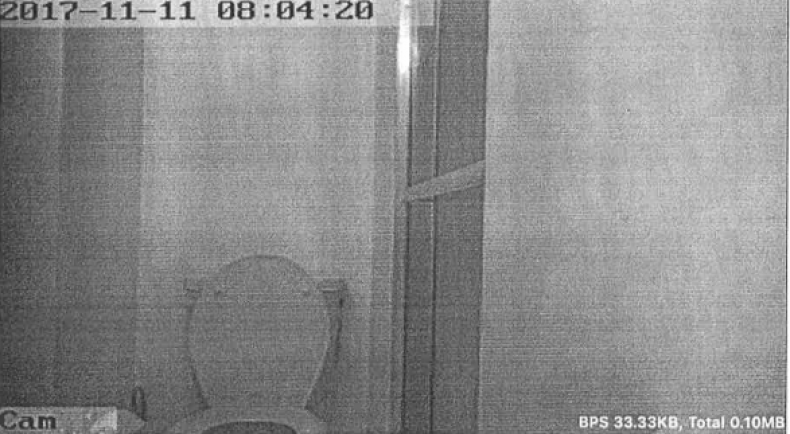 In August, detectives interviewed Victim #1 about the dinner at the Mexican restaurant who told them she could only remember that the wine she imbibed that November night with Drucker "didn't taste right."
As far as the rest of the evening, the woman said she drew a blank—forgetting "the rest of the night or going to bed," the affidavit states.
When she surveyed the illicit footage Weinstein and Drucker allegedly captured "without her knowledge" the woman confirmed they were images of her body.
Days later, investigators performed a search of Weinstein's home and seized cell phones, an Apple iPad and computers, the affidavit states.
The attorney's iPad recovered gave the investigators further evidence that there may have been more victims.
There were 72 pictures, including Weinstein taking selfies and others of himself and an unconscious woman identified in the affidavit as "Victim #2."
When informed of the images in question, Victim #2 told authorities she had no recollection of the photo session Weinstein conducted and further stated that "she did not consent to Weinstein to taking photos and toucher her intimate body parts."