Why Chefs Love Pop-up Food Festivals Even More Than the Guests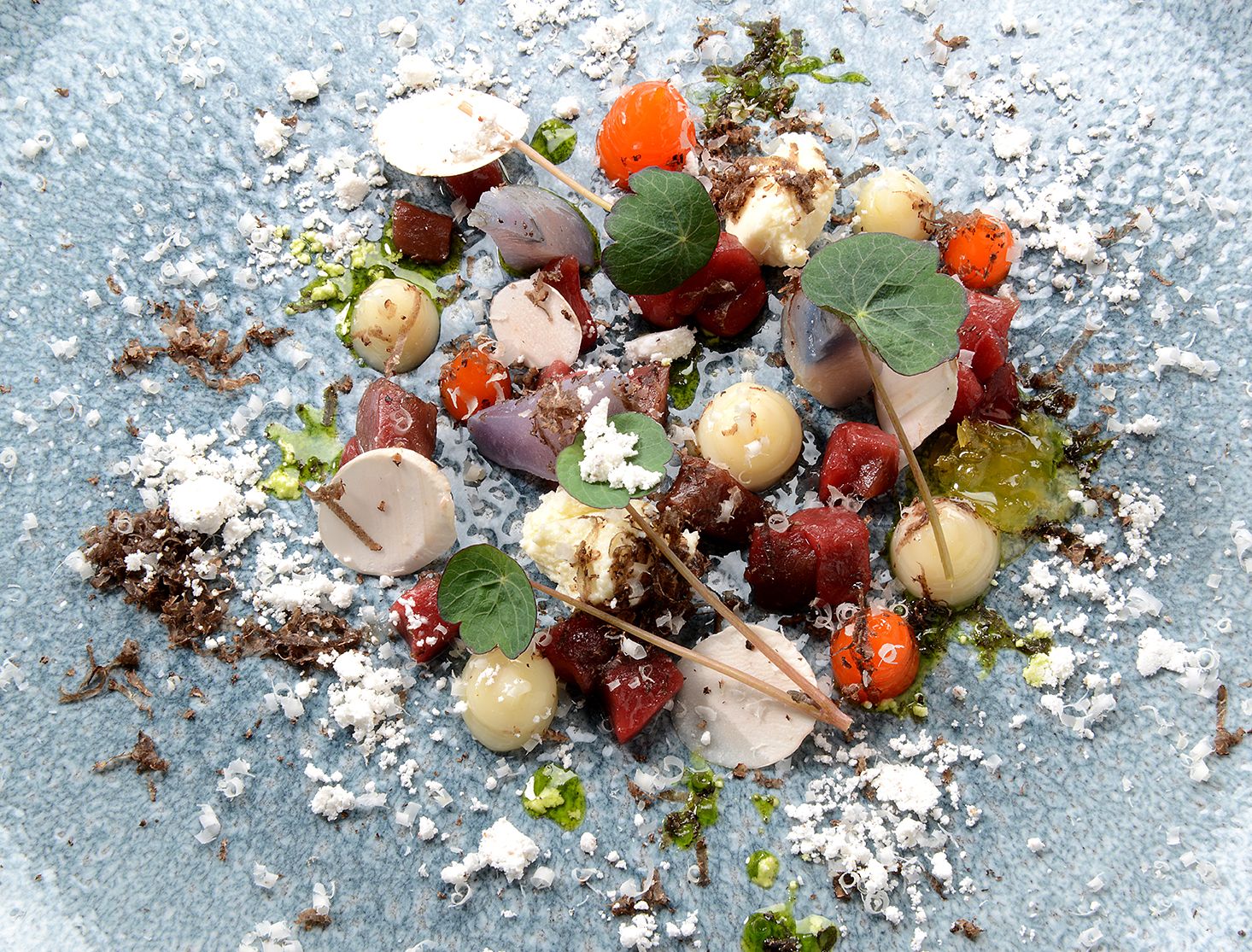 On Friday January 20, the multi-Michelin starred British chef Michael Wignall cooked a seven-course tasting menu for about 110 folks at Obsession 17, the gastronomic festival dedicated to culinary excellence held annually at the Michelin-starred Northcote hotel and restaurant in Lancashire, England. The dinner, which included dishes such as torched eel, rillette and consommé, with Granny Smith apple, aerated white chocolate and Oscietra caviar, was entirely delicious, and ended in the early hours, followed, inevitably, by a session of decompression—i.e. drinks—in the bar. Wignall then grabbed a few hours sleep before catching an early flight from Manchester to Exeter to arrive at his own establishment, Gidleigh Park in Devon, in time to prepare and run the restaurant's lunch service.
So it goes if you're a Michelin-starred chef taking a busman's holiday in Lancashire's Ribble Valley. This year's Obsession festival gathered chefs from the U.S., Japan, China, Australia and Europe—23 in all­—who cooked over 17 nights, for the restaurant's mostly local guests, all of whom had booked and paid for their tables three months before, plus whomever of their peers their stay overlapped with, and perhaps one or two members of the press.
"There are other high end international food festivals, but none that go on for 17 days," says Northcote's Kaye Mathews, who, along with Chef Patron Nigel Haworth and Managing Director Craig Bancroft, has been organizing Obsession since it began in 2001.
In fact, it was when Haworth was invited to California by English chef Tony Baker (of Montrio Bistro in Monterey) to take part in a gathering of mostly local chefs, including Alice Waters, Thomas Keller and the late Charlie Trotter, that the idea occurred to him to start something similar at Northcote. That same year, with no better reason than as a get-together, he invited three friends to cook alongside him over four nights. It turns out he couldn't have offered them anything more tempting.
Since then not only has Obsession has grown enormously, but similar festivals have mushroomed across the globe. There are differences of course: The Culinary Festival Bernard Loiseau in Mauritius, now in its 12th year, is organized as a competition. Ireland's Ballymaloe Litfest, which began in 2008, focuses on their literary tradition, gathering not just chefs but food and wine writers from around the world to come together for three days in the spring. The 25-year-old Melbourne Food and Wine Festival is statewide and takes place over an entire month. Then there is the ever-growing Gelinaz!, a collective of chefs from around the world who swap not just restaurant shifts, but, for four days, entire life routines, when they take part in the Grand Gelinaz! Shuffle, which seems more akin to experimental performance art, a kind of culinary happening, than a festival. But all are united in being able to draw many of the world's very best cooks, from Ana Ros to Hideaku Matsuo, Jacob Jan Boerma to Enrico and Roberto Cerea.
Even the Carmel Festival that first inspired Haworth, re-invented itself in 2014 as GourmetFest, and is now a four day shindig with wine tastings, demos, and special meals cooked by chefs from all over the world.
But none are as intense as Obsession, which lures chef after chef to its beautiful but relatively obscure location, not to talk or put on a show to some huge room full of a worldly audiences, but simply to cook their best food. Why do they do it? Partly for stimulation and education and as a public relations exercise, of course. But actually most of the chefs don't need publicity: Their reputations precede them, and many do research trips abroad to satiate their curiosity and explore new ingredients and flavours at their own pace.
No. Joining Gelinaz! or cooking in Carmel-by-the-Sea or at Obsession (which plans to get even bigger: 20 nights of culinary excellence by 2020) is purer than that. Chefs take part in Obsession, it seems, because it allows them to stop their day job of running a kitchen, developing a concept, making figures add up and steering their ship, and instead to cook all day and for much of the night too. 'Festival' is right, and it's for this reason that these sorts of masonic gatherings of acclaimed chefs are only gaining momentum. They are cooks. They have given their life's work to feeding us when we want not just to be nourished, but to be entertained by food; amazed and dazzled. Their restaurants are necessarily their places of work. Festivals are where they get to play.
Obsession 17: Northcote, Lancashire, U.K., continues to February 5; www.northcote.com/obsession/