Northeast Storm Update: Death Toll, Power Outages After Rain, Wind
The Northeast United States was rocked Tuesday by severe storms. The region was still feeling the effects come Wednesday.
Watches and warnings—about storms that could bring hail, heavy rains, flooding and spark tornados—stretched from Pennsylvania to New England on Tuesday, according to CBS. The storms proved deadly, killing at least five people, all of whom died after trees fell on vehicles, the Weather Channel reported.
Among those killed by the storm was an 11-year-old girl in New York state. As the girl and her mother returned from getting groceries, gusts of winds slammed shut the doors of their SUV, trapping the girl in the front seat of the vehicle right as a tree fell, The Washington Post reported, citing police.
"The mother was on the porch, crying, 'My daughter, my daughter,'" witness Ramon Rodriguez told WNBC-TV. "It kind of gave me a chill when I first saw it."
The mother suffered minor injuries. The girl and her mother have not been identified.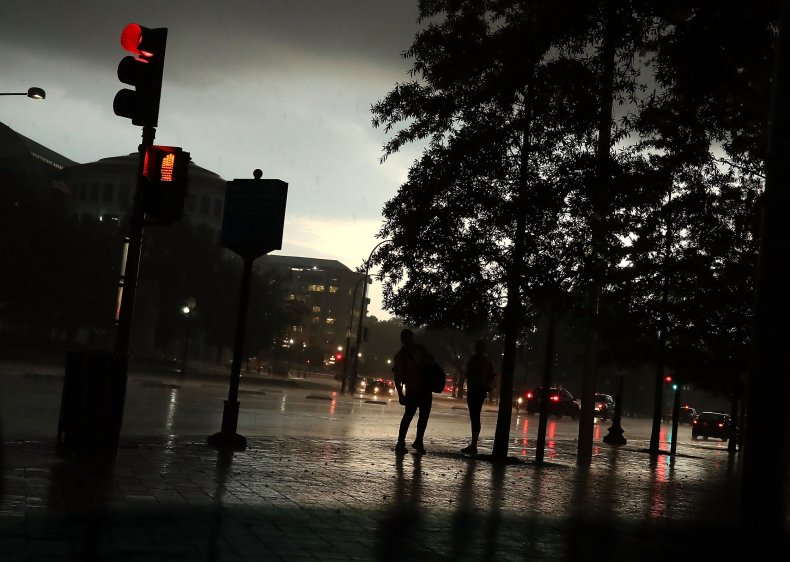 The winds that came along with the severe weather proved to be the most damaging aspect of the storms. National Weather Service meteorologist Steven Weiss told NPR that it was primarily a wind event with "common gusts of 40 to 50 miles per hour, and some gusts were stronger than that," which felled numerous power lines and trees.
Power outages remained in many areas into Wednesday afternoon, with the lion's share of outages in New York state, Connecticut and Pennsylvania. It was estimated some 330,000 in total were still without power across New York, Connecticut, Pennsylvania, New Jersey and West Virginia.
While the severe storms had passed, but rain was expected to continue over the next few days along the East Coast with some 4 to 8 inches expected to fall in the area from Virginia to southern New Jersey, according to the Weather Channel.