'Bomb Cyclone' Could Hit Northeast With Intense Rain and Winds
On Wednesday and possibly continuing into Thursday, the Northeastern United States will likely face severe rain and intense winds, which may cause flooding, power outages, and travel delays. The storm's intense pressure change may qualify the storm as a meteorological "bomb," which often causes concentrated areas of high-speed wind and heavy rain. The rain and wind are expected to stretch from Maine down to Northern Virginia and also reach inland into Western New York and Pennsylvania.
Accuweather reports that meteorologists are anticipating winds as fast as 40 to 50 mph in New York City and gusts between 50 to 60 mph in parts of New England, which could affect high bridges and cause flight delays. Gusts of that intensity can also bring down branches and significant amounts of debris. Significant foliage will also lead to slick roads in forested areas. Accuweather also reports that some trees may be impacted by the intense wind. Those venturing outside should be aware of their surroundings and avoid trees and unsecured structures. Areas along the coast will be most affected by the intense winds.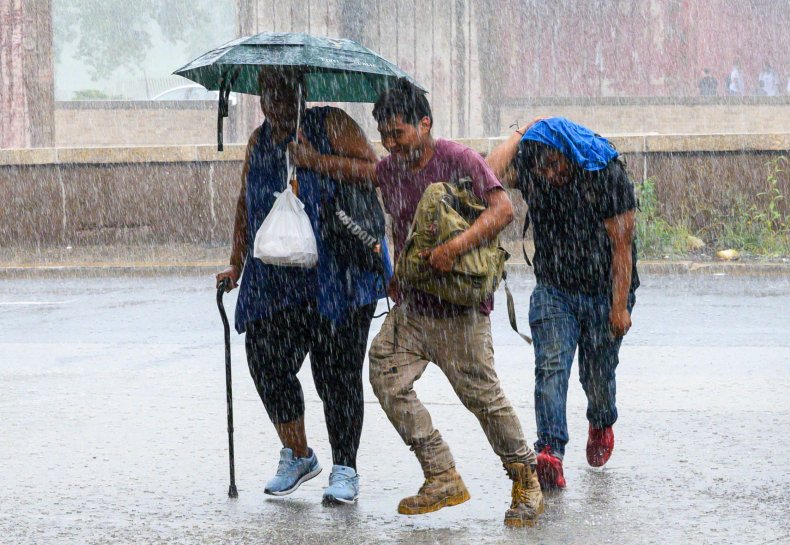 Up to four inches of rain may fall on some regions, but most areas will only receive one to two inches of rain. In addition to slick roads, some minor flooding may occur. Accuweather and The Washington Post report strong possibilities of snow throughout the Adirondacks and parts of New England as temperatures drop.
Following the storm, East Coast residents can expect a significant drop in temperature, with areas of Western Pennsylvania dropping in to the low 30s. Temperatures in New York, Boston, Philadelphia, and Washington D.C. are expected to hit temperatures in the 40s. The expected cold front follows mild weather between the 50s to high 70s last week in the Eastern corridor. Western Pennsylvania already saw a low of 37 degrees on Sunday.
The intense change in pressure may qualify the storm as a "bomb cyclone," but meteorologists appear split on whether the barometric pressure will drop enough for it to qualify, with The Washington Post anticipating "bombogenesis," a drop by 24 millibars in 24 hours, but Accuweather appear more reserved about the coming storm's strength. The Weather Company reports that by Friday pressure will have normalized, but residents of the Northeast can still expect wind as they head into the weekend.
Temperatures are expected to rise again next week, according to The Weather Company, as highs in the low 70s return to New York from Sunday to Tuesday. While warmer, the beginning of next week will also be rainy, with showers expected. Massachusetts and Pennsylvania can also expect highs in the 60s and 70s with some rain to kick off the next week.