Northern Ireland Breaks Record for Longest Time Without a Government, Sparking Protests
Northern Ireland broke Belgium's record on Tuesday for the longest peacetime period spent without a government, reaching 589 days without a functioning cabinet.
The political impasse, which started with a disagreement over corruption allegations around a renewable energy scheme, among other issues, has fundamentally altered the way the region has been governed, for well over a year. Northern Ireland had previously been governed by a power-sharing agreement that was enshrined in law by the 1998 Good Friday Agreement.
The agreement put end to years of fighting between the unionists and loyalists, who favored an alliance with Great Britain, and the nationalists and republicans, who sought to merge with the Republic of Ireland. Both sides used egregious violence to achieve their ends, in a conflict that left over 3,500 people dead in a country whose population numbered less than a million. But the power-sharing system was put on hold in January 2017 due to disagreements between the Democratic Unionist Party (DUP) and the republican Sinn Féin. With the Good Friday Agreement now in its 20th year, both sides appear no closer to resolving their differences.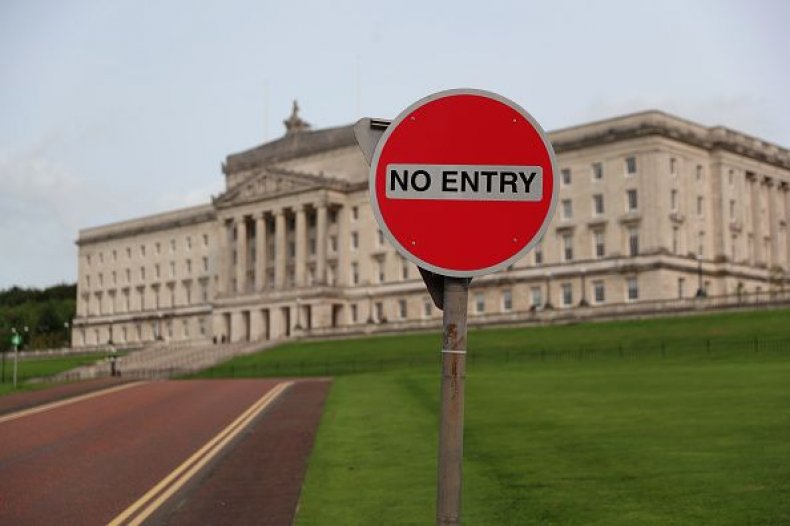 Northern Ireland is effectively being run out of London, with Secretary of State for Northern Ireland Karen Bradley, a parliamentarian from Britain's Conservative Party, doing all of the legwork to keep the government operational.
Meanwhile, citizens are getting frustrated. The hashtage #WeDeserveBetter has taken over social media in Northern Ireland. On Tuesday, as they prepared to break Belgium's record, protesters gathered across North Ireland to demand a solution. Supporters of the DUP released a banner calling on Sinn Fein to end its boycott of the parliament, known as Stormont. Some demonstrators said that the lack of government is having an impact on crucial government services, including hospitals.
Irish Prime Minister Leo Varadkar and former president Bill Clinton have also called on the two parties to resolve their differences and get back to work.
Looming in the horizon is Brexit, or the United Kingdom's exit from the European Union, which could permanently alter key provisions of the Good Friday agreement. Discussions between Westminster and Brussels have failed so far to come up with a mutually acceptable proposal for the border between Northern Ireland and the Republic of Ireland. Following Brexit, Belfast would exit the EU with the rest of Britain, while Ireland would remain a key member of the union. Determining how goods and people crossing the border will be regulated remains a significant point of contention in the Brexit negotiations.
Some have suggested that Brexit is in fact the real issue underpinning Northern Ireland's present woes.
"The trigger for the collapse of Stormont's power-sharing institutions concerned a relative anodyne issue—the implication of the DUP leader Arlene Foster in a seriously flawed renewable energy scheme. However, there were a range of other factors which created a breakdown in trust between Foster's party and Sinn Féin," Peter John McLoughlin, a lecturer in politics at Queen's University Belfast, wrote in an op-ed for the Irish Examiner that blamed Brexit for Northern Ireland's political impasse.
"Arguably, though, the key factor that continues to prevent an agreement to restore power-sharing in Northern Ireland is the same issue that has destabilized politics right across the UK: Brexit. The day after the vote to leave the EU in 2016, Sinn Féin called for a vote on Irish unity. This was linked to the threat that Brexit could re-establish a hard border in Ireland, with serious economic implications for both parts of the island. Sinn Féin argues that this might change the attitudes even of many unionists in Northern Ireland, creating a momentum towards republicans' long-standing goal of reunification. The DUP naturally opposed such suggestions. And, indeed, it had backed the Leave campaign in the referendum," McLoughlin continued.
Sinn Féin's leadership, however, says that leading issues such as marriage equality and legal protections for the Irish language also need to be hashed out before they will return to govern with the DUP.
From 2010 until 2011, Belgium had also remained without a cabinet for 589 days, which is believed to be the longest period a developed country has spent without an elected government.