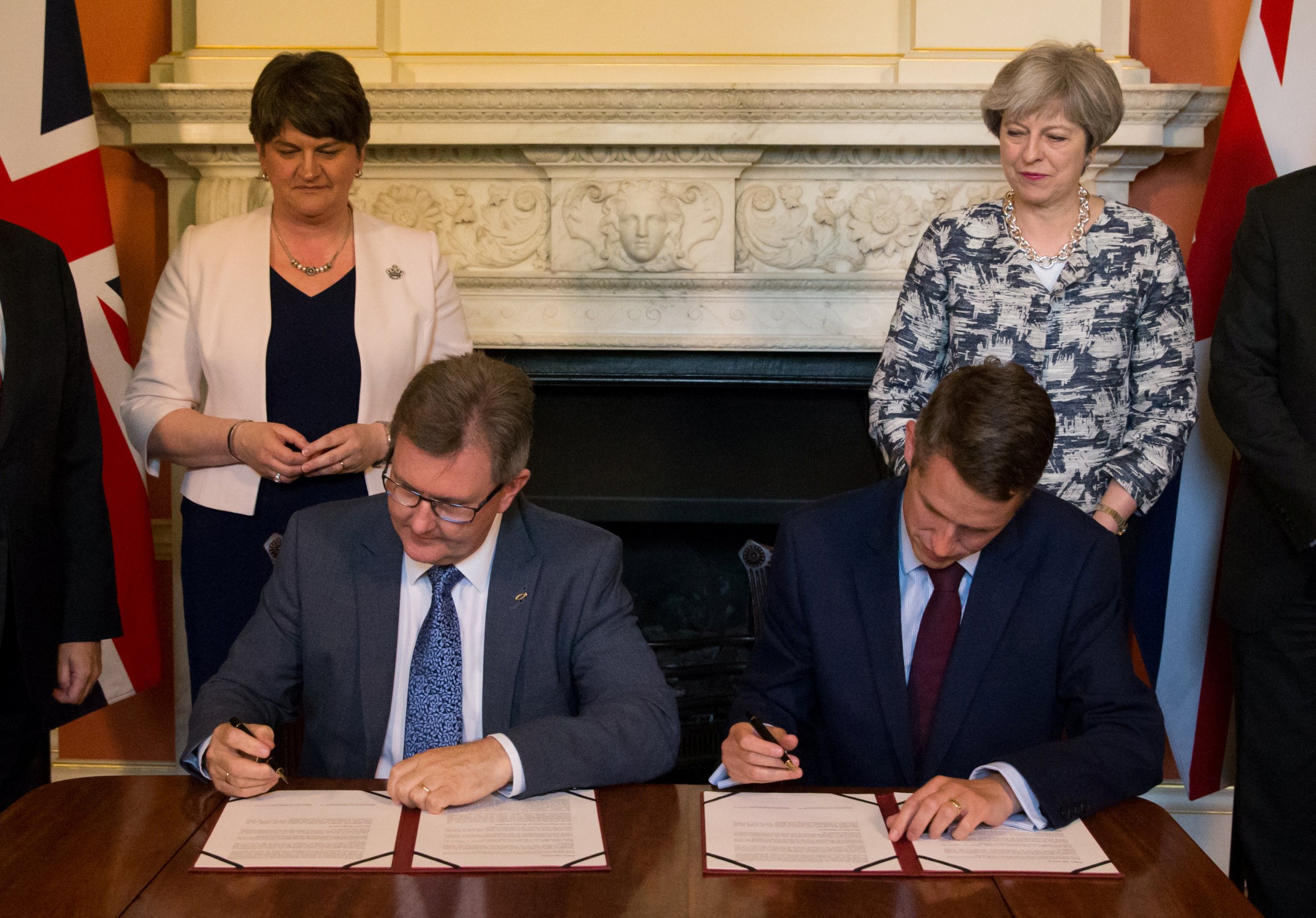 Shortly after the British general election on June 8, former Conservative Prime Minister John Major took to the airwaves. He wasn't there to praise his successor, Theresa May, as leader of his party and his country. Instead, in his characteristically understated style, he laid out serious fears about the future of the United Kingdom.
Northern Ireland was wracked by a Protestant-Catholic sectarian conflict known as The Troubles from 1968 to 1998 that claimed more than 3,600 lives. A hard-won peace was secured under Tony Blair's government in 1998, and Major warned that Britain cannot not take it for granted. "People shouldn't regard it as a given," Major told the BBC. "It isn't certain, it is under stress. It is fragile. And although I don't expect it suddenly to collapse—because there is a broad consensus that wishes it to continue—I think we have to take care with it."
Threat to Peace?
The cause of Major's concern was a deal—then under negotiation, but signed and sealed this Monday—between May's Conservatives and Northern Ireland's largest political group, the Democratic Unionist Party (DUP). The so-called "confidence and supply" pact, which includes a promise of more than £1 billion ($1.2 billion) in spending for Northern Ireland, means May can be sure of her government surviving a no-confidence vote and passing a budget despite her failure to achieve a majority in the elections. She's safe in office, for now.
But the DUP hails from the hardline unionist (pro-U.K.) end of Northern Ireland's republican-unionist divide. After postelection talks began between the DUP and the Conservatives, Sinn Fein, a republican party (meaning they want to leave Britain and join the independent Republic of Ireland), said May was in breach of the 1998 Good Friday Agreement treaty, which brought peace to the once troubled province and which depends in part on the role of the British government as an intermediary between local interests.
Does this move present a risk of breakdown in Northern Ireland's hard-won peace?
The deal comes at a worrying time for Northern Ireland. The region's devolved parliament and government at Stormont, Belfast, fell apart in January, and despite a subsequent regional election, attempts to kick-start it have failed. The reason for the collapse was a spat between Sinn Fein and the DUP, who had shared power in Northern Ireland since 2007, over a botched renewable energy scheme. The deadline for those talks is this Thursday; if they collapse, there may be more elections in the province, or even a return to "direct rule," where London would take back charge.
"The biggest problem as I see it is, for all of the parties.... [is that] the British government needs to be seen as an honest broker," Marie Coleman, a lecturer at Queen's University Belfast, told Newsweek while the deal was under negotiation. Embarking on a deal with one of the parties involved in the negotiations means "even with the best will in the world, they can't be seen that way by any of the parties," Coleman said.
The situation is also complicated by Brexit. In a referendum on June 23 last year, Britain as a whole voted to leave the European Union, while Northern Ireland voted to stay in the bloc. The DUP campaigned in favor of Britain leaving the EU despite concerns in the region that breaking with the continent might mean the return of border checks between Ireland and the Republic, which could curb cross-border business activity and stoke old tensions. Many republicans, including Sinn Fein, campaigned in favor of the EU, winning new support among young people.
Jonathan Powell, who served as chief negotiator in Northern Ireland under Blair and is considered an architect of the Good Friday deal, told Newsweek earlier this month that the Brexit debate was already stoking old tensions in Northern Ireland. "That issue of identity and the [Irish] border [has] reopened again, when we thought we'd parked it for a generation," Powell said. The British government firmly allying itself with unionists may have unexpected impacts on that debate.
Meanwhile, one specific sticking point may come over the Conservative-DUP deal's treatment of the armed forces. The agreement commits to fully implementing the "armed forces covenant," a 2000 U.K. government pledge to care for armed forces veterans and their families, in Northern Ireland.
Sinn Fein and its fellow republicans the SDLP have always opposed its introduction to their province, rejecting the idea that members of the British armed forces should get priority access to medical treatment. Sinn Fein had not returned a request for comment on this aspect of the deal at the time of publication.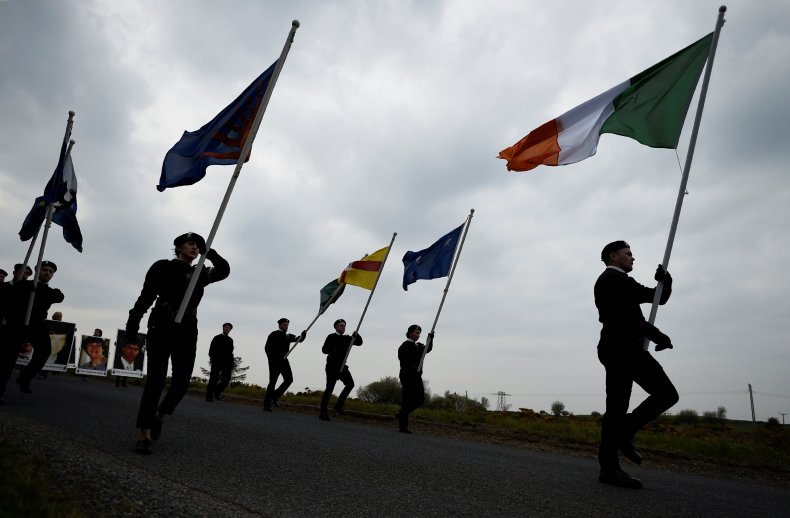 Danger of Complacency
It is important not to be alarmist when discussing Northern Ireland. Nobody is suggesting that May's deal, Brexit or the Stormont negotiations will lead to a resumption of full-scale violence in Northern Ireland in the near future. Welcoming the deal, May pledged to "remain steadfast to our commitments as set out in the [Good Friday] agreement and its successors, and in governing in the interests of all parts of the community in Northern Ireland." May's predecessor, David Cameron, weighed in to defend her on Twitter, saying the deal would bring the "most stable government possible."
But any breakdown in regional politics or growth in mistrust in the U.K. government would likely lead to economic stagnation and growing political unrest.
"I suppose it's how you gauge peace," Sinn Fein MP Chris Hazzard told Newsweek earlier this month. "Peace very often isn't just the absence of war. I don't think we're on the verge of war or conflict again, but... for young people to be able to afford the fruits of peace and to be able to afford the future we agreed to in 1998, we need to see a step change from the British government."
And, Powell says, Westminster hasn't always been completely focused on Northern Ireland. "They haven't devoted as much 'oompf' to trying to put the executive together again, as we would have in our time," he says, adding that under Blair, the prime minister would have personally handled talks, whereas subsequent prime ministers have often delegated the task to the cabinet minister in charge of the province.
Above all, like Major, Powell warns that complacency can be dangerous. "Going back in history, our problem in Northern Ireland in many ways was not so much what we did, it was not paying attention," he says. At a time of global political upheaval, even nearly 20 years of peace can't be taken lightly. As Britain's new government deal faces five years of testing times in Parliament, all parties will have to make sure the province doesn't fall off the agenda.