How to See the Northern Lights in the United States: Where, When and How to Watch
If you've always dreamed of seeing the Northern Lights but haven't found the time to take the trip to Alaska, Iceland, Norway or any of the other places the cosmic light show occurs, you may finally get the chance to see it right here at home in the United States.
The aurora borealis will be visible in parts of the northern U.S. and Canada on Wednesday night due to a minor geomagnetic storm—a space event during which solar energy from the sun penetrates Earth's atmosphere—according to NOAA's Space Weather Prediction Center. The solar event won't have an impact here on Earth, other than possibly interrupting power grid fluctuations, but it will result in aurora borealis activity and a display of colorful lights in the sky.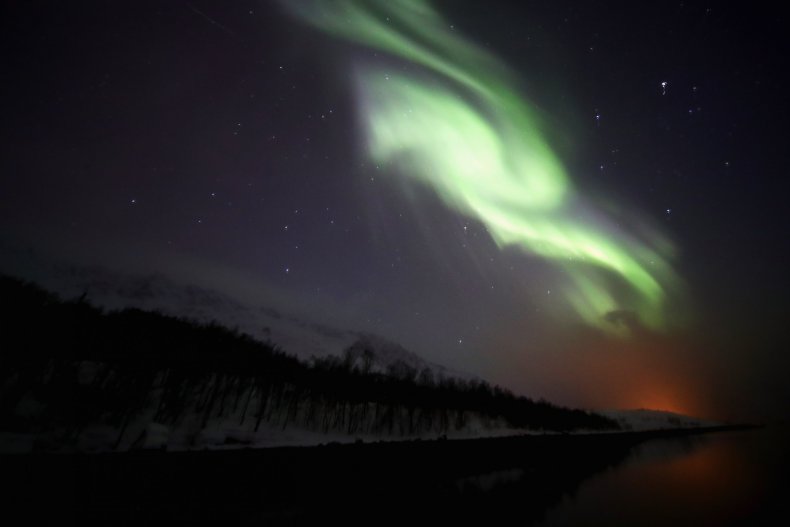 Albeit on the low visibility end, auroral displays will be on display in cities like Seattle, Chicago, Boston, Des Moines, Iowa; Cleveland, Ohio and Halifax, Alaska, according to the University of Alaska-Fairbanks Geophysical Institute website. People living in those areas will be able to view the aurora during peak times of 10 p.m. to 1 a.m. ET.
People living in Canada will have a stronger view of the northern lights. High visibility is expected in Canadian territories including Inuvik, Yellowknife, Rankin and Iqaluit to Juneau, Edmonton, Winnipeg, Thunder Bay and Sept-Iles the university's website said.
The clearer the sky, the better the odds of catching a glimpse of the colorful light display, which occurs when electrically charged particles from the sun slam into Earth's atmosphere, resulting in a streak of colors like pink, green, yellow, blue, violet, and occasionally orange and white appearing in the sky. The brightness of the moon is also susceptible to interfering with the visibility of the aurora, so choosing the darkest place possible to search the sky is advised.
Viewing the northern lights in the U.S. isn't very common, except for certain parts of Alaska. The best places to see the light display in northern Canada in addition to Norway, Sweden and Finland, although during moments of highly active solar flares the lights can be visible in places as far south as Scotland and northern England, according to space.com.
Despite not being visible often, auroras are always lighting the sky somewhere on Earth even when solar-wind is minimal.