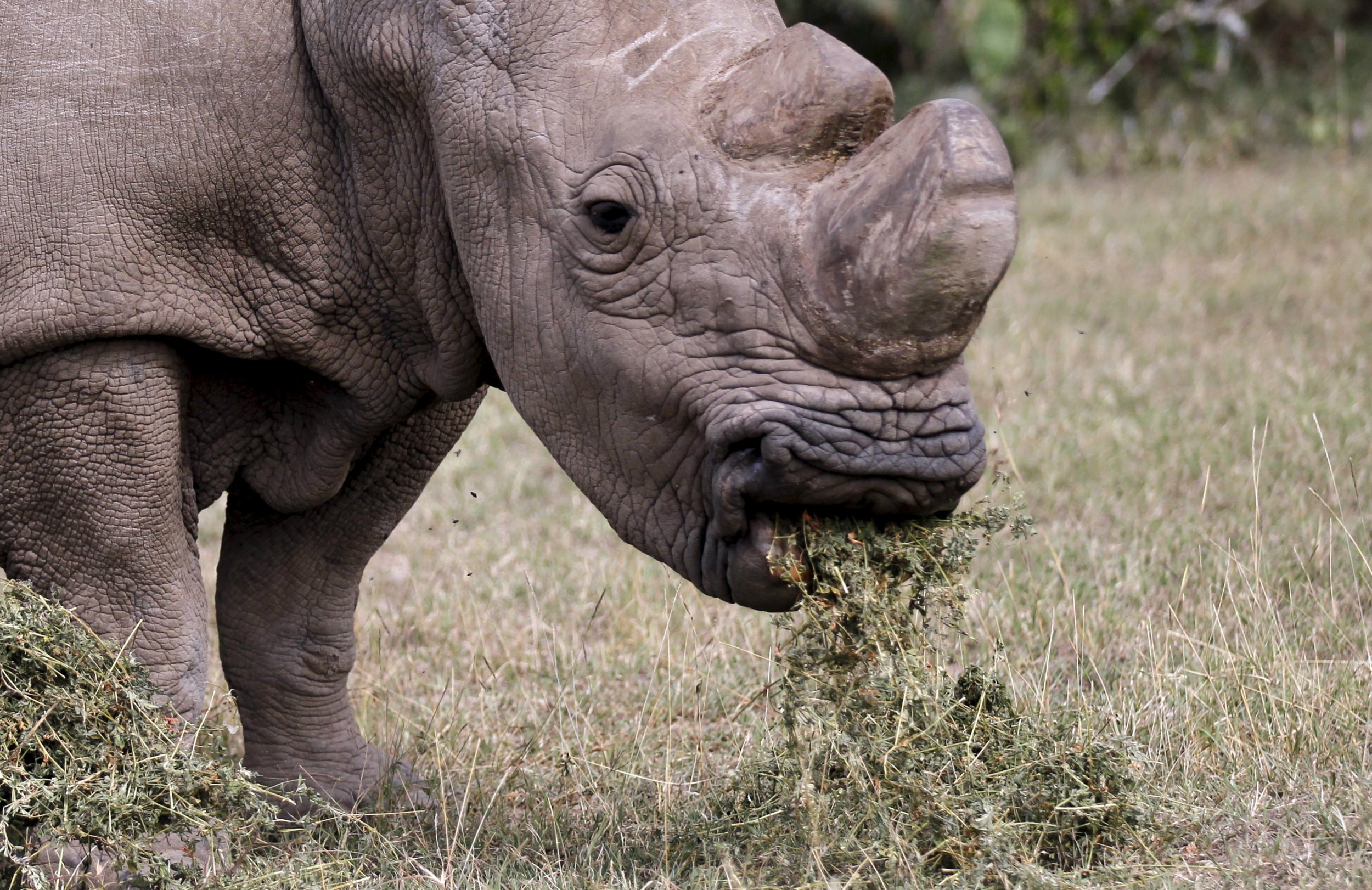 After a series of illnesses, one of last northern white rhinos on the planet died on Sunday, leaving just three others alive in the world.
Nola, a 41-year-old female, had lived at the San Diego Zoo Safari Park since arriving in 1989 from the Dvůr Králové Zoo, in what is now the Czech Republic. According to the San Diego Zoo, Nola was fighting a bacterial infection; on November 13, the animal had surgery to drain an infected abscess. Though the procedure was successful, Nola's conditioned worsened, and the zoo decided to euthanize her. The average wild rhino lives 35-40 years, according to the African Wildlife Foundation.
The San Diego Zoo Safari Park announced the passing of the rare beast on their Facebook timeline:
We're absolutely devastated by this loss, but resolved to fight even harder to #EndExtinction . We ask you to join us in that fight. Please share your memories of Nola and your condolences with the #Nola4Ever hashtag, and let this be a warning of what is happening to wildlife everywhere. #RIP sweet girl. You will be deeply, dearly missed.
The three remaining northern white rhinos (Ceratotherium simum cottoni) all live at the Ol Pejeta Conservancy in Kenya, where they are watched 24 hours a day by armed guards. The species is widely considered on the brink of extinction, after having been hunted down to miniscule numbers by poachers primarily after their horns. In parts of Asia, rhino horn is sold at exorbitant prices for its supposed (but unproven) medicinal purposes. Owning a rhino horn is also something of a status symbol in some parts of the world, such as the urban centers of Vietnam.
Of the three remaining northern white rhinos, there are two females and one male. The bull rhino, named Sudan, is 42-years-old—too advanced in age to reproduce sexually. However, sperm samples have been collected and are currently stored in liquid nitrogen in the Czech Republic, according to The Sunday Times. There are plans for an in-vitro fertilization project, where eggs from a female northern white rhino, fertilized with Sudan's sperm, will be implanted into a surrogate: a female southern white rhino, a related species, living in the San Diego Zoo Safari Park.
The project is being run out of the zoo's Institute for Conservation Research, along with scientists from the Center for Regenerative Medicine at the Scripps Research Institute in La Jolla. According to NBC San Diego, researchers believe the efforts could prove fruitful within the next 10 to 15 years.