Northern White Rhino: World's Most Endangered Mammal Could Be Saved From Extinction With Hybrid Embryos
The northern white rhinoceros (NWR) is the world's most endangered mammal with just two females of the species left alive after the last surviving male died in March this year.
But now, scientists have developed new assisted reproductive technologies (ARTs) which could provide the beleaguered species with a lifeline.
In a study published in the journal Nature Communications, an international team of scientists describe the creation of a hybrid embryo consisting of genetic material from the NWR and a closely related subspecies—the southern white rhino, which is not listed as endangered.
Using in vitro fertilization (IVF), the researchers extracted sperm that had previously been frozen from NWR males and implanted it into eggs from the SWR to create the hybrid embryos. These have now been frozen for possible transplantation into a surrogate southern white rhino female.
The team, which was led by Cesare Galli from Italian animal reproduction company Avantea and Thomas Hildebrandt from the Leibniz Institute for Zoo and Wildlife Research, Berlin, also extracted embryonic stem cells from the hybrid embryos.
These achievements raise the possibility that a hybrid rhino, which preserves many of the genes of the northern white rhino, could be bred in future.
The eggs, known as oocytes, were taken from southern white rhinos given the dwindling number of available NWR eggs. The embryos reached the blastocyst stage—a relatively developed stage which boosts the chances of pregnancy after transplantation.
IVF has been used before successfully in large mammals, such as horses, but this is the first time that rhino embryos have been developed to the blastocyst stage.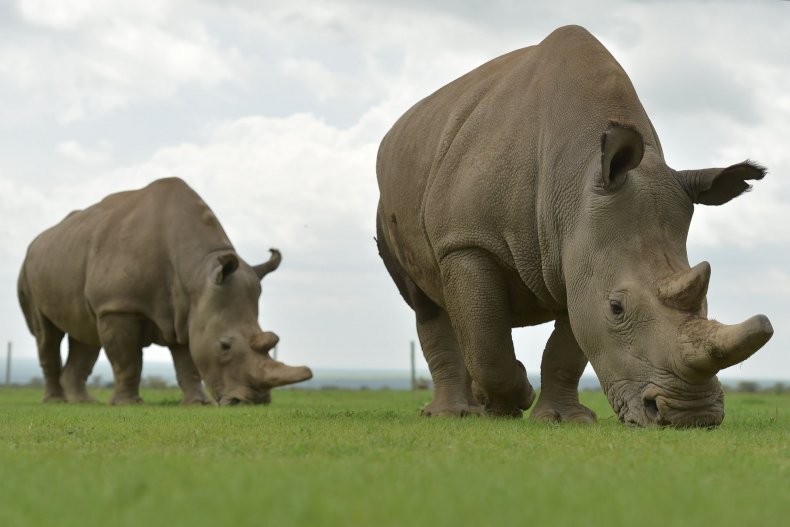 The scientists' next step is to transfer the frozen embryos to a surrogate southern white rhino mother and carry a pregnancy to term. They also plan to harvest eggs from the two remaining NWR females.
The ultimate goal, they say, is to breed a pure northern white rhino population. One way to do this, in theory, is to first create SWR-NWR hybrids and then selectively breed them so that the SWR traits are diluted and the NWR traits are concentrated.
However, Terri Roth, author of an accompanying Nature comment piece from the Cincinnati Zoo & Botanical Garden, told Newsweek that we should be cautious about the potential of the new findings.
"We have a long way to go to save the northern white rhino," she said. "Impressive results in a petri dish don't easily translate into a herd of healthy offspring. The reproductive physiology of wildlife species is often complex and getting a healthy pregnancy established and offspring produced in living organisms is sometimes the hardest part of achieving success with assisted reproductive technologies."
Furthermore, even if a few calves are born, "there will still be a lot of work to do in getting those offspring to propagate, and given the limited gene pool, inbreeding depression will be a very real threat," she said. "Previous attempts to establish a managed breeding program for this sub-species failed."