Northwestern Syrian Offensive Could Displace 700,000 People, Health Agencies Warn
An expected Syrian government attack in the country's northwestern Idlib province could displace over 700,000 people and lead to a dire humanitarian situation.
The "Health Cluster Bulletin" report, which is published by health-focused humanitarian groups and spearheaded by the World Health Organization, said that aid workers were preparing for increased aid demands.
"Increased hostilities are expected in the North West in the coming period, to result in displacements of 250,000 to over 700,000 people in Idlib and surrounding areas," the report said. "This will cause an increased need for humanitarian assistance to the new vulnerable and host communities, especially emergency health services."
Syrian President Bashar al-Assad said in July that regaining control of Idlib was a priority, prompting alarming statements from the United Nations. In June, U.N. Regional Humanitarian Coordinator for the Syria crisis Panos Moumtzis warned of a drastic humanitarian situation unfolding if Idlib were attacked.
"With this escalation, this deterioration, we worry really about seeing 2 and a half million people becoming displaced more and more toward the border of Turkey if this is to continue," he said.
As the Syrian government has retaken land from rebels across the country, fighters and civilians have fled to Idlib. An attack on the northwestern province could spell humanitarian disaster, Moumtzis said. "We also worry that for the people of Idlib, there is no other Idlib to take them out to. Really, this is the last location," he added.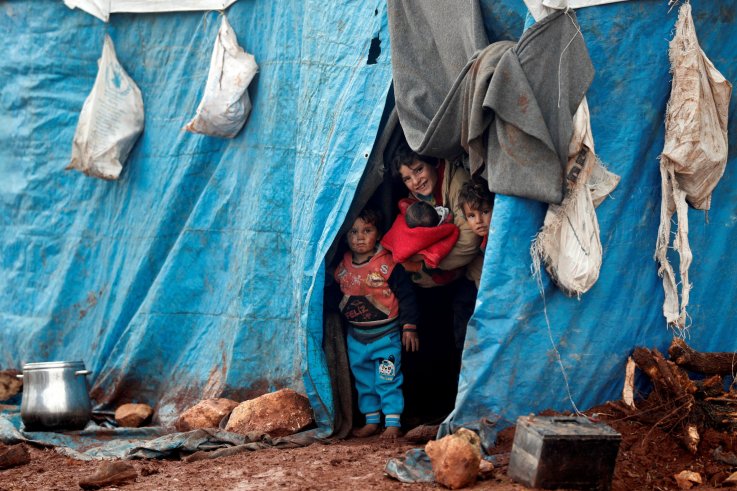 Since the Syrian civil war began in 2011, more than 5.6 million people have fled the country and 6.6 million are internally displaced, according to the United Nations Refugee Agency.
Human rights abuses have been committed by the Syrian government, rebel groups and foreign powers fighting in the country.
"As I noted at the outset, unlawful methods of warfare have been used by all parties to this conflict, inflicting enormous harm on civilians," U.N. High Commissioner for Human Rights Zeid Ra'ad Al Hussein said in March. "Government forces, militia, armed groups and terrorist organizations have routinely denied the delivery of essential humanitarian assistance and have attacked protected civilian sites such as health-care centres, leading to countless preventable deaths."
The government has conducted indiscriminate attacks, leading to concerns about the use of barrel bombs. Foreign governments have also decried Syria's deployment of chemical weapons.
Meanwhile, rebel groups have been condemned for kidnappings and torture.
Syrian and Russia airstrikes have repeatedly struck civilian targets, including medical facilities. Airstrikes by the U.S.-led coalition fighting the Islamic State militant group in Iraq and Syria have also killed over 1,000 civilians, according to London-based organization Airwars.
Northwestern Syrian Offensive Could Displace 700,000 People, Health Agencies Warn | World