Norway Tells Citizens to Avoid Handshake, Use 'Infection-Free' Greetings Amid COVID Rise
Norway's Health Minister Ingvild Kjerkol encouraged residents to stop shaking each other's hands in favor of other greetings with minimal to no contact as the country looks to curb a rise in COVID-19 infections, the Associated Press reported. More acceptable and lower risk greetings include elbow bumps, nods, smiles and placing a hand on one's heart, Kjerkol said.
"I will now encourage everyone to drop the handshake and return to the infection-free way to greet," Kjerkol said during a press conference.
Norway withdrew most of its nationwide COVID-19 restrictions on September 25 that imposed limits on social interaction and hampered businesses for about 18 months, Reuters reported. Bent Hoeie, who was the country's health minister at the time, said that "handshakes will again be allowed" when the measures were lifted.
The reinstatement of the handshake guidance, as well as other added measures, came after the Norwegian Institute of Public Health warned Wednesday of an anticipated rise in the number of virus infections and hospitalizations among unvaccinated adults and the elderly during the holiday season, the AP reported.
Of the country's population of more than 5.3 million, according to the World Bank, 70.22 percent are fully vaccinated. But, Norway's relatively strong vaccination rates have not prevented a surge that threatens to overwhelm health facilities facing the highest number of hospitalized COVID patients since April, Forbes reported.
More than 2,400 new infections were recorded daily between November 16 and 18, the highest daily case numbers in Norway since the onset of the pandemic.
Norway's government announced last week that everyone aged 18 and older would be able to receive a third dose of a COVID-19 vaccine and municipalities would be permitted to use virtual "corona passes" in an effort to curtail infections, Reuters reported. The country previously only offered third shots to people 65 and older.
Though Norway has not said that it will reimpose more of the lockdown measures lifted in September, the digital passes are meant to help bars, restaurants and other venues stay in business while also fighting the virus spread, according to Prime Minister Jonas Gahr Støre. The government said that unvaccinated citizens have to get tested frequently for the virus in order for their passes to remain valid, according to Reuters.
For more reporting from the Associated Press, see below.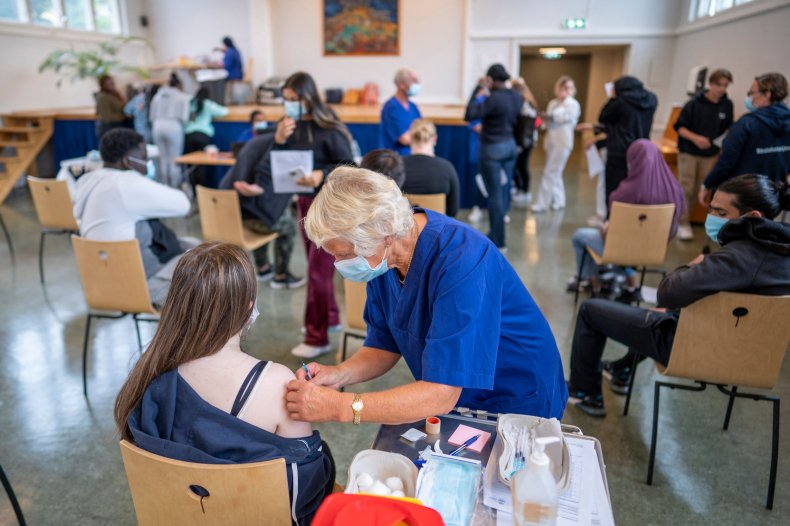 Norwegian officials said Friday the country is introducing stricter controls at border crossings, requiring everyone to register before entering the country, in a bid to tackle the rise in COVID cases.
Norwegian Justice Minister Emilie Enger Mehl said the move that enters into force November 26 is "to get a better grip on who comes in." Norway has, like other European countries, seen a recent rise in COVID-19 cases with more hospitalizations.
All people aged 16 and over, both Norwegian nationals and foreigners, are supposed to register on a government website at least three days before entering the country. There, they will get a confirmation that authorities can ask for at border checkpoints. People without it can be refused entry.