Norway Women's Beach Handball Team Says Mandatory Bikini Rule is Too Cheeky
Beach handball isn't nearly as popular in the United States like it is in Europe. One Scandinavian country doesn't agree with a certain dress code imposed on its female players.
The Norway national women's handball team didn't particularly appreciate a dress code their team was required to follow for the recent European Beach Handball Championships. They didn't agree with wearing bikini bottoms, but instead wore something that resembled biker shorts.
The players were then chastised and fined.
The championships were held in Varna, Bulgaria, located on the western shores of the Black Sea. Norway was to play Hungary in a match.
The International Handball Federation states that women in the beach game must wear a bikini bottom with a tight-fitting top.
"Women should wear a bikini where the top should be a tight-fitting sports bra with deep openings at the arms. The bottom must not be more than ten centimeters on the sides."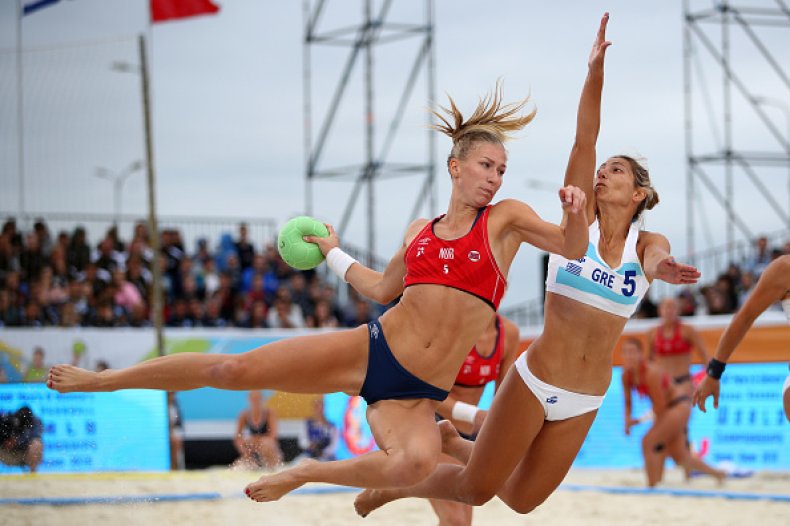 The Norwegian team wanted to play in thigh-high shorts that made them feel "unnecessarily sexualized and uncomfortable." So they dressed for their match while wearing tight-skinned blue shorts.
"The Norwegian beach volleyball girls wanted to play in these shorts instead of in bikini bottoms which they found too revealing but were threatened by the EC tournament organizer with fines if they wore anything covering more than 10cm of their butts," the tweeted photo read.
The Euro 2021 website stated that it would impose a fine upon all players who wore these types of shorts instead of bikini bottoms during the match. The Norwegians wore shorts anyway in the bronze medal match against Spain, won by Spain.
"The Disciplinary Commission at the Beach Handball EURO 2021 has dealt with a case of improper clothing. In the bronze medal game against Spain on Sunday the team of Norway played with shorts that are not according to the Athlete Uniform Regulations defined in the IHF Beach Handball Rules of the Game," the association stated on its website.
Even though the Norwegian players knew they would face fines for violating the dress code, they went against it anyway.
The European Handball Federation (EHF) said it would reexamine its rule book, but not before the Norwegian women stirred an international pot of dress-code controversy.
Norwegian commentator Leif Welhaven called it the "panties crisis" while women's tennis legend Martina Navratilova shared a tweet, calling the dress code "just ridiculous."
The tournament was eventually won by Germany, who defeated Denmark for the championship.