Norway's Prime Minister Erna Solberg Fined for Birthday Party in Violation of COVID Rules
Norwegian Prime Minister Erna Solberg was fined by police Friday for violating the country's COVID-19 safety ban against gatherings of more than 10 people.
Solberg was fined 20,000 Norwegian crowns, or $2,352, for organizing her 60th birthday party with 13 family members at a mountain resort in late February.
A spokesperson for District Police Chief Ole Saeverud confirmed in an email to Newsweek on Friday that Solberg accepted and will pay the fine.
"The number of participants was in conflict with the current national corona rules," the spokesperson said. "Based on information that came to light in the media, and through statements from the Prime Minister herself, it was decided to investigate if the events constituted a violation of the current rules."
Saeverud referenced a March 18 social media post by Solberg in which she admitted she had rented an apartment in Geilo with her children and husband, Sindre Finnes. Her sister and family stayed in another apartment nearby. While the two groups "tried to organize our stay in a contagious safe way," Solberg wrote, "it slipped for us."
"Now I'm the one who's done wrong," Solberg wrote on Facebook. "I'm sorry my family and I have broken the corona regulations, it should never have happened. We should of course also have followed all the recommendations, as I have asked you to."
One evening, 13 members of the family decided to dine at a restaurant, spread across three tables. "We thought this dinner was within the regulations, but it wasn't," Solberg said.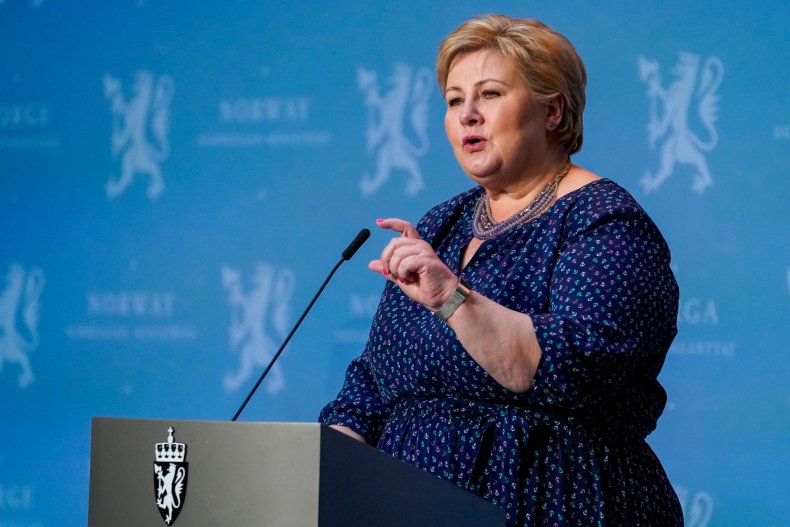 According to Norway's COVID-19 rules, dining in a restaurant is considered an "event," prohibited from including more than 10 people.
"We hadn't examined that well enough beforehand, and it turns out we broke the rules," Solberg wrote, although she did not attend the dinner because of eye inflammation. She traveled for treatment while the rest of the family went to the dinner.
But the following evening, Solberg said, the family decided to order sushi to-go. The food was laid out in one apartment with the intention that the family members would "distribute themselves" among the two apartments to eat, "but instead everyone stayed in our apartment."
"When more than ten remained in our apartment, I should, not just as the private person Erna, but especially as Prime Minister of Norway, have intervened," Solberg wrote. "I didn't, and I'm very sorry. I think this is embarrassing, but I'm primarily sad because I know I have to lead as a particularly good example."
Now the police's investigation has concluded that "punishment is considered appropriate where there is either a question of serious violations, or where a failure to react could have negative consequences for the population's compliance with the infection control measures," Saeverud said.
Although Finnes and the restaurant technically broke COVID-19 safety restrictions, too, police said that only Solberg would be fined because she should be held to a higher standard as the country's leading official, Saeverud confirmed to Newsweek.
"Solberg is the country's leader and she has been at the forefront of the restrictions imposed to limit the spread of the virus," Saeverud said to reporters Friday. "It is therefore correct to issue a fine in order to uphold the general public's trust in the rules on social restrictions."
Solberg has been a global leader in coronavirus response practices, quickly instating restrictions at the start of the pandemic that curbed the spread of infection and even allowed the country to loosen its lockdown last summer.
According to the World Health Organization, Norway has reported 100,147 confirmed COVID-19 cases and 683 deaths as of April 9.
But in March, the arrival of the more contagious B.1.1.7 variant of the coronavirus in Norway sped up infection rates and increased hospitalizations, alerting officials to bring back safety protocols.
Norway's capital city of Oslo closed all high schools and middle schools and limited visitors in private homes to two people through early April, Reuters reported. Stricter measures were introduced in all 52 municipalities surrounding Oslo as the city braced for a "third wave," Oslo Governing Mayor Raymond Johansen said last month.
Solberg said on April 7 that as long as hospitalizations and infection rates decline, she hopes to pull back COVID-19-related restrictions by the end of June, according to Reuters. She announced a four-step plan to ease the country's prohibitions ahead of the summer travel season. She said that as early as next week, the government will begin repealing some of the rules imposed in March as long as cases decline.
"Before we open up, we need to see low and stable infection rates," Solberg said. "It is important that the number of hospitalizations come down from today's level."
She added that a second reopening phase in late May would raise the maximum number of guests in homes to 10, permit in-person learning at universities, and remove domestic travel bans.
A third phase would ease international travel restrictions and allow more guests in homes. Solberg did not say how long the pending fourth phase will last, but it will include social distancing, remote work and a mandated quarantine for travelers arriving from certain countries.
Bloomberg reported that Solberg's actions have not promoted any calls for her resignation. The prime minister will face election for parliament in September.
This story has been updated to include comment from Saeverud.