Mutinous Cruise Ship Passengers Stuck at Sea for Days Confront Crew After Toilets Fail and Food Goes Bad: 'Worst Trip of Our Lives'
A cruise's billing as a "once in a lifetime" trip was in a sense true for those aboard the Norwegian Spirit who have vowed "never again."
Murphy's Law appeared to reign over the fate of the vessel after it departed from Southampton on September 27 on what was supposed to be a two-week jaunt around Scandinavia.
First of all, high winds stopped it from docking in Amsterdam. Then, more gusts prevented the scheduled stop of Le Havre.
No matter, after all it was described on Norwegian Cruise Line's website as a "mystical fjords" tour and so the main attraction, Norway, was still ahead for the 2,000 people aboard as the liner scudded its way through the English Channel up into the North Sea.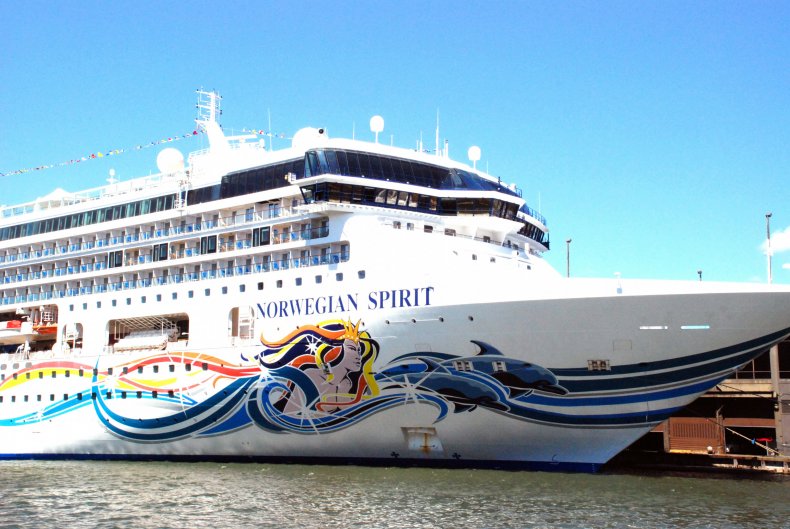 Alas, that's when the problems really began to start. The Norwegian town, Hellesylt, where the vessel eventually berthed, was essentially closed because it was out of season. The much touted fjords may have been "mystical" but they were barely visible, and could only be squinted at far away in the distance.
Still, the optimists on board might have looked forward to the Icelandic capital, Reykjavik, as the next port of call, but the bad weather also put that off limits and instead, the vessel was diverted to Greenock, near Glasgow.
However, 15 minutes from shore, they were denied permission to dock because of strong winds and so had to turn around, according to Cruise Radio.net.
The 76,000-ton vessel then changed course again and passengers had to make do with getting off at Belfast (no disrespect to Belfast.)
But by this stage, the passengers had been on the vessel for three days, and the food in the restaurants was starting to turn. Equally stale was the state of the toilets, after reports the sewage system was failing,
Was it worth the price tag of between $2,400 and $6,400 a head? Not likely, said the passengers whose rancor was visible in video shared online showing hundreds in the atrium holding up pieces of paper with letters that spelled out "we want a refund."
There were also complaints that the internet on board was cut to stop passengers from sharing the video and the offer of a 25 percent credit on a future cruise made people angrier.
Beleaguered crew members are filmed trying to calm the mutinous passengers who are seen milling on the stairs, and shouting a cacophony of demands, including "Refund!" "Take us back" and "We want to get off this ship."
Passenger Deena Roland, 48, from Taunton, Somerset, told the Daily Mail: "There are a lot of angry people on this ship and the lack of adequate explanation as to what's going on almost caused a riot this morning. It's been a nightmare of a holiday, and now many of the toilets in the cabins are overflowing with sewage. It's really not my idea of a luxury cruise break."
Another passenger, Cody McNutt, who got off at Belfast before the cruise was officially over, told the BBC's Victoria Derbyshire program: "It was absolutely horrible, we expected to have a good holiday and we just had the worst trip of our lives.
"We floated around the English Channel for two days, the food was going bad, the toilet in our room stopped flushing, there were several public toilets that stopped flushing.
"We were lucky no one got sick and then riots broke out on the ship, they pulled out security and threatened to arrest some of the passengers. We were fearful of our health and safety… It's absolutely ruined our year."
In a statement to Newsweek, Norwegian Cruise Line said that the itinerary had been impacted by bad weather.
"While nine ports of call were originally planned for the voyage, the revised itinerary allowed the ship to call to eight ports. We are very sorry for any inconvenience and disappointment our guests experienced. As such, we made the decision to offer a 25% future cruise credit.
"We understand that it is disheartening when we are unable to call to ports that our guests have been looking forward to visiting. However, we ask for their patience, cooperation and understanding," the statement read.