A Nostalgic New York Bids a Second Farewell to 'Mad Men' Era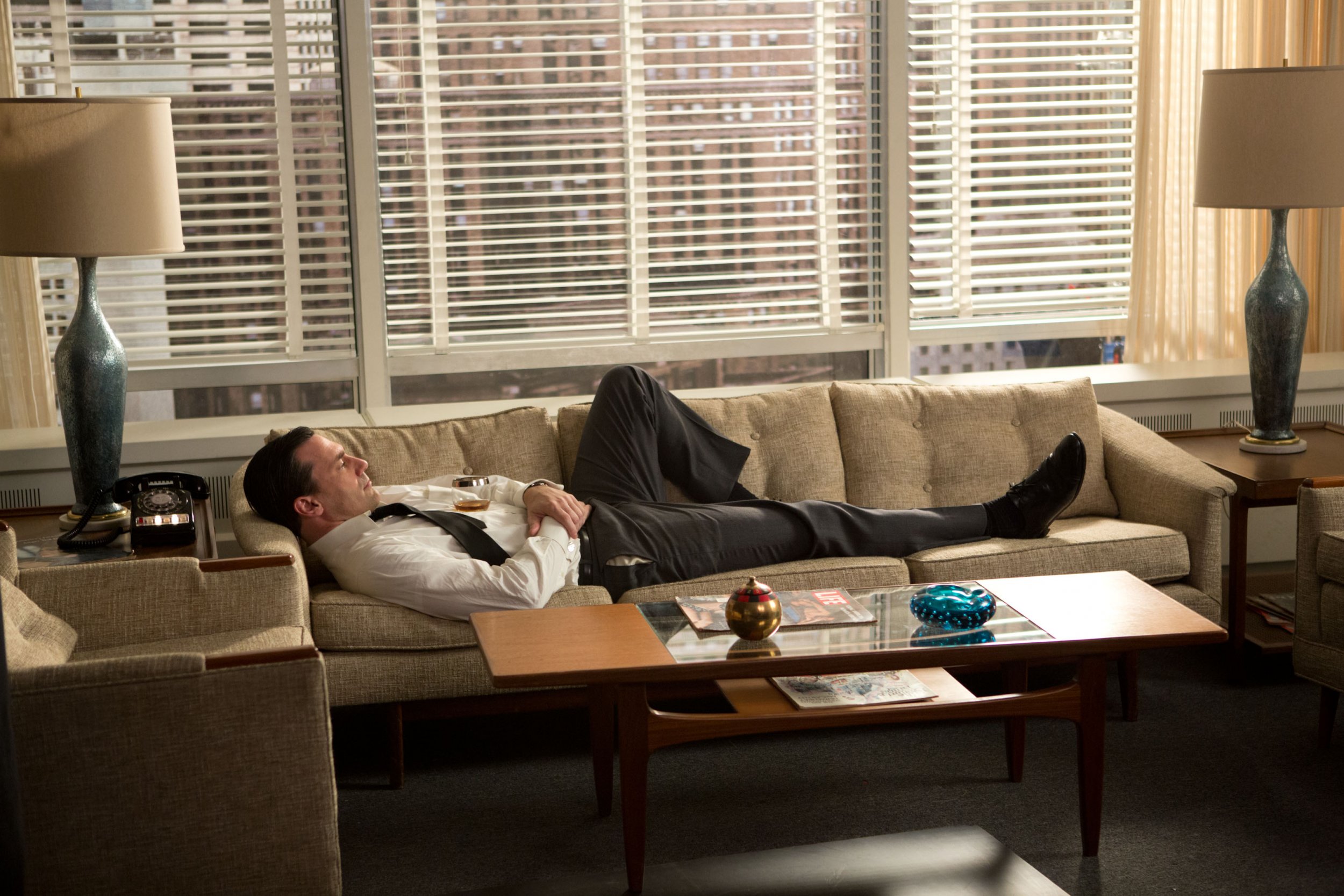 The pilot episode of what became a television phenomenon opens in a smoke-filled Manhattan lounge. The martinis are flowing, and Don Cherry and Ray Conniff's "Band of Gold" is drowning out the chatter. The camera soon focuses on a man who is scratching out notes on a napkin with a furrow in his brow. Viewers have been whisked into the year 1960 and this is Don Draper anxiously brainstorming new ways to advertise Lucky Strike cigarettes.
Six and a half seasons later, the city where Draper rose to advertising stardom is preparing to say goodbye to the fictional character and his colleagues, and to a series that captured the imaginations of viewers all around the country. "The End of an Era," as the second half of Mad Men's seventh and final season is aptly titled, has its premiere on AMC on April 5. But even before Draper & Co. return to the small screen, audiences can step into the world of Mad Men in the city where it all began.
"A television series unlike any other deserves a send-off unlike any other," Charlie Collier, AMC's president, is quoted as saying in a company press release. "Mad Men and its incomparable influence across art, design, literature and popular culture in general, calls for a broad and unprecedented salute.
Starting on Monday, 34 New York restaurants will be participating in Mad Men Dining Week, serving lunch or cocktails for $19.69, a nod to the year in which the most recent episodes left off.
The event "lets you live that Mad Men fantasy and be brought back into the glamour of that kind of dining in New York," says Linda Schupack, AMC's executive vice president of marketing. The restaurants have planned menus that evoke the Mad Men world to give fans an immersive experience in preparation for the series finale.
A few blocks south of Central Park, the entrance to the '21' Club is guarded by a row of brightly colored jockey figurines perched along the windows just above eye level. Inside, the bar is a dark wood and the chair cushions a deep maroon, and one can easily imagine Draper sitting in the corner with his pen and napkin, sipping on an Old Fashioned.
"We were here during the 1960s…and that long-lunch lifestyle and that glamour and decadence, that was alive and well," says Avery Fletcher, director of sales and marketing at '21.' "Guests would come in and sit down to lunch. The would usually start with a bloody mary and they would stay for hours." And "there would be many a martini."
In honor of this culture that runs deep in the history of '21' and aligns so closely with the show, Fletcher decided to offer a "liquid lunch" during Mad Men Dining Week. The menu includes a martini, a bloody mary, a vodka gimlet, a Tom Collins and a classic Manhattan, all drinks that have been featured on the show and which '21' still serves every day.
The dimly lit dining room, where jackets are required, is composed of three converted townhouses (21 was the address of one). Another dark wood bar lines one side and red and white checkered tablecloths that match the original design from the early 20th century cover tables in the three sections. Above, hanging like a canopy, are hundreds of old toys and pieces of memorabilia: miniature planes and cars, helmets and more. Many are gifts from customers, like the pool cue Jackie Gleason used in The Hustler.
"So when you step into the dining room for Mad Men Dining Week, you are stepping into the dining room they would have experienced," Fletcher says of Draper, Roger Sterling, Pete Campbell, Peggy Olson and the rest of the characters.
Several blocks away, on the Upper East Side, Arlington Club is planning for its special menu a grass-fed burger with cheddar cheese, onion, pepper-crusted bacon and barbecue sauce, and a banana cream pie with rum ice cream and hot vanilla fudge. The steakhouse's decor and ambiance fit into the period it is trying to summon, says Ralph Scamardella, chef and partner of TAO Group.
"We hope we can give them a feel of what the show is like. People want to be part of it," says Scamardella, a fan of the show who hopes the restaurant can cater to fans' nostalgia or fantasy of stepping into that time period.
Other restaurants all around Manhattan (and one in Queens) will also attempt to translate the world of Mad Men from screen to real life, serving period- and show-inspired fare, like a cocktail at Delmonico's, The Peggy, named after the secretary-turned-copywriter, made with crème de cacao, heavy cream, brandy, and nutmeg with an orange twist. Other participating restaurants include Le Cirque, Carnegie Deli & Restaurant, Madison Club and The Gander.
A short subway ride away in Queens, the Museum of the Moving Image digs into the show's origins and re-creates entire rooms from its set in Matthew Weiner's Mad Men. The exhibit, which opened last Saturday and runs through June 14, is a collaboration between the museum and AMC and Lionsgate.
On the third floor of the museum, past the stark white lobby and up a set of similarly bright stairs, the exhibit begins at the roots: Matthew Weiner's inspirations for the show's premise and characters. A set of books that were influential in creating the Mad Men world are piled in a case, and on display nearby are pages from Weiner's journal from the early 1990s, in which he first wrote about the backstory of a character who would later become Draper.
The exhibit was created "to take close look at origins of the show and the series and what it meant to put Mad Men together from Matthew Weiner's perspective," says curator Barbara Miller. "How does that process work?"
Weiner, who Miller calls "a great personal archivist of his own creative process," loaned the museum his books, notes he's jotted on pieces of paper and napkins over the years and other materials.
Several steps away, the Mad Men writing room—where Weiner and his team worked throughout each season—is re-created in full: shelves stacked with books about advertising, the 1960s, New York; binders of clippings from The New York Times; whiteboards covered in notes about the season and episode at hand, a cork board covered with multi-colored index cards; and papers and yellow legal pads around a conference table.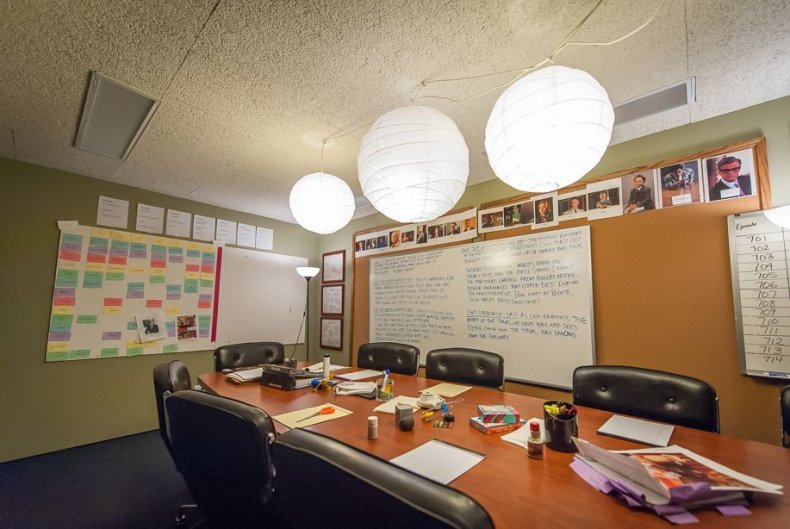 Just beyond the writers' room, in a small, dark nook with a screen, scenes from the show are played, each preceded by Weiner explaining the thought process that went into the final product.
The exhibit continues with sections on each character that feature actual costumes and props from the show, including Draper's wallet (with a photo of the kids inside), checkbook, lighter, cigarettes, sunglasses and more. Presented on a tiered display against a solid white background, the colors and details stand out. Small flat screens are scattered among mannequins and glass display boxes playing the scenes that feature the items on display, like the black dress Megan Draper wears to sing "Zou Bisou Bisou" at Don's birthday party in the season 5 premiere.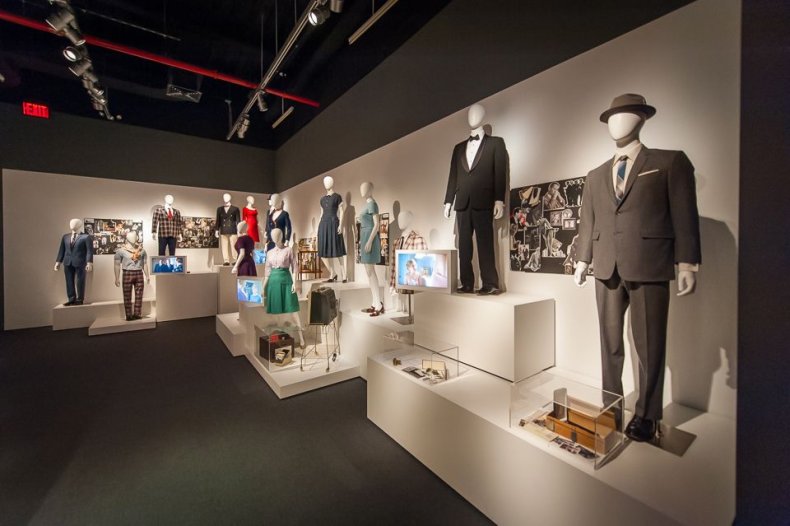 Most of the office-related characters are shown along one wall, while Draper's first wife Betty and children are on display opposite, highlighting the tension between home and work life that is a theme throughout the show.
Deeper into the exhibit, which winds around itself, visitors can literally walk into Don and Betty Draper's kitchen from their Ossining home, complete with cutting boards, tissues, boxes of food on top of the fridge and childrens' drawings on its surface, a Nestle chocolate bar on the counter and an envelope with handwritten notes on the back sitting on the table. A few feet away, Draper's office is similarly set up in remarkable detail.
The sets are a "huge treat for fans of the show and anyone who wants to walk through the television screen," Miller says. They're set up with such attention to detail it feels "like the characters are about to walk through the door any minute."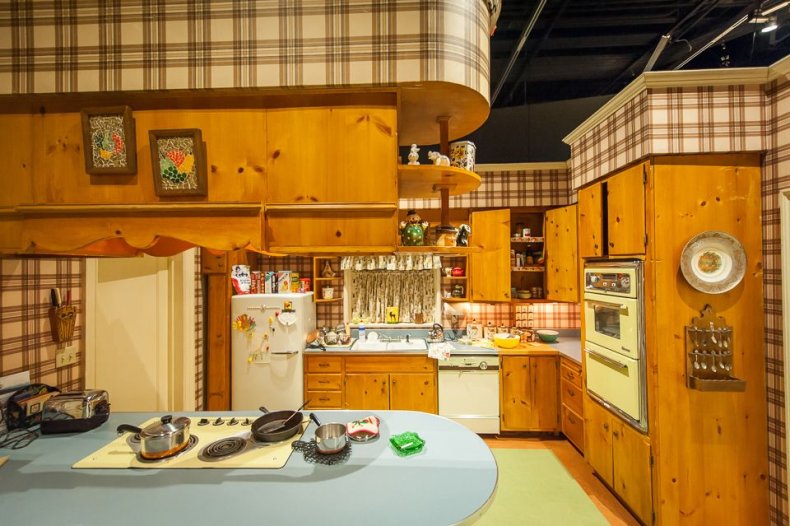 Around the corner, a secretary's desk with all its accoutrements is an organized mess on display: mail, cigarettes, phone, candy, a pair of heels with shapers underneath and what looks like a pack of birth control pills inside the top drawer, acknowledging another of the show's key themes, women and women's sexuality.
Such displays reflect "the thought that went into all the choices [that] were so deliberate," Miller says. "Nothing was dashed off, you never felt anyone was asleep at the wheel." All of the items included came from the Mad Men's property department, Miller explains, and Ellen Freund, who worked on the production, came to help arrange each prop and costume to look as they would in scenes from the show.
"What's really nice to mark here is that people really are still invested in coming together around moving image pieces," Miller says, and "having a very public conversation about it."
The museum also recently presented An Evening With Matthew Weiner, a discussion with the show's creator, and will be hosting Required Viewing: Mad Men's Movie Influences, a film series with selections by Weiner, such as The Apartment, Les Bonnes Femmes and The Americanization of Emily.
Back in Manhattan, the Film Society of Lincoln Center invited Weiner, along with Jon Hamm (who plays Draper), January Jones (Betty Draper), Christina Hendricks (Joan Harris) and John Slattery (Roger Sterling), for a conversation Saturday in advance of the final episodes. The Film Society also hosted a free marathon of "must-see" episodes, selected by Weiner, over the same weekend to help fans prepare for the April 5 premiere.
The Museum of Jewish Heritage will speak to Weiner on March 29 about the evolution of Jewish identity on the show in conjunction with its exhibit Designing Home: Jews and Midcentury Modernism. Immediately, in the first episode of season one, Mad Men begins to address Jews and Jewishness—and the prejudices, stereotypes and ignorance of others toward them—when Rachel Menken arrives at the offices of Sterling Cooper as a potential client representing her family's department store.
Also coming up: The Brooklyn Academy of Music's repertory film program, BAMcinématek, will present Mad Men at the Movies on April 22 and 23; the New York Public Library will display books read by characters throughout the show; and the 92nd Street Y will be joined by Weiner on April 28 for a public program.
Outside of New York, Weiner and cast members will participate in discussions at Los Angeles County Museum of Art's Film Independent screening series, which will show selected episodes on March 26 and 27. The Smithsonian Museum of American History in Washington will induct items from the show—like Draper's gray suit and fedora and his office bar cart, as well as other materials, like Weiner's original script for the seminal episode "The Wheel" (Episode 113)—into its permanent collection with a ceremony on March 27.
AMC also released a Facebook app that harkens back to "The Wheel," an Emmy-nominated episode in which Draper pitches the Kodak projector he dubs a "carousel." The app allows viewers to put their own photos into the scene where Draper presents his pitch.
"We are proud and a little overwhelmed by the interest and enthusiasm from these prestigious cultural organizations," Weiner says in AMC's press release. He says he is "grateful for the opportunity it's created for us to give back to our amazing fans who have been there from the beginning."
While AMC has certainly pulled out all the stops for its first-born scripted series with all these collaborations, it's not the only entity planning events for the final season. Some New York bars have made a tradition out of Mad Men viewing parties. South 4th Bar in the Williamsburg neighborhood of Brooklyn has been joining Don, Peggy, Joan and the others on Sunday nights for a few years now, as has The Monro, a British pub in Brooklyn's Park Slope and Halyards Bar in nearby Gowanus.
At South 4th, the bartender always dresses up for the occasion to look as though he's pouring drinks for Draper and friends, says general manager Kim Hale. He mixes Manhattans, martinis, French 75s, gimlets and Old Fashioneds for those who want to imitate their favorite characters' choices.
Starting at 10 p.m., the show flickers on a flat screen up front for the social watchers, and is shown with a projector in the back room for the most serious fans. With a relatively young clientele of cord cutters, the bar lets its customers watch in real time surrounded by others who are equally invested, Hale says.
"It's nice for people to be able to come to the bar to have the final goodbye," she adds. In the past, when they've shown season or series finales, there has always been a mix of reactions, from those who are crying to those who are angry about the endings.
No viewers yet know what the end of Mad Men has in store, but Hale says "it will definitely be bittersweet," and for those who need them, the cocktails will continue flowing after the final credits roll, just as they did in the opening scene of the Mad Men pilot that aired nearly a decade ago.