Nosy Dog Caught 'Loving the Drama' as He Listens to Neighbors Argue
A video of a dog appearing to be highly invested in its neighbors' heated exchange has gone viral on TikTok.
The clip shared from the TikTok account @finandbebe, which received 191,100 likes at the time of writing, was posted with a message overlaid on it that said "listening to the neighbor's row...nosy dog."
The footage showed a Chesapeake Bay retriever propped up against a brick wall, while standing on its hind legs.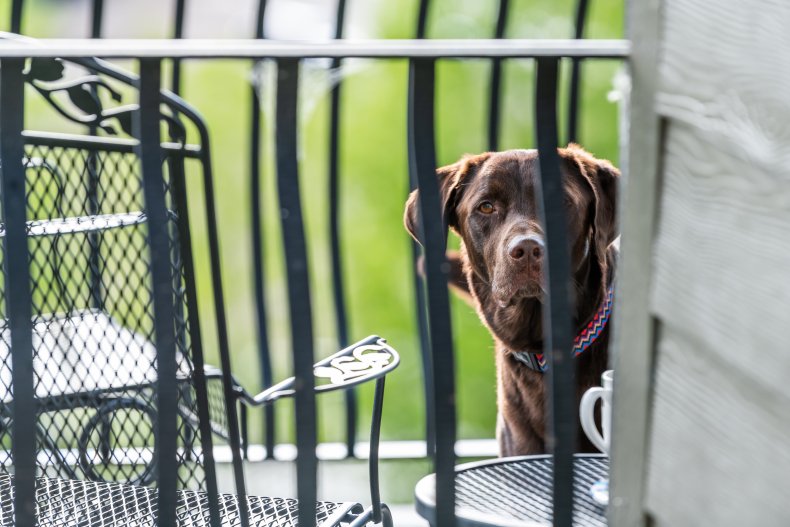 With its tail wagging, the dog was seen peering out over a gate, while a voice was heard yelling in the background near some parked cars along a street.
As the shouting continued, the dog was seen tiptoeing a bit higher, placing one of its paws against the wall, seemingly attempting to prop itself up a bit closer to the scene of the yelling.
The dog in the viral video appeared to be tuned into a highly charged interaction between neighbors, but in reality, "this didn't happen," the original poster told Newsweek.
The poster said the fighting noise is "a sound taken from TikTok," explaining "it's just a quick video that fitted my footage."
While the dog's behavior in the latest footage was not an actual reaction to neighbors fighting, can dogs understand emotions?
A January 2016 article published in the peer-reviewed journal Biology Letters found that "domestic dogs can obtain dog and human emotional information from both auditory and visual inputs, and integrate them into a coherent perception of emotion."
The study showed that, therefore, "it is likely that dogs possess at least the mental prototypes for emotional categorization (positive versus negative affect) and can recognize the emotional content of these expressions."
"Moreover, dogs performed in this way without any training or familiarization with the models, suggesting that these emotional signals are intrinsically important," the study added.
According to the American Kennel Club (AKC), the world's largest purebred dog registry, Chesapeake Bay retrievers are "more emotionally complex than the usual gundog" and "make excellent watchdogs."
They are also "protective of their humans and polite, but not overtly friendly, to strangers," the AKC said.
The dog in the latest viral video has seen TikTokers in stitches.
User witchbitch_01 wrote: "that dog is invested....[crying laughing emojis]," while Beetlejuice said: "[crying laughing emojis] loving the drama."
User storthlane21 said: "Omg [oh my god] so funny the way it puts its paws on the wall to [have] a better look haha."
User oliviawoodham also noted the paw, saying: "He put his paw on the wall," as if to say "'well I never'."
Do you have funny and adorable videos or pictures of your pet you want to share? Send them to life@newsweek.com with some details about your best friend and they could appear in our Pet of the Week lineup.