'This Is Not a Dictatorship': Democratic Lawmakers Applaud CNN for 'Pushing Back' With White House Lawsuit
Democratic lawmakers have applauded CNN's decision to sue President Donald Trump and top White House aides over the suspension of White House correspondent Jim Acosta's press pass.
CNN said it filed a lawsuit in a Washington, D.C., District Court on Tuesday, demanding that Acosta's White House credentials be reinstated. It accused the Trump administration of violating the journalist's and CNN's First and Fifth Amendment rights by revoking his Secret Service "hard pass," which granted him access to the White House.
Acosta's hard pass was revoked after a tense exchange with Trump during a presidential news conference.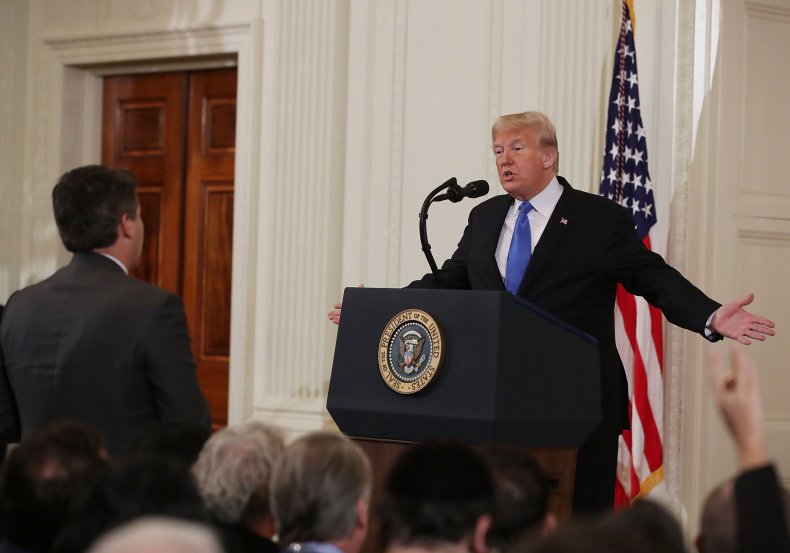 White House Press Secretary Sarah Huckabee Sanders defended the decision by claiming that the CNN correspondent had behaved inappropriately when he refused to hand over a microphone to a White House aide, sharing a video of the incident that appeared to be doctored.
As news of the lawsuit emerged, Democratic Congressman Gregory Meeks, who serves the 5th Congressional District of New York, took to Twitter to support CNN's decision to sue Trump and White House aides, writing, "Freedom of the press does not mean reporters must sing praise for access."
"This is not a dictatorship, try as Trump might to make it feel like one," Meeks said. "Good on CNN for pushing back."
Meeks was not the only Democratic congressman to weigh in, however, with Democratic Representative Jerry Nadler, who represents New York's 10th congressional district, asserting that "CNN is right to fight back against the cynical, unfair and authoritarian treatment of Acosta for doing his job—asking questions of our leaders and holding them accountable."
"A free society depends on a free press," Nadler said.
In addition to suing Trump, the lawsuit is also filed against the U.S. Secret Service and several top aides including Sanders, White House Chief of Staff John Kelly and White House Deputy Chief of Staff for Communications William Shine.
In its statement, CNN said that while its lawsuit was specific to the broadcaster and Acosta, "this could have happened to anyone."
"If left unchallenged, the actions of the White House would create a dangerous, chilling effect for any journalist who covers our elected officials," the broadcaster warned.
The White House Correspondents' Association said it "strongly supports" CNN in its lawsuit, adding that "the President of the United States should not be in the business of arbitrarily picking the men and women who cover him."