Trump Being Subpoenaed to Testify Before Jan. 6 Committee 'Not Far-Fetched': Rep. Plaskett
The House January 6 select committee subpoenaing former President Donald Trump for testimony and information is not "something that we should consider far-fetched," Representative Stacey Plaskett, a Democrat, said Saturday.
The White House on Wednesday formally rejected Trump's attempt to assert executive privilege to stop congressional lawmakers from obtaining documents requested by the select committee and laid down a strict timeline for their release.
Representative Bennie Thompson, a Mississippi Democrat and chairman of the House select committee probing the Capitol riot, on Thursday declined to rule out issuing a subpoena for Trump. "I would say this at this point, Wolf, nobody is off-limits to a subpoena from this committee," he said on CNN's The Situation Room.
Asked on MSNBC Saturday about the likelihood of a Trump subpoena, Plaskett, a former House impeachment manager, said: "Bennie Thompson has made it very clear that he is going to take this select committee and its members, who are in full agreement with him, wherever the facts may lead them."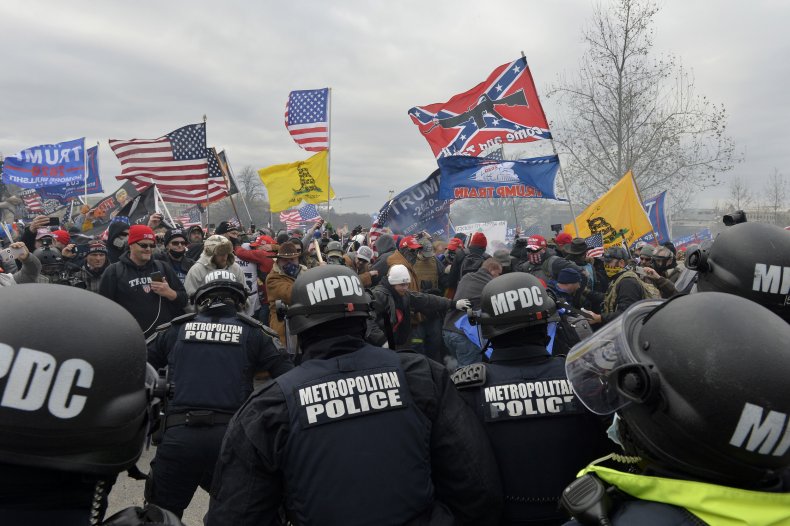 "They're going to be bound by the facts and the law, and if that means deposing the president, they will do so," the Virgin Islands Democratic lawmaker said. "Not only the deposition of the president himself, but records related to him. Whether those be cellphone, Twitter accounts, communications with individuals, video tapes, if there are, in the White House of what he is doing on that day."
"We've recently seen, even in a civil case, that the president has been compelled to give depositions and so his ability to remove himself from depositions in this matter may be far-fetched," Plaskett added.
There's no guarantee that Trump would receive a subpoena from the committee. However, he has already threatened to "fight the Subpoenas on Executive Privilege and other grounds."
As part of the sweeping House select committee investigation into the events of January 6, the panel has requested a trove of documents from several federal agencies, including the National Archives, which holds the White House records of the Trump administration.
The panel asked for "all documents and communications with the White House" on January 6, including phone logs, presidential schedules, and meetings with official and private advisers.
After the Biden administration refused Trump's request to assert executive privilege, White House counsel Dana Remus requested that the documents be submitted "30 days after your notification to the former President, absent any intervening court order."
Legal experts say that President Joe Biden has the final word on whether the documents are covered by executive privilege, but Trump can still sue certain federal agencies to delay its release.
Newsweek reached out to Trump representatives for comment.