Not Just China and Russia, U.S. Ally Turkey Says 'Many Are Questioning' Biden's Democracy Summit
While top U.S. rivals China and Russia have been at the forefront of international criticism of President Joe Biden's Summit for Democracy held virtually among more than 100 nations earlier this month, shunned U.S. ally Turkey has indicated that many more were expressing skepticism toward the gathering.
"List of invitees suggest political expediency took precedence over genuine democratic considerations," the Turkish embassy in Washington told Newsweek. "Many are questioning the true motive behind the Summit."
Ankara's absence from the invite list of 111 participants sparked controversy, as Turkey is a member of the NATO military alliance, and the second-largest troop contributor behind the United States. Hungary was the only other NATO country omitted from the list, and the only European Union nation not invited, prompting Budapest to block the EU's joint representation at the event.
The Hungarian embassy in Washington also had words to share for the Biden administration and instead praised the state of bilateral ties under former President Donald Trump, who continues to share a warm correspondence with fellow firebrand conservative Hungarian Prime Minister Viktor Orbán.
"We consider it disrespectful that the Hungarian government has not been invited to the event," the Hungarian embassy told Newsweek. "Hungarian-American relations were at their peak during the Trump Presidency, and it is clear from the list of the invited countries that the Summit was a domestic political event, therefore countries that were on friendly terms with the previous administration were not invited."
The Biden administration has sought to downplay the significance of the selection process for who was in and who was out for the summit. But many of those not asked to attend nonetheless felt their systems of governance were being called into question by Washington.
The Turkish embassy defended Turkey's democratic process in the face of Biden's snub.
"Turkey's democratic credentials are beyond question," the Turkish embassy said. "Its experience with direct democratic governance is older than most Western democracies."
"Like all true democracies," the embassy said Turkey's democracy was a "work in progress."
About a week before the summit, White House Press Secretary Jen Psaki told reporters that "every democracy is a work in progress, and it doesn't mean that we are giving the opposite of a stamp of approval or a negative stamp to people who are not invited."
But Ankara, like Budapest, nonetheless felt the decision put a further strain on ties between two allies already at odds on several issues.
"Turkey's omission for the Summit is unfortunate and does not fit with our joint resolve to avoid misunderstandings and advance our bilateral relations," the Turkish embassy said.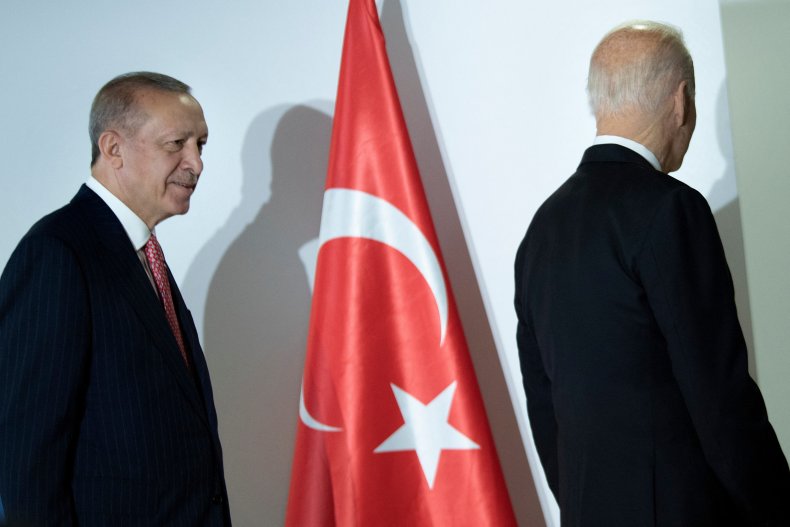 Asked about Turkey and Hungary being left off the list, Secretary of State Antony Blinken told Euronews a day after Psaki's press conference that the event was a "Summit for Democracy – not for democracies."
"It's about renewing and reinvigorating democracies that are in many ways under challenge, in some cases from within, in other cases from without," Blinken said. "And so we're bringing countries together virtually in support of renewing democracy at home and taking concrete measures to do that, but also looking at how we can be more supportive of democracies that are under challenge around the world."
The top U.S. diplomat spoke of "a democratic recession" across the globe, arguing that "one of the profound challenges and conflicts of our time is that between autocracies and democracies, and democracies need to demonstrate that they can deliver and produce real results for their people."
Asked about U.S.-Turkey relations specifically, Blinken said the two nations would continue to work together despite their disagreements.
"We have a very important relationship with Turkey. It's a NATO Ally," Blinken said. "And it's not a secret that we also have differences, but we're working through those differences. We're also working to deepen cooperation in many areas."
"And we are committed to working through the differences that we have and working to strengthen the alliance that we have as members of NATO," he added.
Turkey's politics have undergone a number of shakeups over the century since the Republic was founded by Mustafa Kemal Atatürk in the wake of the Ottoman Empire's collapse. Today, President Recep Tayyip Erdogan has established himself as the country's most powerful leader since.
Erdogan first came to power as prime minister in 2003 and led in this capacity until 2014, when he was elected president and later held a referendum to give more powers to the presidency, dissolving the premiership altogether. Erdogan's tenure has spanned ups and downs in ties with Washington spanning four U.S. administrations, but the Summit for Democracy came at a low point in relations, which have suffered in recent years over a number of high-profile issues.
In Syria, the two countries initially came together a decade ago to support an insurgency against President Bashar al-Assad, but the U.S. later shifted its support to the Kurdish-led Syrian Democratic Forces, a group that Turkey links to the outlawed Kurdistan Workers' Party (PKK). The group is considered a terrorist organization by both Ankara and Washington.
On Russia, Turkey has not followed with the rest of NATO's alienation of President Vladimir Putin and has opted to buy Russia's S-400 surface-to-air missile system. The acquisition brought on U.S. sanctions under the Countering America's Adversaries Through Sanctions Act (CAATSA).
Turkey has argued that it was compelled to buy the S-400 when the U.S. refused to offer Patriot anti-air batteries.
"Turkey was forced to procure the S-400 systems in the absence of feasible alternative offers from its allies, including the U.S.," the Turkish embassy said. "Unilateral CAATSA sanctions against Turkey are unacceptable and unjust. These sanctions continue to hurt our relations. Allies should not resort to sanctions when they disagree. Instead, we should privilege dialogue and diplomacy."
The embassy stated, "we think that this is possible when there is political will," offering examples of Germany's sanctions waiver for participating in Russia's Nord Stream 2 gas pipeline to Europe and a potential CAATSA waiver being considered for India's own procurement of the S-400 system.
"We will continue to constructively engage with the U.S. to reach a mutually agreeable settlement on this issue," the embassy said.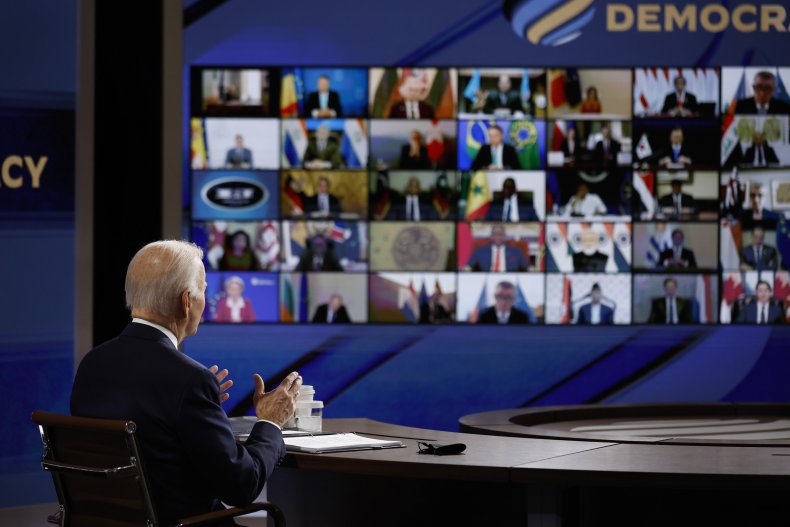 The invitee list of the Summit for Democracy excluded a number of countries the U.S. has feuded with, including China and Russia, as well as Belarus, Cuba, Myanmar, North Korea, Iran, Syria and Venezuela.
But it also left out U.S. partners such as Jordan, Saudi Arabia, the United Arab Emirates and Vietnam. The only Middle Eastern countries included were Iraq and Israel, while Central Asia was left out completely along with just under two-thirds of African countries. Pakistan, one of four countries in South Asia on the invitee list, was the only nation to decline its invite, while India, Maldives and Nepal attended.
The divisions have been the subject of condemnation by Beijing and Moscow especially, whose envoys in Washington penned a joint op-ed last month in The National Interest criticizing the event. Presidents Xi Jinping and Vladimir Putin also alluded to the summit and the greater ideas of democracy during their virtual summit on Wednesday.
Xi "stressed that democracy is a lofty aspiration and common value of all humanity and also a right enjoyed by people of all countries," according to the Chinese Foreign Ministry.
"Whether a country is democratic or not and how to better realize democracy can only be left to its own people to decide. International affairs should be managed by all countries through consultation," he added. "Promoting greater democracy in international relations and upholding true multilateralism is the expectation of the people and the prevailing trend of the times."
And Putin, for his part, said that China and Russia "are acting as responsible powers should" as they "are advocating a unifying international agenda against the pandemic and upholding the true essence of democracy and human rights, which makes them a real stronghold of multilateralism and a defender of international justice and equality," according to the Kremlin.
Moscow's point of view was further elucidated by Russia's ambassador to the U.S. Anatoly Antonov in a wide-ranging interview with Newsweek on Friday.
"No country has a right to judge who is 'democratic' and who is not," Antonov said, adding that "the path to prosperity of nations lies through respectful cooperation with each other, despite differences in views on particular issues."
"That is why we urge to stop using 'value-based diplomacy,' Antonov said.
This article has been updated to include comment from the Hungarian embassy in Washington.