Not Lovin' It: Russia Investigates More Than 200 McDonald's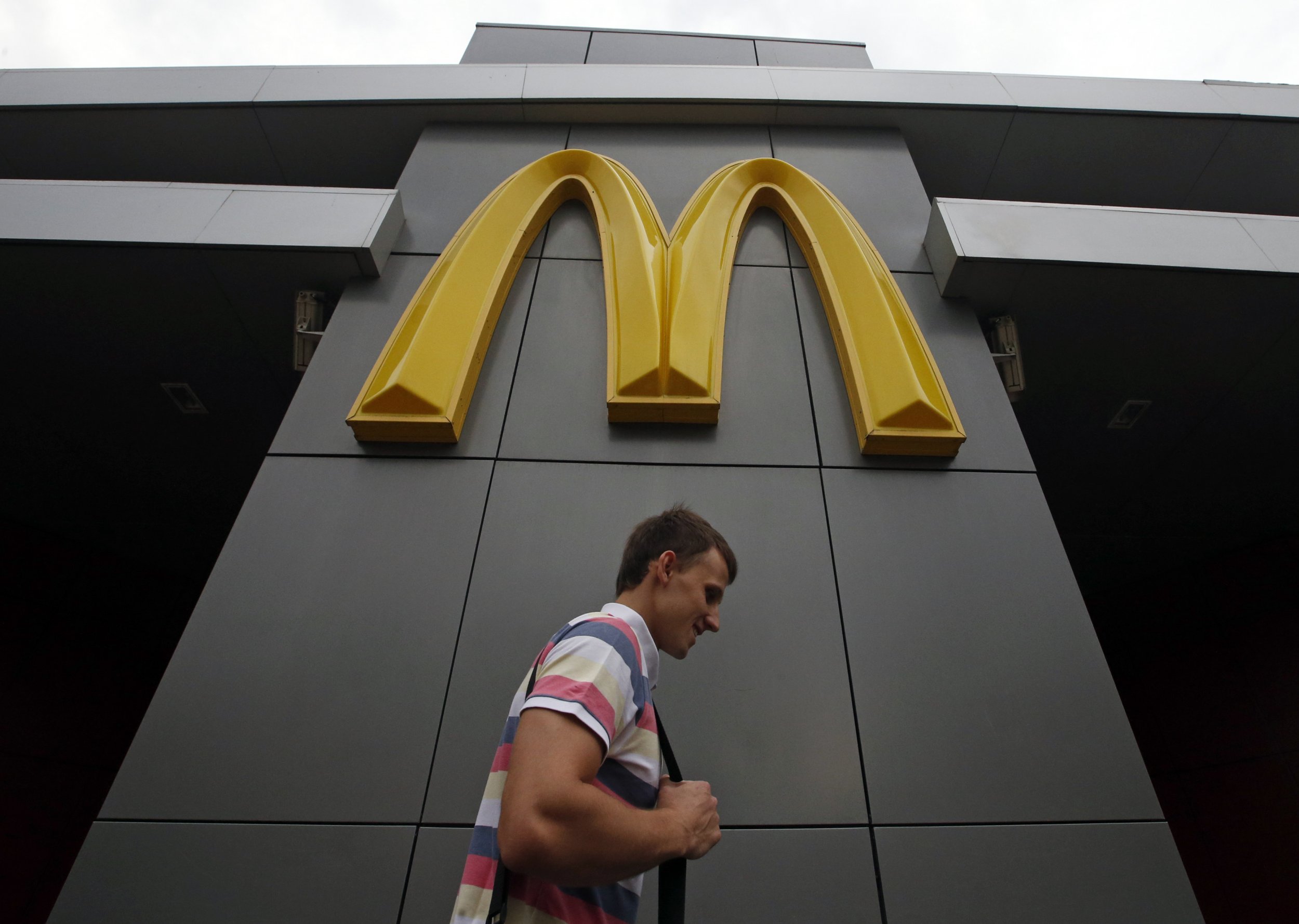 Russian officials are investigating more than 200 McDonald's restaurants—nearly half of the fast-food chain's locations in the country—in what many analysts see as retaliation against Western-backed sanctions.
The probes into the chain's hygiene and finance practices by the Rospotrebnadzor, the Russian government's consumer rights surveillance group, began in August and have since resulted in the temporary closure of nine locations, include one McDonald's in Sochi, the site of the 2014 Winter Olympics, and several restaurants in Moscow, according to a translation of a statement on the McDonald's Russian website published Saturday.
Analysts believed the move is part of a tit-for-tat response to Western sanctions over Russian aggression in Ukraine and the country's annexation of Crimea earlier this year. Using health and safety violations as a reason to shut down businesses in Russia "'is an instrument that's often used' by the Kremlin to gain leverage in political disputes," Nonna Crane, a lawyer specializing in Russian business issues told Bloomberg Businessweek.
McDonald Russia said in its statement that it disagrees with the court's decision to shut those restaurants and will appeal to a higher court. More than 100 McDonald's restaurants are in the capital of Moscow and the surrounding area, according to CNBC.
The closed locations include the Moscow's Pushkin Square McDonald's, which was the first to be opened in the country in 1990, just before the collapse of the Soviet Union. After four locations were shut in August over alleged health violations, a further five restaurants were added to the list. McDonald's sales in Russia were around 8 percent of the company's global total of $28 billion, according to Bloomberg Businessweek reports.
"An attack on McDonald's is a very populist act right now, when there is clear tension between Russia and the West—this is the main idea," human rights lawyer Pavel Chikov toldThe Washington Post after Russian authorities launched an investigation into the operations of Ronald McDonald House Charities in the country.
The U.S. and European Union have imposed strict sanctions on Russia since March, including visa and travel bans and restrictions on Russia's economic sector. The Kremlin denies involvement with fighting in Ukraine and consider the sanctions a "hostile step," Reuters reports.
On Wednesday, Russian President Vladimir Putin issued a warning to the West over sanctions and reminded them of "the threat of a fallout between the largest nuclear powers," Reuters reports.
"Our partners should be well aware that attempts to put pressure on Russia with unilateral and illegitimate restrictive measures will not bring about a settlement, but rather impede the dialogue," Putin said in an interview with Serbian newspaper Politika. He did not make reference to the McDonald's investigations in his interview.
Russian food safety watchdog Rosselkhoznadzor announced Monday that it will include more foods on list of Western products banned from importation, including cattle and pig by-products like lard and offal, The Moscow Times reports. On August 6, Russia enacted a one-year ban on fruits, vegetables, dairy and meat products from European, including Polish apples.