'Not My Baby': Surrogate Backed for Barring Client's Mom From Delivery Room
Thousands of internet commenters were quick to defend one surrogate mother for implementing strict rules about who will be allowed in her delivery room.
In a viral Reddit thread published on r/AmITheA**hole, Redditor u/throwAqayaway (otherwise referred to as the original poster, or OP) said she is only allowed three guests at her birth center and detailed the tension caused by her refusal to accommodate her client's mother.
Titled, "[Am I the a**hole] for telling my client's mother she can't be at the delivery?" the viral post has received more than 16,000 votes and 2,500 comments in the last 12 hours.
Writing that she is currently serving as a surrogate mother for a gay couple, the original poster said she is 35 weeks pregnant and, in her words, "ready to pop." Adding that she is friends with the couple, the original poster said she and the soon-to-be fathers were in agreement on who would be present for the baby's birth.
"Our plan throughout the pregnancy has been for delivery, the fathers are in there and so is my husband, for my own personal support," she wrote.
However, the original poster said she recently received a phone call from one of her client's mothers, who issued a seemingly-ridiculous request.
"Yesterday my client's mother called me and asked for the directions to the birth center and iI asked why she needed it," OP wrote. "She told me she needed it if she was going to be there for the birth of her grandchild."
"I told her there must have been some miscommunication and that 'Dads and [my] husband will be there for the birth,'" OP continued. "She said that the dads encouraged her to reach out to see if I would mind having [my] husband stay home so grandma can see the birth of her grandchild."
Despite repeated protests from her client's mother, the original poster said she stood firm in her decision, and made it clear that her husband will be present for the delivery—much to the dismay of both clients.
"I told her that even though this is not my baby to keep, I'm still going through a medical procedure and would like my support person with me," OP wrote.
"She hung up and the dads called me and told me I was unreasonable and rude towards his mother for no reason, and that they should be able [to decide] who is in the delivery room, since it's their baby," OP added.
Choosing a surrogate mother is one of the most serious decisions a couple can face, and can hinge on a myriad of factors. But while age, health history and willingness to carry another couple's child all weigh heavily, the Pacific Fertility Center Los Angeles (PCFLA) says that love and positive energy are most important.
"Surrogates are often women with humanitarian motives to help another couple [and] are compassionate and filled with dignity," the PCFLA website reads. "Though much of this process will involve contracts and certain amounts of business, it's important to remember that this is a woman who is here to help you fulfill your greatest wishes to have a child."
But while surrogacy has become more popular and more common throughout the United States over the last two decades, the issue of who will be allowed in a delivery room for childbirth is universal among pregnancies.
This year alone, Newsweek has reported on countless Reddit threads detailing delivery room disagreements.
From keeping overbearing in-laws as far away from the delivery room as possible, to multiple fathers who were banned from delivery rooms for "mean" behavior, naming controversies and even a "fart prank," many expecting mothers have revealed the interpersonal issues they have experienced before, during and after childbirth.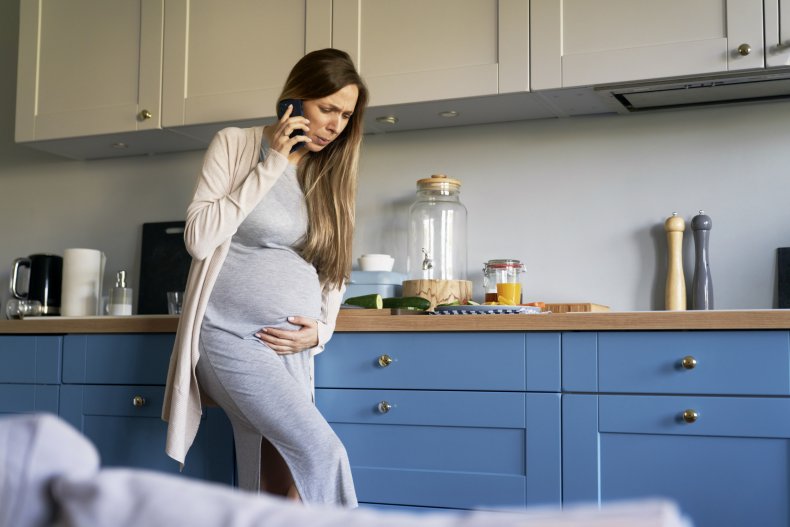 In most cases, Redditors rallied behind mothers, defending their behavior from the wrath of scorned delivery room outcasts. In the case of the original poster, and her staunch assertion that her husband will be present when she gives birth to another couple's child, the reaction was no different.
"It might their baby, but it's your body," Redditor u/Primary-Criticism929 wrote in the post's top comment, which has received more than 35,000 votes.
"Birth isn't a spectator sport," Redditor u/Glitterasaur added, receiving more than 10,000 votes. "If they can't understand that then they also don't need to be there."
Redditor u/tkdwarriorprincess, whose response has received nearly 11,500 votes, echoed that sentiment.
"You nailed it," they commented. "MEDICAL PROCEDURE and not spectator sport. Hold you ground and do what makes you comfortable."
In a separate comment, which has received nearly 11,000 votes, Redditor u/SuzieQbert offered a lengthy response to the original poster's experience.
"The dads have no right to try to manipulate you into [having] no personal support during birth," they wrote. "Having her call you directly was bulls**t, and her acting like it was not even a question, like your permission wasn't required, was astonishingly self-entitled."
"I'd reconsider having the dads there. If they can't be supportive of the woman giving birth they don't need to be there," Redditor u/TigerBelmont added. "They are treating you like a piece of property with no consideration that you will be in pain and need support."