'Not Normal': Texas County GOP Chairman Mocks Billie Eilish's DNC Appearance
Matt Mackowiak, the chairman of Texas' Travis county Republican Party criticized the appearance of Grammy Award-winning musician Billie Eilish during her appearance at the Democratic National Convention (DNC), simply posting an image of Eilish on Twitter and adding the caption, "Not normal."
Eilish appeared in a dimly lit forest set with her hair streaked with acid green highlights as she implored younger voters to cast ballots for Democratic presidential nominee, former Vice President Joe Biden.
"You don't need me to tell you things are a mess," Eilish began. "[Republican President] Donald Trump is destroying our country and everything we care about. We need leaders who will solve problems like climate change and COVID, not deny them; leaders who will fight against systemic racism and inequality."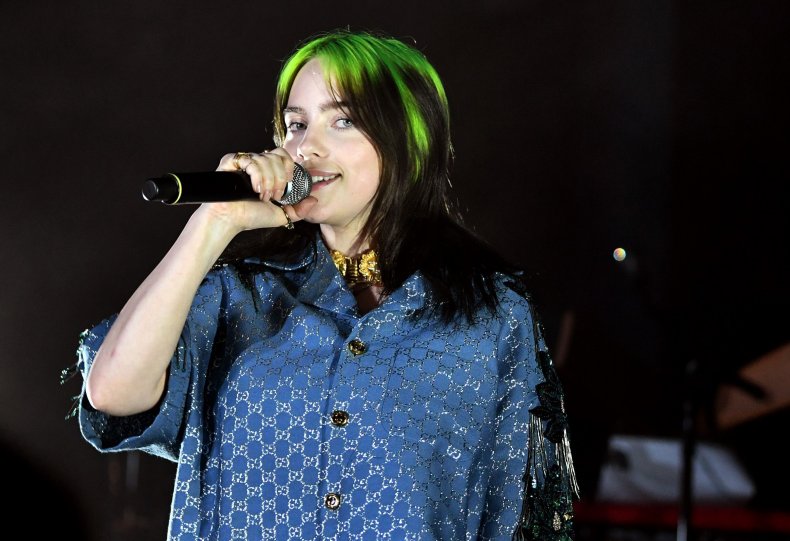 "It starts by voting against Donald Trump and for Joe Biden," she continued. "Silence is not an option and we cannot sit this one out. We all have to vote like our lives and the world depend on it, because they do. The only way to be certain of the future is to make it ourselves. Please register. Please vote."
Eilish then began playing "My Future," a song whose lyrics go, "I'm in love with my future—can't wait to meet her. And I, I'm in love, but not with anybody else.
Just wanna get to know myself."
After criticizing Eilish's appearance, Mackowiak tweeted numerous messages calling Vice Presidential candidate Senator Kamala Harris of California "a far-left radical," "WEAK on crime" and "totally fake."
In addition to being the Travis county GOP chairman, Mackowiak is president of the Potomac Strategy Group, a public relations firm based in Austin, Texas. He also hosts "Mack on Politics," a weekly political podcast.
Other notable Republican tweets during the DNC include U.S. Secretary of State Pompeo tweeting an image of cartoon character Lisa Simpson crying during a DNC segment featuring domestic violence survivors telling their stories.
The clip was taken from an early episode of The Simpsons in which Lisa tears up an optimistic speech she wrote for a political oration contest, having witnessed a corrupt business dealing between two politicians at a national monument.
President Donald Trump also tweeted during the DNC. During Harris' speech, Trump tweeted the message, "BUT DIDN'T SHE CALL HIM A RACIST??? DIDN'T SHE SAY HE WAS INCOMPETENT???" in reference to Harris' past criticisms of Biden.
Trump's tweet references when Harris criticized Biden at the June 27, 2019 debate over him touting his work with senator who opposed legislation integrating Black U.S. citizens into public schools. However, Harris has never called Biden "racist" nor "incompetent."