'Not Okay' Release Date, Cast, Trailer, Plot and More
Not Okay is a dark comedy meets rom-com meets culturally charged movie coming to Hulu and Disney+.
Written and directed by Blames star Quinn Shephard, Not Okay is an all-too-real horror movie for millennials, satirizing our social media addictions and just how far we could go to stay on top.
If you are a fan of movies such as Zola, Don't Look Up and Parasite you won't want to miss Not Okay.
Newsweek has everything you need to know about Not Okay, including the release date, cast, trailer and plot.
When Is Not Okay Out on Hulu and Disney+?
The good news is that Not Okay is coming to screens very soon. Even better, you can watch Not Okay from the comfort of your own home.
The movie is coming exclusively to Hulu in the U.S. and Disney+ on July 29.
To watch Not Okay, you must be a Hulu and Disney+ customer.
You can sign up to Hulu now for $6.99 per month. A Disney+ subscription in the U.K. beings at £7.99 per month.
Who Is In The Cast of Not Okay?
Zoey Deutch and Dylan O'Brien lead the cast of Not Okay.
Deutch plays the role of Danni Sanders, a lonely photo editor and aspiring writer willing to do anything to get recognized.
O'Brien stars as Danni's love interest, Colin, but things may not be quite as they seem.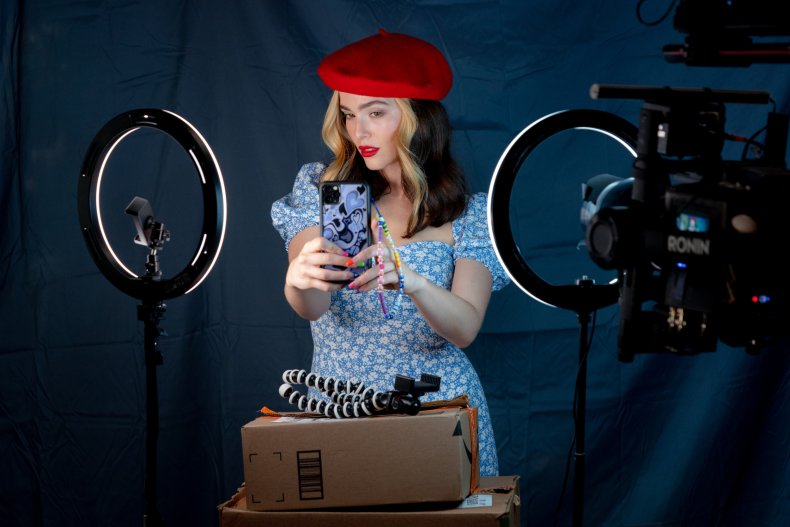 Deutch is best known for her role as Infinity Jackson in Netflix's The Politician and O'Brien for playing Stiles Stilinski in Teen Wolf and for recently starring in Taylor Swift's short film, All Too Well, opposite Stranger Things star, Sadie Sink.
Up-and-coming actor Mia Isaac takes on the role of Rowan, a trauma survivor and social change advocate who becomes friends with Danni. Schindler's List's Embeth Davidtz plays the role of Judith.
Also starring in Not Okay are:
Karan Soni as Kevin
Brennan Brown as Harold
Nadia Alexander as Harper
Tia Dionne Hodge as Linda
Negin Farsad as Susan
Sarah Yarkin as Julie
Dash Perry as Larson
What Is Not Okay About?
Not Okay is a black comedy movie that follows the life of aspiring influencer and writer Danni Sanders, who goes to extreme lengths to gain followers by faking a trip to Paris.
However, her lies come back to bite her when her new followers believe she is the survivor of a terrorist attack. Danni is forced to reckon with her morals and what it means to be authentic in the world of likes, dislikes and cancel culture.
The official synopsis per Hulu and Disney+ says the movie "follows Danni Sanders (Zoey Deutch), an aimless aspiring writer with no friends, no romantic prospects, and — worst of all — no followers, fakes an Instagram-friendly trip to Paris in the hopes of boosting her social media clout.
"When a terrifying incident strikes the City of Lights, Danni unwittingly falls into a lie bigger than she ever imagined. She "returns" as a hero, even striking up an unlikely friendship with Rowan (Mia Isaac), a real trauma survivor dedicated to societal change, and scooping up the man of her dreams, Colin (Dylan O'Brien).
"As an influencer and advocate, Danni finally has the life and audience she always wanted. But it's only a matter of time before the facade cracks, and she learns the hard way that the Internet loves a takedown."
Is There a Trailer for Not Okay?
Yes, there is a trailer for Not Okay, introducing audiences to the complicated world of Danni Sanders.
The trailer beings with Danni's editor calling her writing "offensive" and "tone deaf" after pitching an article.
In a voice-over, Zoey Deutch as Danni can be heard saying: "Have you ever wanted to be noticed so badly, you didn't even care what it was for?"
Audiences also catch a glimpse of Dylan O'Brien with bleached blonde hair as Colin, the cool guy in the office with a a huge social media following, something Danni envies.
When Danni tells the little white lie that she is going to Paris to impress Colin, viewers watch as she goes to extreme lengths to trick him into believing she actually went.
The trailer gets darker when it is revealed Danni fakes being the survivor of a Paris terrorist attack and one thing is for sure, things are not going to be okay as Danni warns the audience to be "careful what you f****** wish for."
Not Okay premieres Friday, July 29 on Hulu and Disney+