'This Is Not Rocket Science': Viral Clip Shows Alternative to Dress Bustle
A bride's entourage had to think on their feet when working with a wedding dress bustle, as seen in a TikTok viewed more than 1 million times.
Shared to Leckie Roberts' TikTok account, @leckieroberts, the video sparked a conversation in the comments section among viewers about the intricacies of a wedding gown. Some even shared their own experiences with having a bustle on their dress.
"This is not rocket science," one woman said as she and two other women examined the bottom of the bride's dress.
The camera zoomed in closer to the dress as the women continued to talk about what they needed to do to successfully bustle the gown.
In the next clip, it appeared that they needed to take a creative approach to bustle the dress.
The bride wore a smile on her face as she spun around in her dress that was tied in two knots to hold up the train.
According to a piece published by Brides, bustling a dress means the wedding dress train is tied up and out of the way. There are different styles of bustles a bride can choose from.
Different types of bustles may favor certain dress shapes, but the bride cannot bustle the dress on her own.
"Enlist the help of the maid of honor, a bridesmaid, your mom, or mother-in-law," the piece stated. "Whoever you choose, they'll need to come with you to your final wedding dress fitting so that the seamstress can walk them through bustling up your dress."
Bustles can be delicate, so if it breaks, Brides suggested having some tools that can be used, like sewing supplies, safety pins and clear fishing line.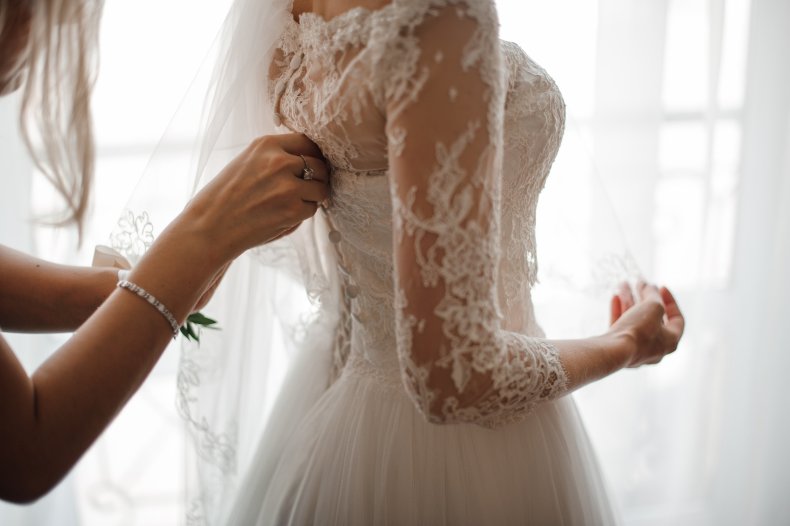 Roberts told Newsweek that it was her sister Adele's wedding day, and she wanted to capture a behind-the-scenes moment for Adele to keep.
After about 10 to 15 minutes, Roberts stepped in and managed to figure out how the dress was meant to be bustled, but they ran into another problem.
Roberts said she later found her sister dancing with the dress tied in two knots.
"My mouth was on the floor, I was in shock and awe," she said. "I looked left and right to see who did this. What happened while I was gone? Why are there pigtails on the dress?"
She learned that the bustle broke, and while Roberts wanted to fix the dress, she saw how happy her sister looked and left it alone.
"She was married and was enjoying herself," she explained. "I just let her be."
The bride in Roberts' video was not the only bride who experienced some complications with the bustle of a wedding dress.
"Omg yes!! It's so hard to do," a viewer wrote.
"It took my mom, mom in law, aunt, sister AND dog sitter [serious] 30 min to bustle mine, just for me to change into feather PJ's an hour later," another commenter shared.
One commenter said she filmed a video of her seamstress demonstrating how to bustle the dress, which she shared with her maid of honor, mother and wedding planner.
"Please make sure your mom isn't the only one that knows how to do this," another TikTok user urged. "Because when she's MIA the bridesmaids need to know."
A commenter said it may make it easier to bustle the dress if the seamstress used different colored strings. The ones that need to be tied together should be a matching color.
Roberts said she wasn't sure if she would keep the video up, but when she woke up the morning after posting it, she was met with numerous stories from other people sharing their experiences with bustles.
"I had no idea it would resonate with so many people," she said with a laugh.
There were a few unexpected obstacles during the wedding, which was postponed after it was meant to take place in 2021. But, despite the challenges, they all made the most of the wedding.
"At the end of the day, it's not about how you look, but the time you're having and moments you're having," Roberts said.
Updated 03/21/2022, 5:30 p.m. ET: This story has been updated with comments from Leckie Roberts and a verified video of the incident.
Updated 03/23/2022, 3:10 p.m. ET: This story has been updated to reflect the video has surpassed 1 million views.