'Not Sorry': Bride Ripped for Insisting Bridesmaid Ditch Injured Fiancé
Thousands of internet commenters were outraged after one disgruntled bride lamented over a bridesmaid who was forced to pull out of her wedding at the last minute.
In a viral Reddit post published on r/AmITheA**hole, Redditor u/InternationalHand887 (otherwise referred to as the original poster, or OP) said she was married over the weekend but explained how a car accident left her without one of her bridesmaids and feeling "disregarded."
Titled, "[Am I the a**hole] for getting upset that my bridesmaid friend skipped my wedding?" the post has received nearly 4,500 votes and 2,500 comments in the last day.
Beginning with the disclaimer that the pandemic extended her engagement from 2019 until now, the original poster said wedding plans had been in place for years but were unfortunately dashed when one of her bridesmaids was forced to drop out.
"Her fiancé got [in] a car accident and was hospitalized," OP wrote. "My friend had told me from the moment he got into the accident that she'll skip the wedding just to be sure [but] I told her we'll see."
Not convinced that her friend would miss her big day, the original poster said she expected to have her entire wedding party, but was sorely disappointed upon realizing her party would be one bridesmaid short.
"When I saw that [her fiancé] got discharged...I expected my friend to show up at the wedding after all since his situation is not as dangerous right now," OP wrote. "I texted her but she said that she'll not be able to make it."
"She kept saying how he's still not well and being discharged doesn't mean he can stay alone without care for many hours," OP wrote. "I got pretty upset because she seemed to totally disregard my wedding after so long making preparations and while I understand [it's] her fiancé, I was mad she didn't find a compromise to attend.
"She said I'm an [a**hole] for making her feel guilty about caring for her hurt fiancé," she added.
While all couples hope for the perfect wedding day devoid of hiccups, marriage outlets including Brides, The Knot and WeddingWire assure readers only a small number of weddings go off without a hitch.
Despite meticulous plans and to-the-minute schedules intended to keep all attendees in order, unexpected circumstances like poor weather, venue changes or wardrobe malfunctions are part of the process, and can be mitigated with quick thinking and adaptability.
Losing a bridesmaid just days before the ceremony, however, can require a more difficult adjustment.
Although Brides asserts that bridesmaids voluntarily dropping out of wedding parties should inform brides of their departure as early as possible, bridesmaids and brides dealing with sudden changes must adapt on-the-fly and remain focused on what is most important: celebrating the union between two loving partners.
Failure to do so can lead to scorned feelings capable of poisoning the happiest of days and—in severe cases—the closest of friendships.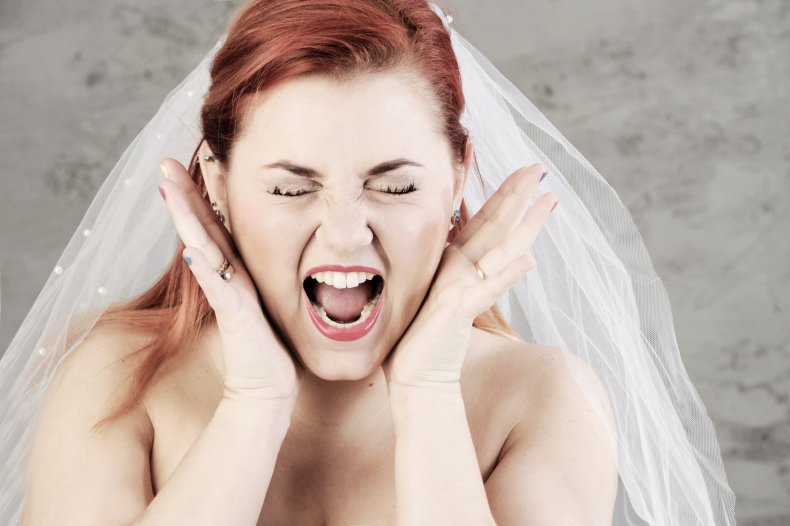 Throughout the comment section of the viral post, Redditors called out the original poster for piling unrealistic expectations on a woman caring for her injured fiancé and questioned how much OP cares about her friend and bridesmaid in the first place.
"[You're the a**hole]," Redditor u/Asleep_Muffin6127 wrote in the post's top comment, which has received nearly 12,000 votes. "She did find a compromise, it just wasn't good enough for you."
"She didn't skip last-minute - she gave you at least [five] days notice," they continued. "His situation, which is his health and recovery, actually does take priority over a wedding reception."
Redditor u/whitewolf3397, whose comment has received more than 5,000 votes, echoed that sentiment.
"[You're the a**hole] and very selfish. Her fiancé was in an accident and injured enough to be hospitalized," they wrote. "You don't even seem to care about how terrifying all that was for your supposed friend. She would have been distracted and anxious your whole wedding worrying about him probably."
"You are really upset and guilt tripping this poor woman for choosing to care for her fiancé who was in a car accident and just spent [five] days in the hospital, rather than go to your wedding," Redditor u/Fun-Two-1414 chimed in. "How selfish of you."
In a separate comment, which has received more than 5,000 votes, Redditor u/Anam97 speculated that, despite the original poster's repeated pleas for compromise, actual compromise was the last thing on her mind.
"OP does not want compromise," they wrote. "She wants compliance."
Newsweek reached out to u/InternationalHand887 for comment.