Not Sure About Quibi? Make Up Your Mind By Watching 3 Shows For Free on YouTube Right Now
In case audiences are interested in finding out more about the new streaming service Quibi, the new streamer has released three examples of their short-form content for free on YouTube.
Since launching on April 6, Quibi continues to engage interest towards its mobile app. Initially, new users were treated to a free 90 day trial, but now that's all changing.
Starting May 1 customers interested in signing up for the streaming video service will get a two-week trial instead. It's less time to check out the service, and Quibi's concession here is posting free content on YouTube for anyone to check out and decide if the service is for them.
With the first episodes of the three Quibi shows, with each one lasting up to ten minutes, it should be easy for the average viewer, including yours truly, to see if there's anything up their alley.
As an avid horror fan, I am most excited about the nine minute installment of The Stranger, starring Maika Monroe and Dane DeHaan. Monroe was the breakout star in director Robert Mitchell's 2014 sex virus thriller, It Follows. And now, the Independence Day: Resurgence actress plays Clare, a struggling taxi driver who picks up a psychopath Carl E. (Dehaan) as her late night passenger.
Loosely based on the 1924 short story by author Richard Connell, Most Dangerous Game follows a dying Dodge (Liam Hemsworth) struggling to get himself out of debt. Miles (Christoph Waltz) is a charming businessman who offers salvation but with a deadly price. The eight-minute episode introduces the violent human sport, where Dodge has to decide if he wants to be chased by sinister hunters.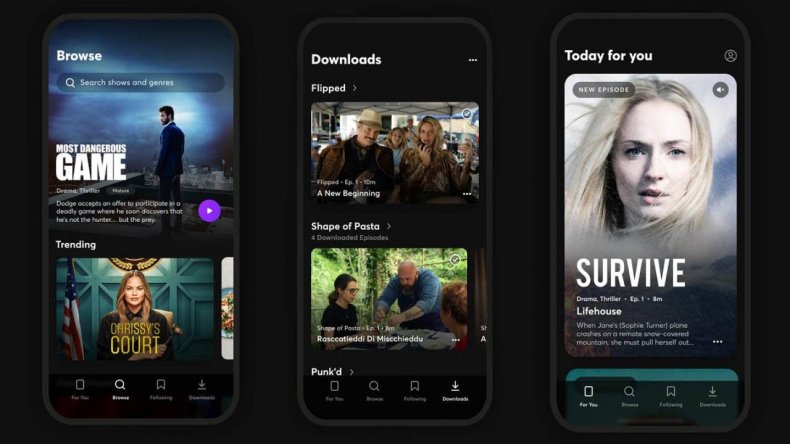 It's not all doom and gloom. Dummy is a raunchy buddy comedy starring Pitch Perfect's Anna Kendrick. In the first nine minutes, Cody (Kendrick) discovers her boyfriend has a sex doll named Barbara. Just when you'd think things couldn't get worse (personal life-wise) Cody gets hit with another mallet when Barbara the sex doll starts talking to her. Can you say, "Yikes?"
Check out these free Quibi shows and see if you want more. I know my interests have been piqued!