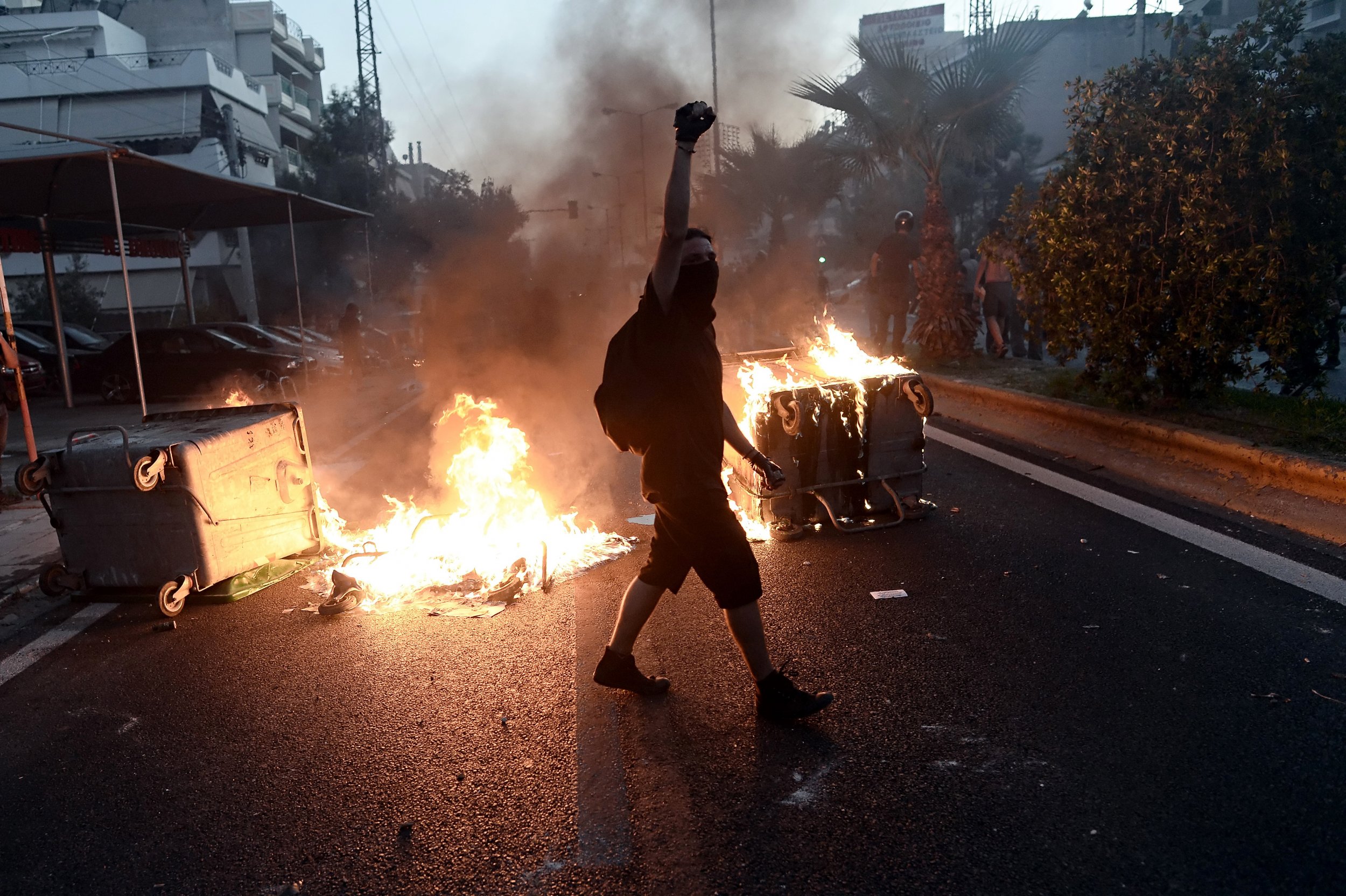 Street-level politics, more specifically an ongoing conflict between white supremacist demonstrators and antifa, or anti-fascist counterprotesters, has become a big news story following the rise of Donald Trump. Now a gun company is using anger over antifa to sell dangerous assault rifles to only one side.
Spike's Tactical, a gun company, previewed an ad on its Facebook page that depicts four heavily armed white men standing on the opposite side of a barrier and facing down a group of masked, unarmed antifa protesters. The ad mentions the sites of several political clashes that took place last year, including Berkeley, California; Portland, Oregon; Boston; and Charlottesville, Virginia. In the latter city, neo-Nazis and white supremacists arrived at a rally heavily armed last August, and a driver struck a peaceful counterprotester with his car, killing her.
"Not today Antifa," a tagline to the violence-teasing ad declares. Antifa, it should be noted, is a style of protest used by leftists and not a formal organization with a hierarchy.
The ad, which anti-fascists worry is fueling a desire to kill leftists, was run in conjunction with a clothing company called Pipe Hitters Union, which also posted the same version of the ad on its Facebook page. Newsweek reached out to both companies for a comment about the ad but did not immediately receive a response.
Of course, owning a gun is not connected with any specific political ideology, and as a result, some gun owners were unhappy with the post.
"Thanks for showing everyone you stand with the fascists," a commenter wrote under the post to Spike's Tactical. "Good to know."
"Something tells me your WWII Grandparents need to have a talk with you," another commenter wrote to the company, referring to the Americans who fought against Nazi Germany.
"I'll make sure to never ever buy gear from y'all. Thanks for the heads up, assholes," another person wrote.
A number of violent incidents attributed to the far right in recent months have helped to make the prospect of far-right violence a little too real for many. William Edward Atchison killed two students at his New Mexico high school last year. Before that, he was a regular commenter on the neo-Nazi website Daily Stormer, according to The Daily Beast.
What's more, Scott Fricker and Buckley Kuhn-Fricker were allegedly killed by Nicholas Giampa, a 17-year-old neo-Nazi from Virginia who was dating their daughter. The man who killed a Douglas County, Colorado, deputy and wounded other law enforcement figures on December 31 was attracted to an "alt-right" ideology, a local news reporter suggested. According to the FBI, a 26-year-old white man who attempted an attack on an Amtrak train in rural Nebraska in October 2017 also attended the "Unite the Right" rally last August in Charlottesville, Virginia, Newsweek reported last week.
Antifa activists physically attacked white supremacists at rallies in 2017, but to a much less newsworthy degree. Alt-right provocateur Richard Spencer was sucker-punched on the street in Washington, D.C., following Trump's inauguration. A GIF of his head snapping back and forth went viral and spawned a number of op-eds questioning whether it was OK to "punch a Nazi." Noam Chomsky, a renowned leftist academic, suggested in interviews that antifa violence could trigger repression from the federal government. Leftists contend that they fall back on violence only as a last resort to protect marginalized communities from imminent danger.
The demonization of antifa by some members of the media has resulted in a deluge of surreal conspiracy theories, activists note. For example, on November 4 Fox News and other outlets reported on the threat of a fictional antifa-led civil war plot. The National Rifle Association put antifa on the cover of its magazine in November, and the story unironically called activists "ne'er-do-wells."
In December, "Nestor," a spokesman for Antifascist Action Nebraska who did not reveal his last name to protect his identity from white supremacists, told Newsweek that the gun lobby was actively using debunked antifa conspiracy theories to sell heavy weaponry to violent people.
"We aren't violent. Violence is [the] last resort in opposing fascism," the activist told Newsweek. "There aren't antifa protesters roaming around the streets carrying baseball bats. That's not happening."