Not Wearing a Mask Is Now a Crime in These Places
Face masks are now mandatory in 16 states and the District of Columbia. Washington state is the latest to join the list of states that have issued orders requiring residents to wear face coverings, as the U.S. reaches a new peak in daily coronavirus cases.
An uptick in COVID-19 cases overwhelmed hospitals in Yakima County leaving no beds available for the influx of patients. The Yakima Health District announced on June 19 that multiple people were waiting for hospital beds, even after 17 patients had been transferred out of the county.
"The health care system, because of COVID-19 infections, is so stressed, that there is no room at the hospital in Yakima County. There are no rooms available to people for this treatment in Yakima County," Washington Governor Jay Inslee said. "That means that patients are having to be shipped by ambulance outside of Yakima County to Seattle and other places.… We do not want to see that condition spread across the state of Washington."
In response, Inslee has issued a statewide mandatory face mask order that will go into effect Friday. Every Washingtonian will be required to wear a facial covering when in a public space, both indoors and outdoors.
"I think of these face coverings, in some sense, as a statement. It's a statement that when you wear it, it means you care about people, because it means you want to reduce the risk that you are going to infect another person," Inslee said during a press conference Tuesday.
"Until a vaccine or cure is developed, this is going to be one of our best defenses," he added.
Inslee's deputy communications director Mike Faulk told Newsweek in an email that enforcement of the mask order is at the discretion of local law enforcement.
"The priority is education and voluntary compliance, though individuals can be cited for up to a misdemeanor with up to a $100 fine," Faulk wrote.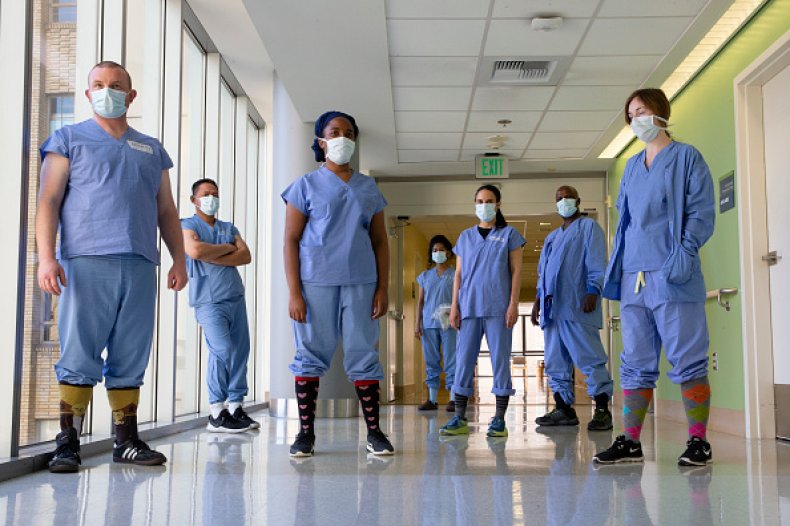 New Jersey, a state that has been hit particularly hard by the virus, was the first state to issue a face covering order back on April 8, when the new coronavirus pandemic first spread across the U.S.
Connecticut, the District of Columbia, Hawaii, Maryland, New York and Pennsylvania quickly followed suit and mandated the wearing of masks in public spaces at the end of April.
The nine other states that have introduced mandatory measures for face masks include California, Delaware, Illinois, Kentucky, Maine, Massachusetts, Michigan, New Mexico and Rhode Island.
A study published in Health Affairs on June 16 found a "significant decline in daily COVID-19 growth rate after mandating facial covers in public, with the effect increasing over time after signing the order." In the analysis of 15 states and the District of Columbia, the authors estimate that between 230,000 and 450,000 coronavirus cases have been averted by May 22.
The Centers for Disease Control and Prevention have now said that everyone "should wear a cloth face cover when they have to go out in public, for example to the grocery store or to pick up other necessities." At the beginning of the pandemic, health officials had recommended against the use of face masks before quickly reversing on their guidance in early April.
Despite massive spikes in COVID-19 cases, hot spot states, including Arizona, Florida and Texas, have yet to mandate the wearing of face coverings. Governors from these states have advised the public to wear masks and have rolled back on reopening plans but have avoided issuing any official order as of yet.
Update: This story has been updated with comments from Mike Faulk, the deputy communications director for the office of Governor Jay Inslee.