No, you're not just imagining it—that bag of Doritos has fewer chips than it used to.
A bag that used to weigh 9.75 ounces is now 9.25 ounces, containing about 5 fewer chips, according to a spokesperson from Frito-Lay—the parent company of Doritos—who confirmed the change to Quartz.
It's just one of the latest examples of "shrinkflation," a cost-cutting strategy in which companies reduce the size of products while keeping prices the same. Manufacturers are seeing their bottom line squeezed by inflation, pandemic-related supply chain bottlenecks and labor shortages, but customers tend to notice when price tags go up in stores. Inconspicuously downsizing products is a sneakier way for companies to pass on their increased costs.
The annual inflation rate in the United States reached 7.9 percent in February, its highest rate since January 1982, according to the Bureau of Labor Statistics. While energy was the largest contributor to increased consumer prices, the food index increased 1 percent in February, bringing the annual rate of inflation to 7.9 percent for food alone—the largest leap for that category since July 1981.
Doritos aren't the only snack to keep your eye on at the grocery store. Mondelez, which makes Wheat Thins, also confirmed to Quartz that a family-size box had shrunk from 16 ounces to 14 ounces, with approximately 28 fewer crackers. Gatorade also recently replaced its 32-ounce bottle with a 28-ounce bottle for the same price, a redesign that a company representative told Quartz made the bottle "more aerodynamic" and "easier to grab."
Meanwhile, Crest 3D White reduced its 4.1 ounce tube to 3.8 ounces, according to its producer Proctor & Gamble. The company also confirmed that a package of Bounty Triples paper towels that used to come with 165 sheets now has 147 sheets, the equivalent of three fewer sheets per roll.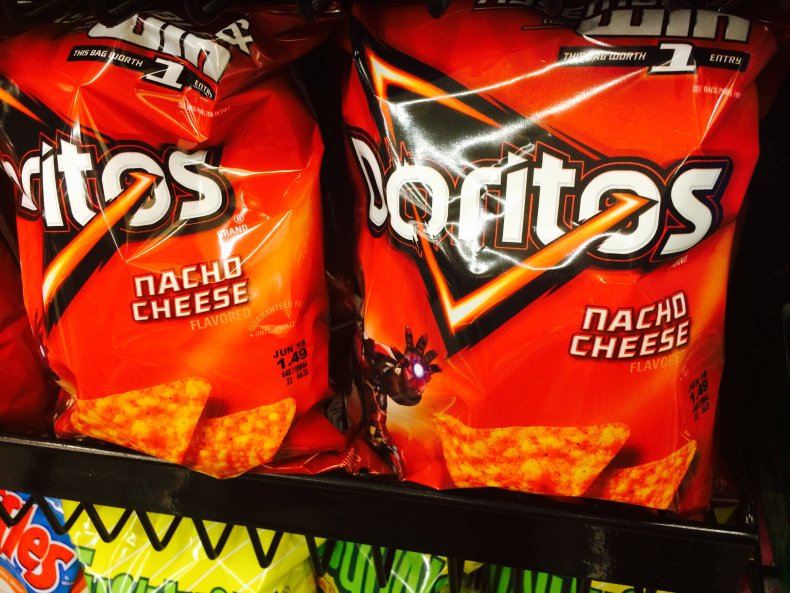 A subreddit dedicated to shrinkflation is full of complaints from consumers. One person shared a photo of a Styrofoam cup, claiming it was so thin that "the drink seeps through it." Another user showed a side-by-side comparison of two $10 bags of chicken strips of the same brand, pointing out that the packages had "lost 0.31kg since the last time I bought them." In another post, a user shared two cans of Sun-Maid raisins that were seemingly identical, but for their weight labels: one was 22.58 ounces and one was just 20 ounces. "Same package size, same price, 13% fewer raisins," the user wrote.
Newsweek reached out to Frito-Lay for comment on the downsizing of Doritos.