Notable Pride Events Stick to Anti-Police Stance After Threats
Some notable upcoming Pride events have announced plans to maintain their stance in opposition of law enforcement officials attending, despite recent threats made to some Pride events over the past few weeks.
New York City's Pride organization, Heritage of Pride and the Capitol Hill Pride event in Seattle recently announced that they plan to continue to enforce a ban on police officers attending. On Saturday, June 11, police in Coeur d'Alene, Idaho, announced that 31 individuals who were believed to be associated with Patriot Front, a white nationalist group, were arrested near a Pride event. According to reports, police said that they found the individuals were in possession of an "operations plan" that detailed plans to riot near the Pride festival.
In a statement sent to Newsweek, Capitol Hill Pride said, "Seattle's Capitol Hill Pride is continuing its ban on Seattle police participation inline with New York Pride...We feel the best way the police can provide security is on the perimeter watching for violators, hate groups and potential disruptions and uphold the new Washington State ban of open carry firearms at demonstrations instead of creating an intimidating police presence."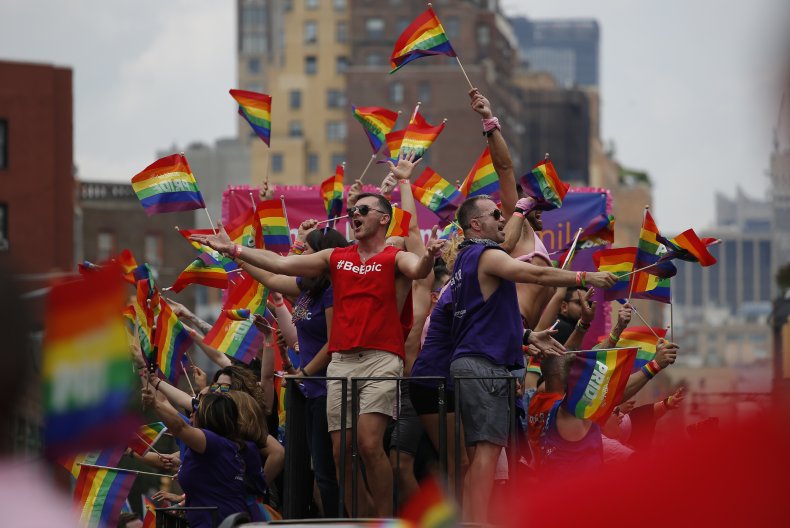 The statement from Seattle's Capitol Hill Pride notes that the ban "does not prohibit any off-duty police officer from attending this public civil rights event," meaning that off-duty officers not in uniform are allowed to attend.
Newsweek reached out to the Seattle Police Department for comment.
As the statement from the Capitol Hill Pride noted, a similar ban was announced by officials with the New York City Pride organization. A spokesperson for the New York City Pride organization directed Newsweek to its statement issued in May, which said, "Beginning in 2021, NYC Pride publicly banned corrections and law enforcement exhibitors from marching in their uniforms and participating in recruitment activities at NYC Pride events until at least 2025. This action was a step in the path of transformative justice affirming our commitment to eliminating violence, harm, and abuse at NYC Pride events."
Dan Dimant of the New York City Pride organization also told Newsweek that staff members and members of the organization's executive board receive active shooter training every year.
Newsweek reached out to the New York Police Department for comment.
Both New York City's Pride organization and Capitol Hill Pride initially barred uniformed officers from attending Pride events following the 2020 riots following George Floyd's death.
Several other Pride events scheduled throughout the upcoming month have taken a somewhat different stance on allowing police officers to attend.
In 2021, the Denver Pride event barred police officers from attending, however, this year they created a new plan to allow police officers who identify as members of the LGBTQ community to attend, KMGH-TV reported.
Similarly, in San Francisco, organizers of a Pride event previously announced that uniformed police officers wouldn't be allowed to attend, however, they altered their decision earlier this month.
"We have agreed that all first responders will march together in one contingent. Most law enforcement officers marching will be in casual dress. Police and fire department command staff will march in their class AA uniforms as regulated. There will be a small number of LGBTQ officers in uniform providing security for the contingent," the San Francisco Police Officers Pride Alliance and San Francisco LGBT Pride organization said in a joint statement on June 3.