Nothing Unites Different Marginalized Groups: Exposing the Intersectional Hoax | Opinion
If you live in a major American city, you've probably seen the "Progress Pride flag." To the left of the rainbow that has historically represented the fight for gay rights, activists recently added arrow-shaped bars in black, brown, white, pink and blue to represent the "intersectional" movement that brings under one umbrella the cause of gays, African-Americans, Hispanics and the transgender community. Intersectionality was initially a legal concept introduced by Kimberle Crenshaw to represent how people whose identity spans more than one marginalized category—Black women, say, or a gay Hispanic person—might face increased levels of oppression. But these days it's used by the activist Left to represent the view that all forms of "oppression" and group conflict are linked—and are invariably the fault of bespoke suit-wearing straight white men or "white supremacy," in short.
But this view is wholly unsupported by the data. Not only do many "intersectional" Americans out-earn white men, but Black and Hispanic Americans often score as more homophobic than white Americans in polls, and some of the most contested terrain in modern discourse can be found between trans activists and gender critical lesbians.
In other words, the modern intersectional argument is so facially false that it borders on the nonsensical.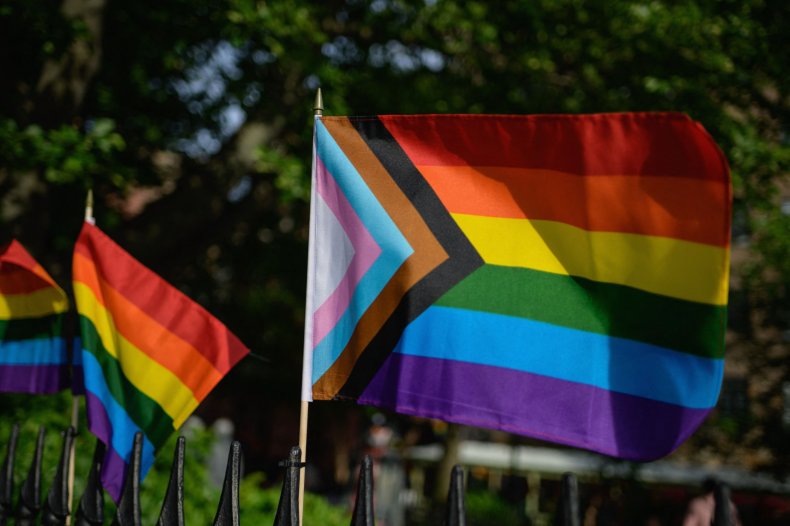 Yet this falsity has not damaged its popularity. Intersectionality is inescapable in modern upper-middle class America, tacitly invoked so ubiquitously as to frequently approach the level of religious catechism. Thus, in a recent message to donors and online followers, the American Civil Liberties Union opposed hypothetical abortion bans in the name of Black and "Indigenous" people, the LGBTQ community, immigrants, young people and "people with disabilities." A quick reading-between-lines makes it fairly clear who is supposed to be oppressing all of these peoples, who otherwise would presumably live together in peace. This is the calling card of activist intersectionality.
The problem with this idea, as they say, is that it is wrong. The current American ruling class is hardly a monoglot all-white entity: The wealthiest U.S. population group is Indian Americans, and seven of the top 10 income groups are not white. Nor are the majority of whites wealthy conservative oppressors; politically speaking, the white vote at the Presidential level has been divided fairly evenly between the parties for decades. Meanwhile, many minority groups dislike one another more than they dislike the current majority.
Absent the fictional narrative of one oppressor class, it's difficult to imagine what might unify, say, devout Muslims and OnlyFans feminists, lesbian activists and trans women, or illegal immigrants and Black or Appalachian union workers.
Awkward though it may be to admit it, the idea that racial minorities are the strongest straight allies of the LGBT community has no statistical basis whatsoever. In fact, the exact reverse is often the case: In one well-known study, 45 percent of Black Democrats and 59 percent of Latino Democrats essentially rejected the very idea of transgenderism, simply refusing to accept that a person's gender can ever be governed by anything but "their (biological) sex at birth." And this is compared to just 25 percent of white Democrats.
This result hardly stands alone. In 2019, the Pew Research Center found that only 44 percent of Black Protestants currently support same-sex marriage, compared to 61 percent of Catholics, 66 percent of main-line white Protestants, and 79 percent of the (mostly white) religiously unaffiliated. Only hardline Evangelical whites registered as more homophobic than Black church-goers, with a scant 29 percent supporting same sex marriage. Among all citizens regardless of religious affiliation, 62 percent of whites, 58 percent of Hispanics, and just 51 percent of Black Americans support gay marriage.
These figures are especially startling given that young people are generally more liberal than their elders, but minority communities are overall much younger than white Americans; the most common age in the U.S. is 58 for whites, 27 for Blacks, and just 11 years old for Hispanics.
Conflicts exist not only between gay and minority communities, but also within the increasingly broad "LGBTQ+" community itself. Consider the "gender critical" or "LGB only" movement, representing "old-school" gay citizens, especially women who love women, who believe that trans-gender persons, "non-binary" people, and essentially-straight kinksters and allies are not members of the gay community at all, and that gay people should not have to pretend attraction to "gender" categories rather than biological sexes.
This fraternal dispute has achieved international prominence of late. In 2019, protesters from the lesbian rights group "Get the L Out" found themselves featured on ABC News after vigorously disrupting London's annual Pride Parade wielding signs reading "Trans Activism Erases Lesbians" and lying down in the middle of the parade route. Less noisily but more famously, Harry Potter mum and gay ally J.K. Rowling faced allegations of "transphobia" and the removal of her name from a school after arguing simply that biological sex is real and relevant to women. In an era when about 3 percent of American teens now identify as trans-gender, this fight seems unlikely to end any time soon.
Similar points of conflict exist between many racial minority groups. Quantitative analyses of anti-Asian violence conducted during the "Stop Asian Hate" movement of the past three years, including my own for Commentary magazine, invariably turned up the awkward reality that almost no white supremacists were involved with recent anti-Asian American abuse. Instead, the actual attackers responsible for famous 2021 assaults like those on the "Manhattan grandmother" and Uber driver Mohammad Anwar turned out to be a motley and mostly-minority crew of urban criminals.
During 2021, 23 of the attackers in my data set of high-profile cases were Black, 22 were of unknown race, 12 were white, five were of mixed race, and one was Asian. This distribution was not atypical: The 2018-19 "BJS" national crime report broke down all anti-Asian crime in the U.S. that year as 27.5 percent Black, 24.1 percent white, 21.4 percent Hispanic/Other combined, and just under 25 percent Asian.
Of the over than 182,000 crimes against our small Asian-American minority recorded by government statisticians in 2018, three quarters were committed by non-whites and roughly 50 percent were committed by non-Asian minorities.
In the face of such violence, Asian community elders are increasingly calling for measures like heightened policing of AAPI neighborhoods that bring them into direct conflict with the demands of traditional minority activist groups such as Black Lives Matter.
So much for the new pride flag.
Taken together, these facts don't constitute a story with a moral to it (I rarely tell those). There is nothing inherently "good" or "bad" about the fact that large groups within society often disagree vigorously, even if they are not "supposed" to. But this plain reality does contradict a false narrative very prevalent among the intelligentsia today, which would have you believe that disparate minority groups somehow have a common struggle against a white supremacist majority that seeks to oppress them.
The truth is that conflict is an eternal reality for a smart predator species like ours, and massive potential and actual schisms exist within la Resistance today.
If there's one thing you take from it, let it be this: It's ok to have just one thing on your damn sign. It is perfectly fine to be "Queer and Proud" if that's your thing without tossing in "Free Palestine." Many causes are worthy on their own. Don't cancel them out with progressive myths.
Wilfred Reilly is an Assistant Professor of Political Science at Kentucky State University.
The views in this article are the writer's own.