Notre Dame Cathedral Fire: University of Notre Dame Pledges $100,000 to Restoration
The University of Notre Dame, a private Catholic university in Indiana, announced on Tuesday it would donate $100,000 to the renovation of the Notre Dame Cathedral in Paris, which endured a devastating fire on Monday.
The Indiana university's donation came at the direction of the Reverend John Jenkins, the university's president, who said the community was "deeply saddened" to see the damage to the Paris cathedral. The "exquisite Gothic architecture" of the cathedral, Jenkins said, much of it completed in 1345, raised people's hearts and minds to God.
Jenkins explained that the fire reminded him of the words of Holy Cross Father Edward Sorin, the founder of the university.
"Tomorrow we will begin again and build it bigger, and when it is built, we will put a gold dome on top with a golden statue of the Mother of God so that everyone who comes this way will know to whom we owe whatever great future this place has," Sorin said after a fire destroyed the Notre Dame campus in 1879.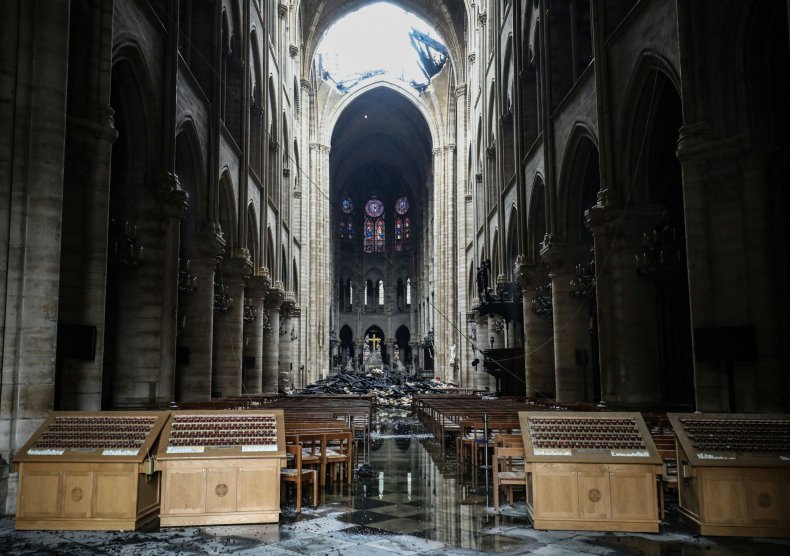 In addition to offering their prayers and the $100,000 donation, the bells of the Basilica of the Sacred Heart, located on the Notre Dame campus, will toll 50 times at 6 p.m. EDT on Tuesday. The 50 bell tolls represent the 50 Hail Marys of Our Lady's Rosary, a Notre Dame spokesperson said.
On Monday, a fire broke out inside the famous Paris cathedral that required 400 firefighters to extinguish. The roof sustained significant damage, and the fire caused the church's spire to collapse.
Inside the cathedral were priceless artifacts of Christian history, and as the building burned, members of the Paris fire brigade made a "tremendous human chain" to save what was inside, according to Paris Mayor Anne Hidalgo. Among the items rescued from the blaze was a replica of the crown of thorns, which Jesus is believed to have worn during his crucifixion.
French President Emmanuel Macron praised all those who responded to the scene and vowed that France would rebuild the iconic landmark.
"We will rebuild Notre Dame, because it is what the French expect of us, it is what our history deserves, it is, in the deepest sense, our destiny," Macron said.
Along with the donation from the University of Notre Dame, French billionaire François-Henri Pinault pledged 100 million euros (about $113 million) to the restoration effort. French billionaire Bernard Arnault also said his family would donate about $226 million to restore the cathedral, which he called "a symbol of France, of its heritage and of French unity."