Notre Dame Easter Services Moved To Parisian Church Hit by Arson Just Last Month
The Easter services that were due to take place at Notre Dame Cathedral have been shifted to another church in Paris that was also a victim of fire within the last few weeks.
Services for Good Friday and Easter Sunday that were due to take place at Notre Dame, which was engulfed with flames on Monday, will now take place at the Basilica of St Sulpice and the Church of St Eustache, the French religious publication Famille Chretienne reported.
St Sulpice was itself the scene of a blaze after midday mass on March 17 due to suspected arson. There was around 900,000 euros ($1.01 million) of damage with its doors, 18th century woodwork and stained glass window affected, Le Point reported last month.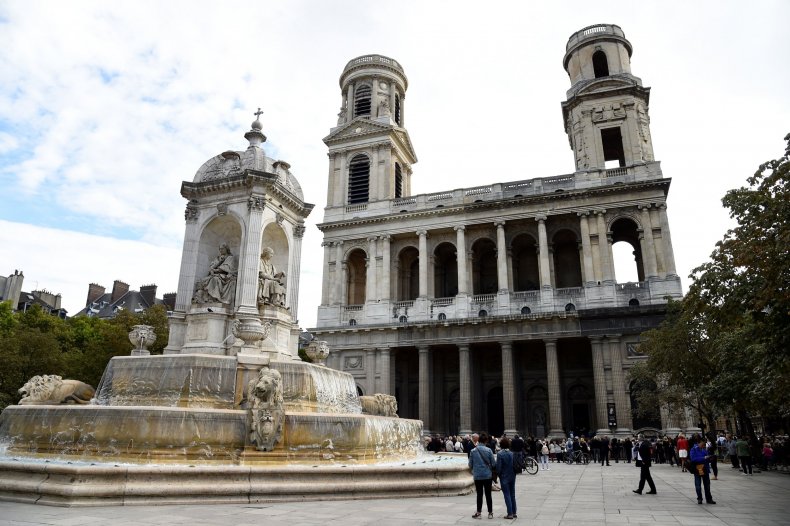 Soot also permeated the building, requiring a considerable clean-up operation. But it was open on Wednesday for the Holy Chrism Mass, in which the sick are blessed and adults are baptised.
Politicians like interior culture minister Christophe Castaner, the French president's wife, Brigitte Macron, and Paris mayor Anne Hidalgo, were among more than 2,000 people who packed the pews for the service.
The archbishop of Paris told the congregation that after the fire, "our beloved cathedral is on its knees," Le Figaro reported.
He outlined how the fire had rekindled the faith of many people "who have not prayed for a long time," and described the church as "more than a pile of stones," adding that, "the cathedral has partially fallen down, the cathedral will revive itself, it will recover."
With a goal being set by President Emmanuel Macron that the church will be rebuilt within five years, the government hopes that thousands of young workers will help with the reconstruction.
A programme titled "construction sites of France" was launched by ministers on Wednesday with the aim of bringing together a generation of architects, artists and artisans to contribute to restoring one of France's most enduring landmarks, Le Monde reported.
Macron also paid tribute to the fire fighters for managing to save most of the church. Hundreds of rescue workers attended the Elysee Palace to receive the medal of honor.
Macron said: "Thank you to those who took such risks, the country and the whole world were observing you and you were exemplary," Le Parisien reported.
Meanwhile, the curate at St Sulpice said the fire at his church last month was not an anti-religious act, and called for an end to conspiracy theories around the Notre Dame fire.
"Do not believe in conspiracy theories and trying to find a culprit at all costs," Jean-Loup Lacroix told Le Parisien.