How to Donate to Notre Dame Restoration: French Billionaires Pledge Millions as Fundraising Site Crashes After Donations Surge
A website facilitating donations to the restoration of the Notre Dame Cathedral in Paris crashed after amid a flood of contributions prompted by Monday night's devastating fire.
The site—Friends of Notre Dame—was set up to receive donations to help with ongoing renovation costs to the 850-year-old monument. But after a fire destroyed of the cathedral's spire and most of its roof on Monday, web users flocked to the site to donate for now-planned repairs.
While the Friends of Notre Dame website grappled with unprecedented traffic, two French billionaires pledged millions to help rebuild the cathedral. François-Henri Pinault—the chairman and CEO of the Kering group who is married to Salma Hayek and thought to be worth some $24 billion—said in a statement he would give around $113 million to "completely rebuild Notre Dame."
His statement, sent to Le Figaro, said the "tragedy strikes all the French and beyond all those who are attached to spiritual values. Faced with such a tragedy, everyone wants to revive this jewel of our heritage as quickly as possible."
Fellow billionaire Bernard Arnault soon joined Pinault, saying his family would contribute $226 million to rebuild the monoument. Calling the fire a "national tragedy," Arnault said in a statement that the "extraordinary cathedral" is "a symbol of France, of its heritage and of French unity."
The Fondation du Patrimoine, a private body that protects and enhances French heritage, said it intends to launch an international appeal for donations to help rebuild the cathedral. "All donations received will be paid in full to the restoration site," it said on Twitter, "for Notre Dame to be reborn from her ashes."
The fire broke out on Monday evening in the midst of rush hour traffic, spreading through the iconic cathedral and leaving a plume of thick smoke rising above central Paris. Firefighters battled for several hours to contain and quell the blaze, eventually managing to save Notre Dame's Gothic structure, the two towers and some of the priceless artifacts and works of art stored within.
But the fire inflicted "colossal damages" on the famous cathedral, Deputy Mayor Emmanuel Gregoire said. French President Emmanuel Macron, addressing the nation close to midnight, vowed to rebuild it and would call on the world's "greatest talents" to help.
Sky News reported that the cost was expected to run into the billions of dollars, but citizens of France and the world have already rallied to the cause.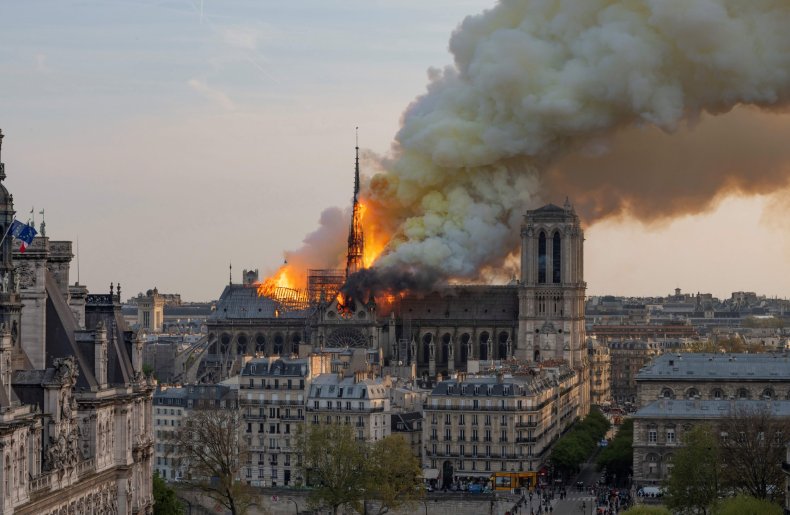 The graphic below, provided by Statista, illustrates the history of the famous Notre Dame cathedral.