Notre Dame Football Can Win Something in 2020 it Never Has in 133 Years
The Atlantic Coast Conference announced a revised 10-game football schedule for the 2020 season that includes Notre Dame getting 10 ACC games. They also said Notre Dame will be able to play in the ACC Championship game if the Fighting Irish qualify.
Notre Dame has played football since 1887, and this will be the first time it could play for a conference championship. Why? Notre Dame has played football independently from conference affiliations, but its other sports have played in a conference, and right now that conference is the ACC.
As part of Notre Dame joining the ACC in other sports, like men's and women's basketball, the Irish agreed to play a set amount of football games annually against ACC opponents. Those teams have rotated every year.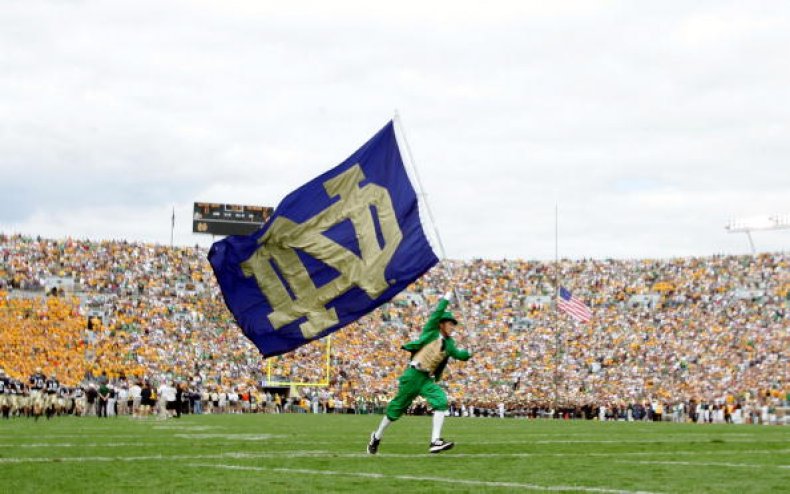 The ACC made its announcement Wednesday that football and its fall Olympic sports will begin competition Sept. 7-12 after months of no college sports because of their cancelation from COVID-19.
"As we look ahead to the fall, the safety of our students, staff and overall campus community continues to be our top priority," said Kent Syverud, the Chancellor of Syracuse University and Chairman of the ACC Board of Directors. "Today's announcement outlines a specific path for ACC fall sports to return to intercollegiate athletic competition using comprehensive protocols put forward by our ACC Medical Advisory Group. As a league, we understand the need to stay flexible and be prepared to adjust as medical information evolves in conjunction with local and state health guidelines."
For football, each team in the conference is allowed to play 11 games. Each team gets 10 conference games and one non-conference game, but the non-conference game (which each team chooses) must be played in the state of that ACC team. The season will play out over 13 weeks, which allows for two open dates per team.
There will be just one division this year for the 15 teams, and Notre Dame will be eligible to compete for the conference championship, which will be either Dec. 12 or Dec. 19 at Bank of America Stadium in Charlotte, North Carolina.
TV revenue will be divided among the 15 teams, and this includes contract money from Notre Dame and NBC, which has exclusive rights to Notre Dame home games.
ACC Commissioner John Swofford said the schedules were created after months of planning, and that included safety measures for the teams.
"Today's decision was made after months of thoughtful planning by numerous individuals throughout the conference," Swofford said. "The Board's decision presents a path, if public health guidance allows, to move forward with competition. Our institutions are committed to taking the necessary measures to facilitate the return in a safe and responsible manner. We recognize that we may need to be nimble and make adjustments in the future. We will be as prepared as possible should that need arise."
Notre Dame Football Can Win Something in 2020 it Never Has in 133 Years | Sports