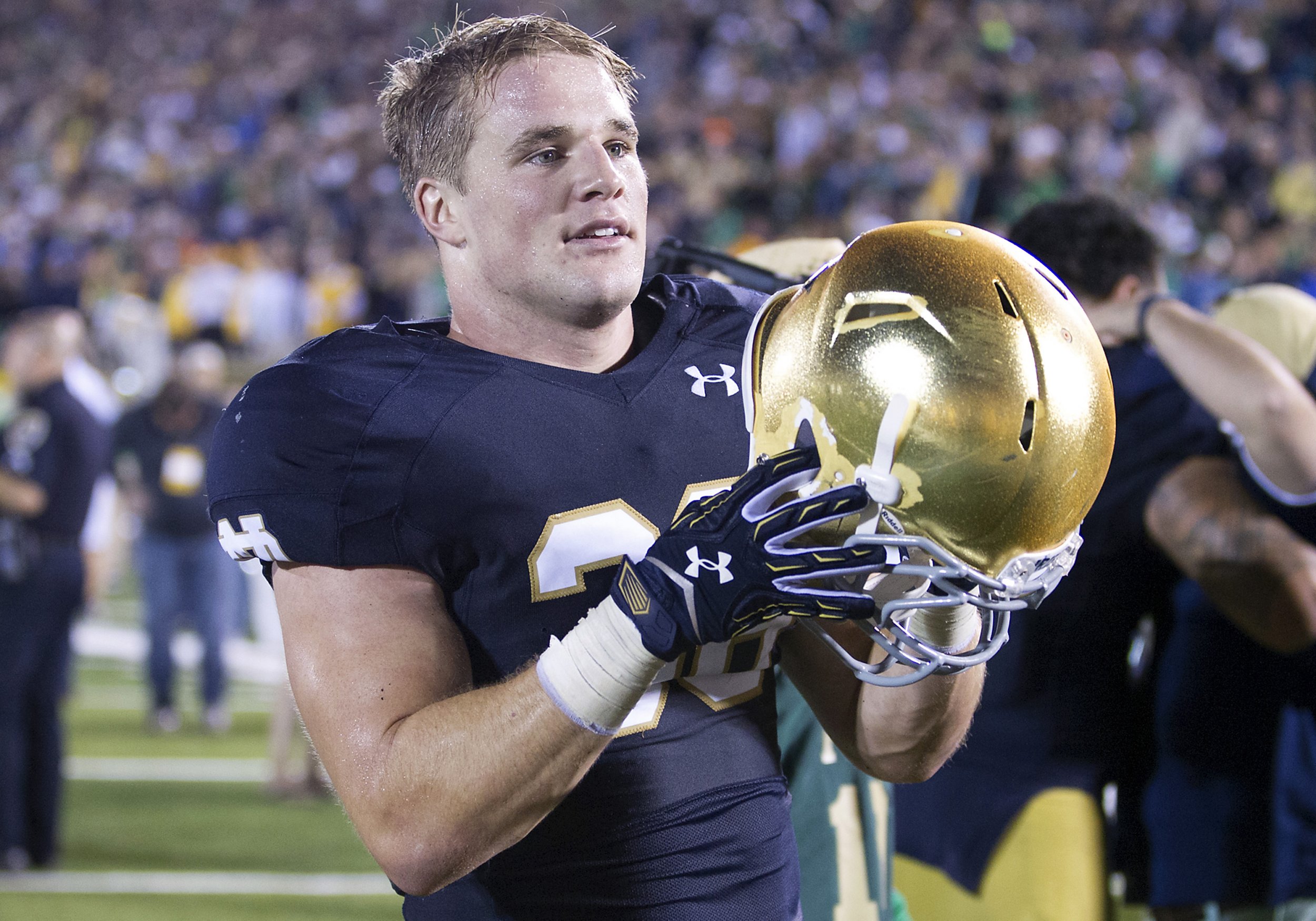 The following story comes with a WARNING. The University of Notre Dame has long been guilty of intermingling biblical and gridiron iconography. Hence, a statue of a well-known Old Testament figure on campus is known to students as "First Down Moses," while a mural of the central figure in Christianity is "Touchdown Jesus." Conversely, the premature and often inaccurate beatification of its football players, such as All-American linebacker Manti Te'o or one-play, walk-on wonder Rudy Ruettiger, has long provided fuel for skepticism.
Hence, you have been warned. The subject below is both a starting linebacker at Notre Dame and a former walk-on. Some of his story may read like blarney. It is not. It may still prove too saccharine for some readers, but it is genuine.
Inside the Orange, California, home of Mater Dei High School middle linebacker Joe Schmidt, an Ivy League coach laid out two paths. "If you come to our school, you're going to be a team captain and All-Ivy," he told Schmidt and his parents, Joseph and Debra. "If you go to Notre Dame, you're never going to see the field."
Never mind that the Ivy League school would be able to provide financial assistance, while Notre Dame would not offer Schmidt, a talented yet undersized (six feet, 225 pounds) player, a scholarship. The Ivy League coach departed, confident that he had helped Schmidt come to a decision. He had.
"That's it," Schmidt informed his parents. "I'm going to prove him wrong."
This Saturday night, Schmidt, who enrolled at Notre Dame in 2010 as a walk-on, will start at middle linebacker in a nationally televised game on ABC versus unbeaten, second-ranked Florida State in Tallahassee. The Seminoles, led by Heisman Trophy-winning quarterback Jameis Winston, are the defending national champions and boast the nation's longest win streak, 22 games. "What a tremendous opportunity," says Schmidt, a blond, square-jawed senior who seems torn straight from a Gil Thorp comic strip. Regardless of the outcome, he has already won.
Joseph and Debra Schmidt raised three daughters and one son. As soon as their children were old enough to hold a crayon, Joseph would implore them to jot down a list of goals. "I was 4 years old when my dad gave me magic markers and told me to write down my goals," says the oldest, Catherine. "I was like, 'Rainbows and a unicorn?'"
Joseph Schmidt, who keeps a list of goals in his wallet to this day, was adamant about this. His only son, Joe, took his father's lesson to heart. The first goal the boy ever listed? "Go with Dad to the park to play."
When Joe was 10, he accompanied his parents on a mid-winter's visit to Notre Dame, where Catherine, then a sophomore, ran track. A foot of snow blanketed the campus as the four of them, accompanied by Catherine's boyfriend at the time, Greg Lopez, headed to her indoor track meet. As the five of them trudged past Notre Dame Stadium, Joe wondered aloud, "Wouldn't it be great if we could go inside?"
It just so happened that they could. Greg, then the shortstop for Notre Dame's baseball team, had an access card to the stadium. He swiped the card, and suddenly the five of them were trespassers.
As his future wife and in-laws looked on, Lopez led Joe to the middle of the snow-covered field. "Joe, I'm going to let you tackle me, and this is going to be your first tackle at Notre Dame Stadium," said Lopez. "Your next tackle is going to be when you play here."
"Really," Joe said, "I'm going to play here?"
"Yeah!" said Greg.
"That's right, I'm going to play here," said Joe, who then tackled Lopez.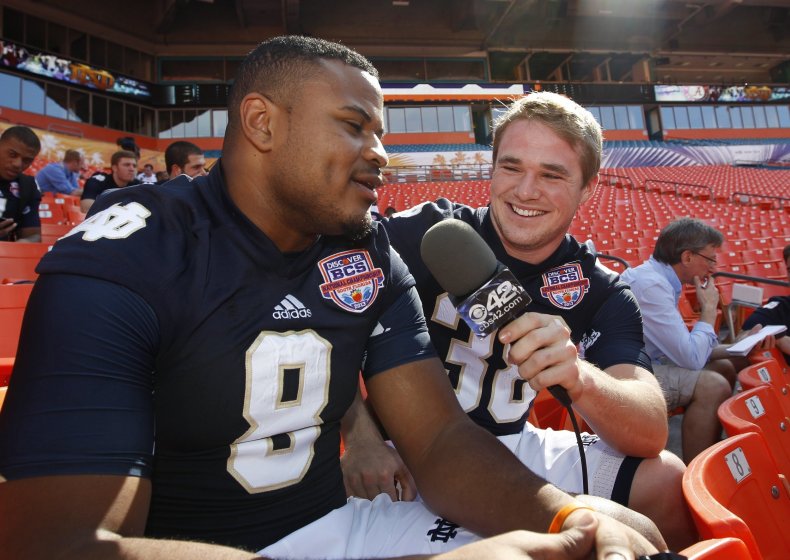 When Joe returned home to California, he jotted down a list of three goals: 1) Play football at Notre Dame, 2) Be the fastest kid in my grade and 3) Get good grades.
As the months passed, Schmidt's ardor for Notre Dame and for football grew. The following winter, he returned to visit his sister in South Bend, where Lopez took him to a world history class. There, Joe sat between Lopez, now captain of the baseball team, and Anthony Fasano, the football team's starting tight end.
Fasano handed Schmidt a pen and his notebook. "Here, Joe," said Fasano. "Why don't you take notes for me?"
Sure, Schmidt dreamed of donning a gold helmet for Notre Dame someday. Thousands of kids do. But he could still be a punk kid. Thousands of boys are. "He was a little punk," says Adam Cretti, a former personal trainer who began working with Schmidt in junior high.
Says Schmidt, "We'd ask ourselves, 'How are we going to screw with Cretti today?'"
When Joe was a freshman at Mater Dei, the school hired Cretti to oversee a physical training program for its gridders. One afternoon, during a training session in which none of the Monarchs's other coaches were present, Cretti called on Schmidt to demonstrate a drill the two had done dozens of times in private workouts. Schmidt, clowning in front of his friends, feigned ignorance.
"What do you mean?" asked Schmidt. "I don't know what you're talking about."
Cretti pulled Schmidt aside. "Man, this is bullshit," he said. "You haven't changed a bit. I'm never going to call on you to do anything for me again the rest of my career."
The words sunk in. After practice, Schmidt asked his mother, Debra, to drive him the half-hour to Cretti's office to apologize. Cretti was not there. He waited. Finally, they went home. The next day at school, Schmidt sought out Cretti and apologized. "Joe, that was an opportunity you had to present yourself favorably to the rest of the team," said Cretti. "Throughout your life, you are going to get opportunities, but sometimes you will only get one chance."
"That was it," remembers Schmidt. "From that moment on, I was all in."
Three years later, on a high school team that included studs such as USC-bound quarterback Max Wittek, Schmidt was named Most Valuable Player. He swore off soda, often did multiple workouts a day and adopted a high-protein diet that included steak for breakfast each morning. After Mater Dei games, Schmidt, instead of partying with friends, would return to school to watch game films with the coaches.
By now Catherine had graduated from Notre Dame and married Lopez, who had just graduated from medical school and was embarking on an orthopedics residency at nearby University of California, Irvine. The newlyweds moved in with her family, and Catherine sometimes found her kid brother's grim dedication exasperating. "Joe, do you have to cook steak every morning?" Catherine would say. "The kitchen smells."
"I can't take a day off, Catherine," Joe would reply.
Lopez laughs at the memory. "Catherine wasn't upset by the smell," he says. "She was angry because Joe rarely cleaned up his dishes."
Meanwhile, Notre Dame would not give Schmidt a whiff, so Lopez took it upon himself to pen a letter to his alma mater on his brother-in-law's behalf. "This is an incredible kid," Lopez wrote. "His whole dream is to go to Notre Dame. You're making a mistake if you don't take a long, hard look at him."
At last, Notre Dame offered Schmidt a spot as a "preferred walk-on," meaning that he would receive no scholarship money but could begin practicing with the football team in early August as if he were a scholarship freshman. It was a minimal opportunity. "It definitely got to him that he didn't have that scholarship," says former teammate Troy Niklas, a tight end who has known Schmidt since eighth grade and now plays for the Arizona Cardinals. "It made him work that much harder."
After a freshman season in which Schmidt, not surprisingly, never saw a moment of playing time, he and Niklas became renegades of sorts. Scofflaws. The tandem would participate in the required team weight-lifting activity, but then they would, as Niklas says, "get our pump on" anywhere they could.
"We lifted in the Keenan Hall basement; in the Gug, illegally, at the student center; at Holy Cross [another men's dorm] gym; even at the Foundry apartments," says Schmidt. "Anywhere we could."
When the pair returned for sophomore year, teammates took to calling Niklas, a strapping 6-foot-7 budding NFL talent, "Hercules." Schmidt had buffed up just as much, but who took note of a barely 6-foot-tall walk-on? Nobody, until Irish coach Brian Kelly inserted Schmidt onto the kickoff unit in the fifth game of the 2012 season against Miami.
"On the first kickoff, I made the tackle," says Schmidt. "On the third kickoff, we kicked it short and high, and I rocked their fullback right into our sideline. After that, coach Kelly put me in on every special teams play."
Back home in Orange, California, the Schmidt family was ecstatic. "We must have replayed that tackle 35 times," says Catherine. "I thought, If Joe never plays again, that tackle was wonderful."
Of course, he did play again and acquitted himself well on a team that finished 12-1 and lost the BCS National Championship Game to Alabama. In June 2013, before Schmidt's junior year, Kelly called him into his office and notified him that he was putting him on full scholarship. ("Dad, how would you like to save $100,000?" was how Joe broke the good news to his parents.)
The rest is gravy. This season Schmidt is Notre Dame's second-leading tackler, just one behind fellow linebacker Jaylon Smith, who arrived in South Bend as a five-star (highest rating) recruit. Before the opening game of the 2014 season against Rice, Schmidt's first career start, his parents and sisters and Lopez again found themselves inside Notre Dame Stadium, the same place they had all first assembled on a snowy afternoon years ago. Only minutes before the Irish were about to emerge from the tunnel, Debra Schmidt received a text message from her only son.
"All of my wildest dreams," it read, "are about to come true."
Postscript: Joe Schmidt still updates his list of goals, which is tacked above the desk inside his off-campus residence. At the bottom of a list of goals, such as "Team Captain" and "All-American" (he still has a year of eligibility in 2015), Schmidt has penned one in darker ink. It reads simply, "BE ALL IN."
Uncommon Knowledge
Newsweek is committed to challenging conventional wisdom and finding connections in the search for common ground.
Newsweek is committed to challenging conventional wisdom and finding connections in the search for common ground.
About the writer
John Walters is a writer and author, primarily of sports. He worked at Sports Illustrated for 15 years, and also at NBC Sports where he won two Sports Emmys for his on-air writing at the Athens and Beijing Olympics. He has also worked at AOL Fanhouse and The Daily, as well as waited at a popular Manhattan steakhouse. Walters is the author of The Same River Twice: A Season With Geno Auriemma and the Connecticut Huskies. He is the founder of mediumhappy.com, a pop culture blog that he updates daily. He holds a B.A. from the University of Notre Dame, where he studied pre-med and rowed crew.