Notre Dame: Cathedral's Spire Will be Restored to 19th Century Design
The centuries-old Notre Dame cathedral in France will be restored to exactly how it was before a fire tore through the historic landmark.
President Emmanuel Macron had hinted at the possibility that a "contemporary gesture" could be used for the spire, however the body responsible for restoring the cathedral says it will restore it to its original Gothic design.
Jean-Pierre Leleux from France's national heritage and architecture commission which met on Thursday to discuss the reconstruction plans, told AFP that it had been agreed to restore the spire as it was.
Philippe Villeneuve, the cathedral's chief architect, said the 96-meter spire should be restored to its "last known condition".
A fire in April 2019 engulfed the interior of the cathedral and caused its famed spire which was first built in the 13th century, to come crashing down.
Over a billion dollars was raised to rebuild the major tourist attraction in an outpouring of emotion and support after the fire melted hundreds of tonnes of lead in the spire and roof.
Investigators believe that the fire was caused by an electrical short-circuit.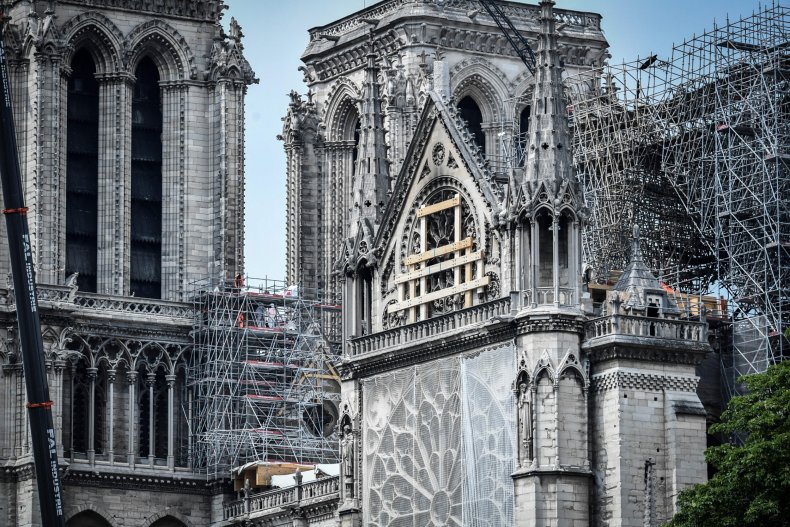 President Marcon wants the restoration of the cathedral to be completed at quickly as possible so it can be ready for 2024, when Paris hosts the Olympics.
Macron has also argued that because the spire was added during a major mid-19th-century renovation, it "wasn't part of the original" and therefore the cathedral could perhaps be rebuilt "more beautiful than before".
However, the Elysée, the official residence of the President of France, said that President Macron's main concern was "not delaying the reconstruction and making it complicated - things had to be cleared up quickly".
Macron is now said to have given his blessing to plans to restore the cathedral to its original Gothic design.
The Elysée said: "The president trusts the experts and approved the main outlines of the project presented by the chief architect which plans to reconstruct the spire identically."
Reconstruction work has been running months behind schedule as a result of bad weather as well as the COVID-19 pandemic and the need for significant quantities of lead.
If the decision to design a new spire with a more contemporary design would have gone ahead, it would have caused additional delays, with an international competition for architects having to take place.
The Notre-Dame de Paris, which translated as "our lady of Paris", is located in the center of the French capital on the River Seine.