University of Notre Dame President Father John Jenkins, who attended Judge Amy Barrett's Supreme Court nomination ceremony at the White House last Saturday, announced on Friday that he has tested positive COVID-19.
In a letter sent to the students, faculty and staff at the college, the University of Notre Dame said: "During self-quarantine this week, University of Notre Dame President Rev. John I. Jenkins, CSC, learned that a colleague with whom he has been in regular contact tested positive for COVID-19. Fr Jenkins was tested and found to be positive for COVID-19 too."
"As a result, he is entering an extended period of isolation as indicated by University medical personnel and county health officials," the email read.
Jenkins said that his symptoms were mild and that he will continue to work from home.
"The positive test is a good reminder for me and perhaps for all of how vigilant we need to be," he wrote.
Jenkins was in attendance at the White House's Supreme Court announcement event. He was criticized for shaking hands with others and not wearing a mask.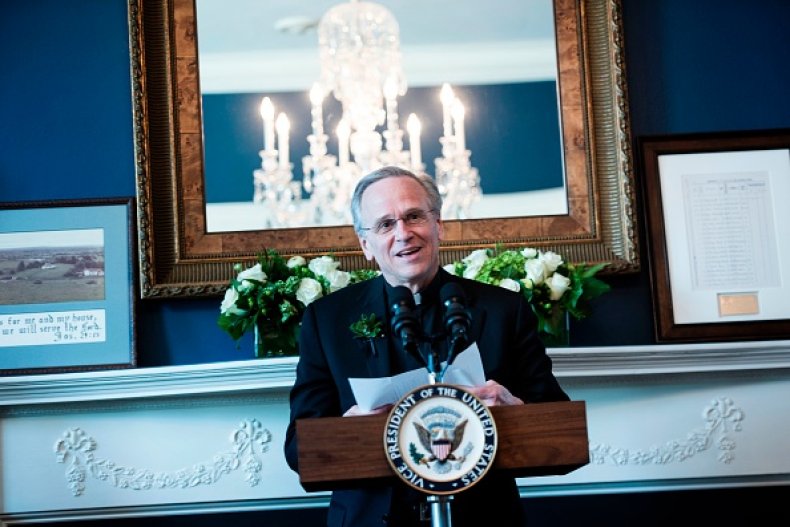 Jenkins had previously expressed regret over these actions, just days after the White House event, in an email to the campus on Monday evening.
"I regret my error of judgement in not wearing a mask during the ceremony and by shaking hands with a number of people in the Rose Garden," he wrote. "I failed to lead by example, at a time when I've asked everyone else in the Notre Dame community to do so. I especially regret my mistake in light of the sacrifices made on a daily basis by many, particularly our students, in adjusting their lives to observe our health protocols."
Jenkins' diagnosis comes hours after President Donald Trump and first lady Melania Trump tested positive for COVID-19. Trump announced his diagnosis early Friday after one of his advisors, Hope Hicks, tested positive the day before.
Since the president's announcement, Republican National Committee Chairwoman Ronna McDaniel and Utah Senator Mike Lee have also tested positive for the virus. Lee, like Jenkins, was also seen hugging others at the White House without a mask on during Barrett's official nomination.
Barrett has tested negative for COVID-19.
Earlier in August, Notre Dame was forced to shut down in-person classes due to a surge in coronavirus cases on campus, but resumed after two weeks of online instruction.
On August 17, the school reported 80 new confirmed cases with data indicating 19.1 percent positivity rate—a number four times than the rate recommended by the World Health Organization (WHO) needed for reopening.
Prior to Jenkins' diagnosis, more than 200 students at Notre Dame signed a petition calling "for the resignation of Fr. John Jenkins, C.S.C. as University President, effective immediately, for failure to comply with COVID-19 protocols," after students were outraged by Jenkins' behavior at the White House.
As of Thursday, the petition is 18 signatures short from passing onto the student body senate, according to The Observer.