Notre Dame: Let's Tell a New Story about Esmeralda and "the Gypsies" | Opinion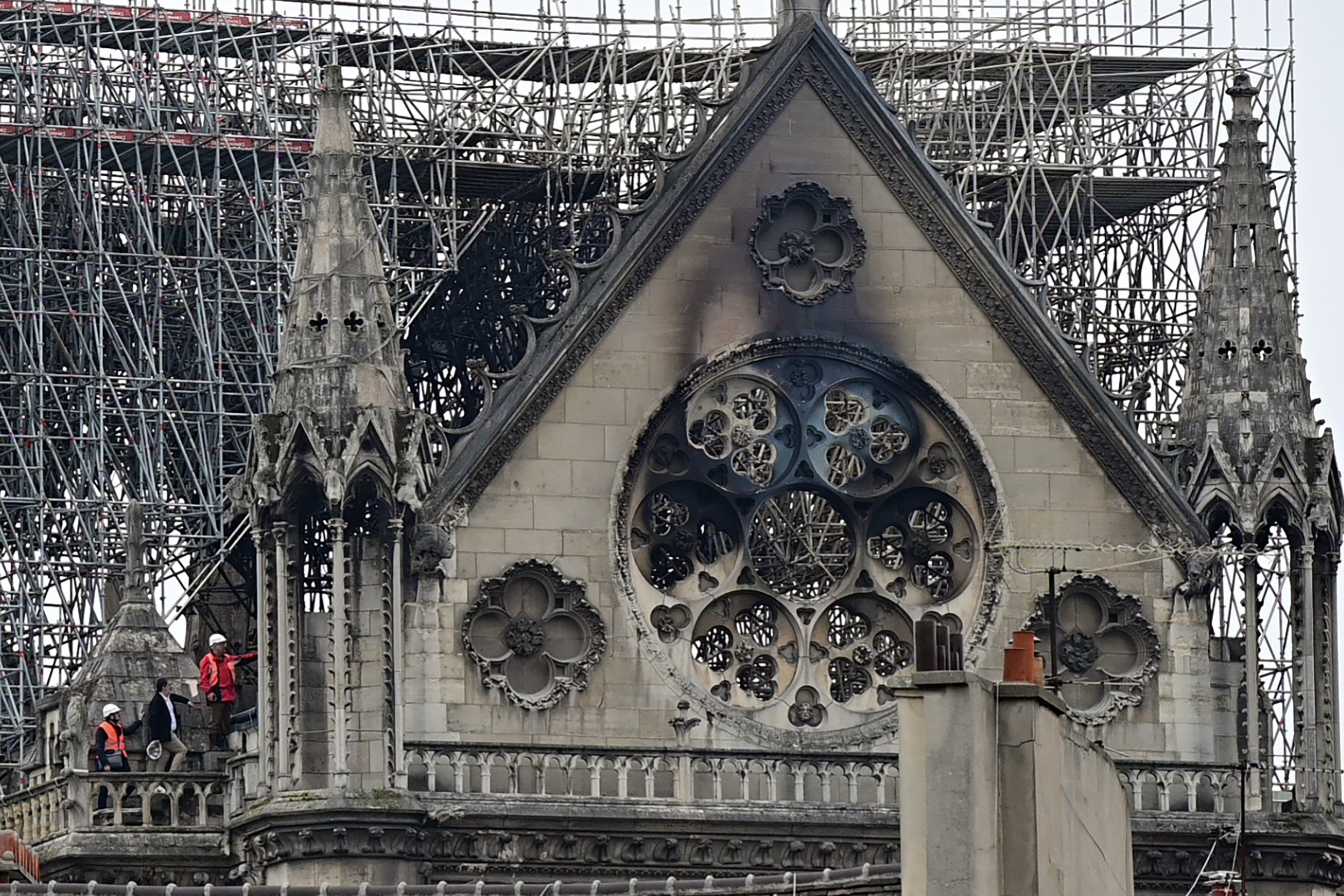 An exotic-looking woman runs up a stage outside of Notre Dame de Paris. She pauses to expose her leg and moves her hands provocatively. Her décolletage is low and the corset tight. In a colorful, flowing skirt, she dances freely across the stage, gazing seductively at the crowd. To everyone's excitement, she leaves the stage and dances even more wildly in front of the cathedral. As she thrusts her hips forward, the audience can also see the cathedral's gates, stone gargoyles and its glorious rose window. A young man captivated by her beauty discovers that she is a Gypsy named Esmeralda. No man can resist her seductive prowess, whether it's Frollo, the priest, or Quasimodo, the King of Fools.
This is a scene from the 1997 rendition of The Hunchback of Notre Dame, with Salma Hayek playing the Gypsy dancer. Twenty-two years later, the actress's husband, French businessman François-Henri Pinault, has pledged over $100 million to rebuild Notre Dame after the fire that engulfed and destroyed a part of the famed cathedral on April 15th.
News reports and social media reactions spread as quickly as the flames. Friend after friend shared updates, as well as feelings of shock and sadness to see such a majestic church burn. Some posted personal photos and memories of the iconic landmark, while others reflected on the cathedral's history and its cultural symbolism to both the French nation and the world. The image that moved me most was of Quasimodo, inconsolable as he holds on to the cathedral tightly and tries in vain to protect it.
As a visitor to Paris, I remember admiring the cathedral from a bridge over the Seine. Along with millions of others, I was shaken by the fire that nearly destroyed this irreplaceable church. What a loss of exquisite craftsmanship that has inspired fascination and awe! How can this historic monument, that took centuries to build end up partially ruined in only one night?
As a Roma woman, whose identity has been deeply shaped by Gypsy stereotypes, I couldn't help but think of the role that Notre Dame has played in the stories that are told about Gypsies. Victor Hugo's 1831 novel, The Hunchback of Notre Dame, and the many variations of the story that have been popularized in film adaptations, is key to literary and pop culture images of the Gypsies.
While the fire raged, I thought of the Disney version of the Hunchback, released a year before the one starring Salma Hayek. In this animated production, Frollo the priest sings, "Dark fire, now Gypsy it's your turn," wishing the "Gypsy girl" would burn in hell because she "turn[ed him] to sin." In another scene, Frollo stands on a balcony at Notre Dame, wiping out ants with his finger, fantasizing about killing Gypsies in a similar way: one by one.
After seeing the dance clip with Salma Hayek, I watched the whole movie. The racist narrative is so powerful that I sometimes had to pause the video to catch my breath and recover from disgust, particularly during the scene in which Quasimodo is unjustly punished for attacking a woman. When the authorities find out that she is, in fact, a Gypsy, they regret punishing Quasimodo. It is not worth the effort for "a Gypsy" who is not considered "a real woman." Throughout the movie, Esmeralda's life depends on forces outside her control, whether scapegoating, demonization or, at the very least, objectification as a woman whose only escape is a man fascinated with her charms.
These may look like just fictional stories, with no harm intended, but they bear eerie similarities to the way that Roma people are perceived: as the scum of society. In 2009, French authorities ordered Roma living in France to be expelled to their countries of origin, even though such a measure violates European Union regulations. Roma often live in impoverished "shanty" communities and may never know when they could be forced to leave their homes. Just days before the Notre-Dame fire, false rumors that Roma were kidnappers led to attacks on Roma communities in and around Paris. In today's France, these incidents take place amid growing tension around social inequalities and shifting realities, pressing France to change.
At best, Roma are seen with a sense of fascination and mystery. If you think that the exotic Gypsy stereotype might do any good for Roma culture, tell that to a Roma woman who wants to be a student, a writer, a mother, and not a temptress, a seductress, or a dancing girl.
Notre Dame is not just a magnificent building in the heart of Paris, a cultural site on tourist checklists, or even a revered space for worship and prayer. It is also a depository of stories with symbolic meaning. People pay attention to what happens in Notre Dame. While it means resilience, strength and beauty for the French and others across the world, it's also a place where prejudices and harmful images have emerged, affecting the Roma up until today.
I wish this fire didn't happen and destroy part of the cathedral's heritage and identity. But now that it has, one way to deal with the loss may be to take a closer look at stories surrounding Notre Dame - some of which have gone unexamined for generations - and smother some of the old stereotypes. Fire is a force of destruction, but also a source of light and catharsis. It causes harm, but it can also heal.
Shortly after the blaze had been extinguished, the French government launched a contest for a new design to rebuild the cathedral. As we think about reconstruction, let's not only reconstruct the cathedral, but also rewrite stories that Notre Dame tells about the Roma and other stigmatized groups. Someday it could be the site of a Roma speaker, not of a Gypsy dancer. Let's have a new image of Notre Dame that is inclusive and adapted to a new story that fits the world in which we now live. Perhaps then the commitment of Pinault's and many others toward redesigning the cathedral will add more complexity and humanity to the already rich and layered symbolism of Notre Dame de Paris.
Cristiana Grigore, a writer living in New York, runs the Roma Peoples Project at Columbia University.
The views expressed in this article are the author's own.​​​​​