Novak Djokovic Is Back Training for Australian Open Following Vaccine Battle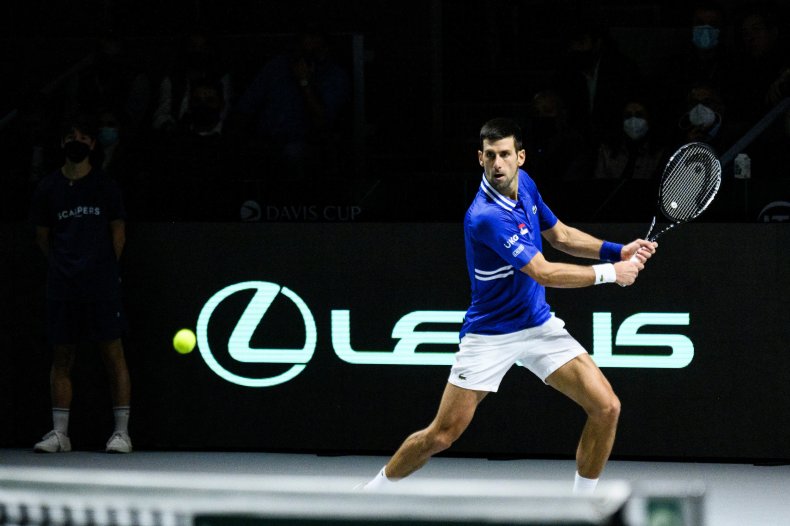 Tennis superstar Novak Djokovic was back in training just after an Australian court ruled that he could remain in the country despite refusing to be vaccinated against COVID-19.
Djokovic, 34, was granted a vaccine mandate exemption by the Australian Open and had been set to compete in the tournament later this month until he was detained last week after the country's government canceled his visa and attempted to deport him due to his vaccination status.
However, the nine-time Australian Open winner was training with an eye toward adding to his record on Monday after Judge Anthony Kelly ordered that he be released. Djokovic tweeted a photo of himself on a tennis court at Melbourne Park while thanking supporters shortly after he left detention.
"I'm pleased and grateful that the Judge overturned my visa cancellation," Djokovic tweeted. "Despite all that has happened, I want to stay and try to compete @AustralianOpen I remain focused on that. I flew here to play at one of the most important events we have in front of the amazing fans."
"For now I cannot say more but THANK YOU all for standing with me through all this and encouraging me to stay strong," he added in an additional tweet to fans, alongside four "praying hands" emojis.
Djokovic's younger brother and fellow tennis player Djordje Djokovic said that "Novak is free and just a moment ago he went to the tennis court to practice" during a press conference in Belgrade following the court victory. At the same event, his father Srdjan predicted that the attempted deportation would give Novak "extra strength" and help him win "another 10 Grand Slams."
Djokovic, who shares the men's overall record of 20 Grand Slam titles with Roger Federer and Rafael Nadal, in addition to his Australian Open record, was granted an exemption to the tournament's COVID-19 vaccine mandate on the assumption that he has some natural immunity due to testing positive for the virus and recovering last month. Immigration authorities held him at the airport after he arrived in Melbourne last week, saying that he failed to provide adequate evidence of a medical exemption.
While the tennis star's fans and family celebrated his visa win, many Australians reacted to the news with outrage as the country struggled to deal with an Omicron-fueled surge of the virus. Kevin Rudd, the country's former prime minister, also accused current Prime Minister Scott Morrison of "total incompetence" over the matter and questioned why Australian authorities issued Djokovic a visa that allowed him to fly there in the first place.
The Austrian government is exploring other options that could see Djokovic ejected from the country. The visa could still be canceled at the discretion of Australian Immigration Minister Alex Hawke, possibly banning Djokovic from entering Australia for three years. A spokesperson for Hawke said "The Minister is currently considering the matter and the process remains ongoing."
The Australian Open is set to begin Jan. 17. If Djokovic is allowed to remain in the country, his first match could be determined in a draw set for Thursday.