Novak Djokovic's Recent COVID Infection Gave Him Vaccine Exemption, Lawyers Say
Tennis star Novak Djokovic's vaccine exemption that he used to try and enter Australia was based on him testing positive for COVID-19 on December 16, his lawyers have said.
Court documents associated with the 20-time Grand Slam champion reveal that he relied on a COVID infection to gain entry to the country ahead of the Australian Open, despite not being vaccinated against the virus.
The exemption was granted to Djokovic 14 days after he tested positive because he "had not had a fever or respiratory symptoms of COVID-19 in the last 72 hours," the documents filed on Saturday state.
Djokovic was granted a temporary visa to enter Australia on November 18, and received a letter from the chief medical officer of Tennis Australia on December 30, which stated he was allowed an exemption to travel because he had recently recovered from COVID.
The documents say that the Exemption Certificate had been provided by an Independent Expert Medical Review panel commissioned by Tennis Australia, which was later endorsed by an independent Medical Exemptions Review Panel of the Victorian State Government.
His lawyers argued that the conditions of the exemption are consistent with the recommendations of the Australian Technical Advisory Group on Immunisation.
On January 1, Djokovic also received a document from the Department of Home Affairs to confirm that his Australia Travel Declaration "[had] been assessed," and that "[his] responses indicate[d] that [he met] the requirements for a quarantine-free arrival into Australia where permitted by the jurisdiction of your arrival."
Despite being given the green light to enter Australia, Djokovic was stopped by border officials on Wednesday because the player had failed to provide appropriate evidence at Melbourne Airport for his vaccine exemption and therefore had his visa canceled.
Djokovic also accuses the Australian government of forcing him to accept the decision to cancel his visa without speaking to his lawyers and without the chance to rest following a 25 hour flight.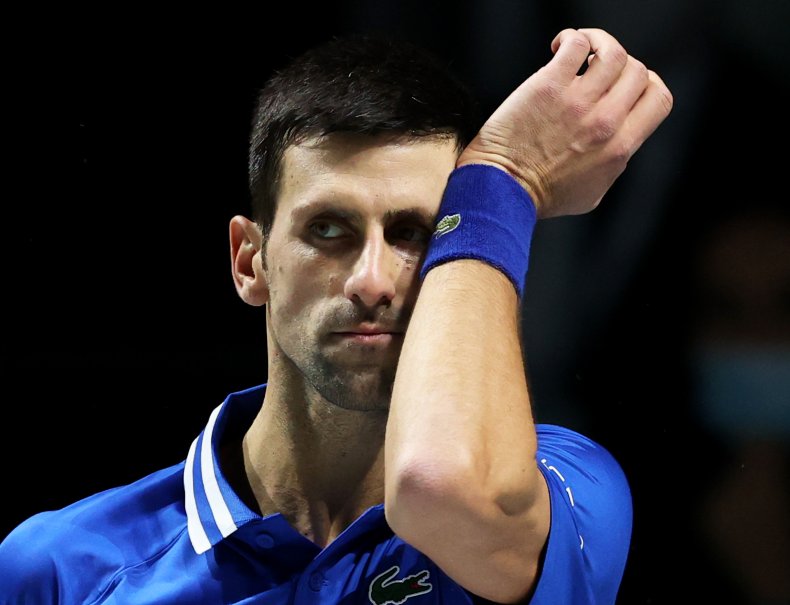 Djokovic is currently in an immigration detention center ahead of a court case on Monday. His lawyers have also requested that the tennis player be held in a "a more suitable place of detention" that would allow him to train ahead of the Australian Open.
The vaccine exemption debacle has caused outcry in Australia and rallies of support for Djokovic in his home nation of Serbia.
His father, Srdjan Djokovic, even went as far as to compare Australia's treatment of the 34-year-old to that of Jesus Christ.
"Shame on them, the entire freedom-loving world should rise together with Serbia," he said. "They crucified Jesus, and now they are trying to crucify Novak the same way and force him on his knees."
The Australian Open begins on January 17 in Melbourne.