Tennis world No. 1 Novak Djokovic was knocked out in the semifinals at the Tokyo Olympics, ending his bid for the sport's elusive Golden Slam.
The Serbian player was defeated by Germany's Alexander Zverev, 24, in three sets. Djokovic, 34, won the first 6-1 but fell behind in the second and third, losing 6-3, 6-1.
He won his 20th Grand Slam at Wimbledon earlier this month—matching Roger Federer and Rafael Nadal—but he had hoped to become the first male tennis player to complete a Golden Slam by winning a gold medal at the Olympic Games in addition to the four majors in one calendar year.
Steffi Graf in 1988 is the only tennis player to have achieved the Golden Slam, winning all four Grand Slam tournaments and the Olympic gold that year.
Djokovic's only Olympic medal came in 2008 at the Beijing Games when he won bronze in singles in his first appearance at the event.
He then lost to Juan Martin del Potro of Argentina in his next two Games: in the 2012 bronze-medal match and in the first round at the 2016 Rio de Janeiro Games.
Djokovic will play against Pablo Carreno Busta of Spain in the bronze medal match on Saturday. The final will see Zverev face Karen Khachanov, 25, playing under the Russian Olympic Committee banner.
Zverev becomes the first German man to reach a tennis final at the Olympic Games since 2000, when Tommy Haas won silver in Sydney.
Earlier this week, Djokovic spoke about how athletes needed to "start learning how to deal with pressure."
"Without pressure there is no professional sport," he said. "If you are aiming to be at the top of the game you better start learning how to deal with pressure and how to cope with those moments—on the court but also off the court.
"All that buzz and all that noise is the thing that, I can't say I don't see it or I don't hear it, of course it's there, but I've learned, I've developed the mechanism how to deal with it in such a way that it will not impose destruction to me. It will not wear me down.
"I feel I have enough experience to know myself how to step on the court and play my best tennis."
Djokovic went on to describe his defeat at Rio as a "very tough loss for me." He said: "I came into Rio as also a big favorite, winning four out of last five Grand Slams, No. 1 in the world.
"So I know that feeling; it's kind of a similar feeling now. But I'm a more experienced player; I know mentally what I need to do and how to work things around on and off the court in order to feel the best that I possible can feel."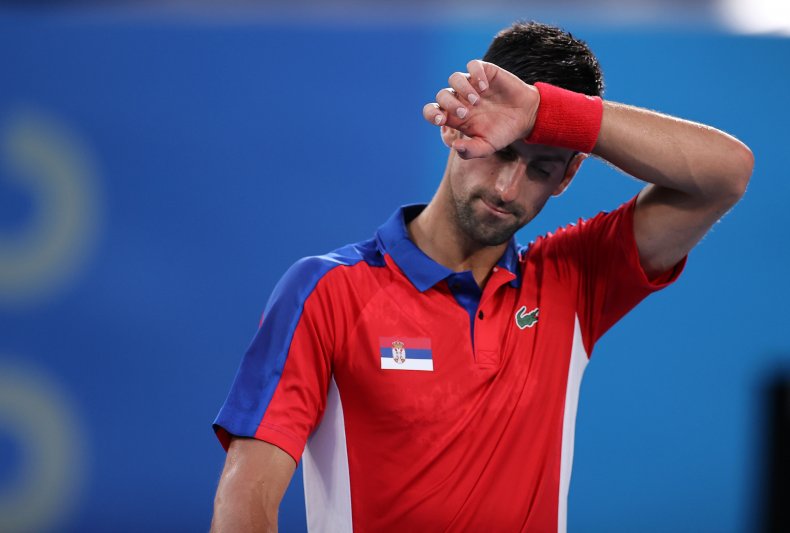 Uncommon Knowledge
Newsweek is committed to challenging conventional wisdom and finding connections in the search for common ground.
Newsweek is committed to challenging conventional wisdom and finding connections in the search for common ground.