Novak Djokovic, Tennis Superstar, to be Deported From Australia Over Vaccine Requirements
The top men's tennis player in the world will be deported from Australia over the country's vaccine mandate. Now, Serbian tennis star Novak Djokovic will not be able to defend his Australian Open title, which he has won in each of the last three years.
The tennis superstar's attorneys said they will challenge the decision, the BBC reported. It's unclear whether or not Djokovic will remain in Australia while his lawyers try to overturn the country's decision.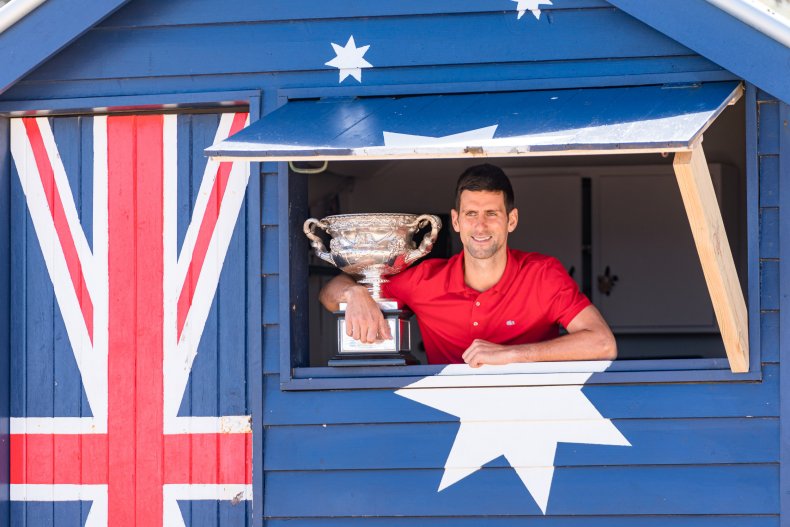 Djokovic, who is unvaccinated and has verbally been against vaccinations, reportedly said he had an exemption into the country. Once arriving, he was placed in a room that was guarded by police. Things got dicey for Djokovic when he first landed around midnight Wednesday and there was a mistake found in his visa application.
"Novak is currently in a room which no one can enter," Djokovic's father, Srdjan Djokovic said earlier. "In front of the room are two policemen."
The Australian Border Force issued a statement that said Djokovic "failed to provide appropriate evidence to meet the entry requirements to Australia, and his visa has been subsequently canceled."
"Non-citizens who do not hold a valid visa on entry or who have had their visa cancelled will be detained and removed from Australia," the statement read. ​
Australia, which has some of the toughest COVID-19 restrictions in the world, has seen a spike in recent cases by the tens of thousands. In Australia's population of those age 16 and over, more than 90 percent have been fully vaccinated. Despite that, there are people who still aren't allowed to travel between states or internationally.
Before this recent dustup between Djokovic and Australian authorities, Australian Prime Minister Scott Morrison said the tennis player would have to prove that he couldn't be vaccinated for medical reasons or he would be refused entry.
The decision has caused outrage in Serbia, including from President Aleksander Vucic, who said the Djokovic was a victim of "harassment." Vucic added "the whole of Serbia" supports their tennis hero.
Djokovic has been the No. 1 player in the world for 354 weeks, including the current top spot. He's won 20 grand slam titles, with nine of them coming at the Australian Open in Melbourne. He was the No. 1 seed in this year's tournament.
The Australian Open, which is the first of the four grand slam tennis tournaments, starts Jan. 17 in Melbourne. The other grand slam events are the French Open, Wimbledon and the U.S. Open.