Novak Djokovic was detained in Australia after border officials told the world No. 1 tennis player that he did not meet entry requirements and canceled his visa on Wednesday.
The 34-year-old Serbian tennis player, who was traveling to the country for the Australia Open, was held overnight for over eight hours at Melbourne's Tullamarine Airport before being taken to a detention hotel controlled by immigration officials at around 10 a.m. local time, according to Australia's ABC News.
Will Novak Djokovic Be Deported?
Australian Border Force (ABF) officials said in a statement: "Non-citizens who do not hold a valid visa on entry, or who have had their visa cancelled, will be detained and removed from Australia."
But Djokovic's deportation has been delayed until 10 a.m. local time Monday, according to ABC News, after his lawyers launched legal action in Australia's Federal Circuit Court to challenge the government's decision to cancel his visa.
Why Was Djokovic's Visa Denied?
On Tuesday, the tennis champion tweeted he was heading to Australia for the tournament with an "exemption permission." But his visa was canceled at the airport due to not meeting the requirements for an exemption to COVID-19 vaccination rules.
The government of the Australian state of Victoria, where the Australian Open is being held, mandated that only fully vaccinated players, staff members, fans and officials can enter the Melbourne Park venue when the tournament begins on January 17.
Tennis Australia and the Victorian government said Djokovic was one of the " handful" of tennis players who were granted a medical exemption from COVID-19 vaccination among the 26 that applied for it.
However, Australian border officials stated that Djokovic had "failed to provide appropriate evidence to meet the entry requirements to Australia, and his visa has been subsequently cancelled."
Australian Prime Minister Scott Morrison told reporters that the tennis player "didn't have a valid medical exemption. We make the call at the border, and that's where it's enforced."
In a tweet Wednesday, Morrison said: "Rules are rules, especially when it comes to our borders. No one is above these rules.
"Our strong border policies have been critical to Australia having one of the lowest death rates in the world from COVID, we are continuing to be vigilant," he added.
Why Was Djokovic Exempt From COVID-19 Vaccination?
Tennis Australia CEO, and Australian Open tournament director, Craig Tiley said the anonymous application process for medical exemptions was confidential and run by two independent panels of experts.
The criteria for exemptions, which are set out by the Australian Technical Advisory Group on Immunization (ATAGI), include prior adverse response to vaccines, recent major surgery or myocarditis or certified evidence of a COVID-19 infection within the past six months, Tiley said, according to Reuters.
It's unknown which exemption criterion was met by Djokovic and the Serbian athlete has not revealed whether he has ever received a dose of a COVID-19 vaccine.
But Djokovic has previously stated he is against getting vaccinated. During a live Facebook chat with several fellow Serbian athletes back in April 2020, the tennis player said: "Personally I am opposed to vaccination and I wouldn't want to be forced by someone to take a vaccine in order to be able to travel. But if it becomes compulsory, what will happen? I will have to make a decision."
Two months after making that statement about his stance on vaccination, Djokovic and his wife tested positive for COVID-19 following a series of exhibition games he organized without any social distancing or masking measures in place.
Can Djokovic Play at the 2022 Australian Open?
If Djokovic's appeal to overturn the government's cancellation of his visa is successful, the winner of the 2021 edition of the tournament still has time to make it to the Australian Open, which begins on January 17.
At a press conference following a meeting with state officials discussing the record level of COVID-9 infections in the country, Morrison said: "We await his [Djokovic's] presentation and what evidence he provides us to support that."
"If that evidence is insufficient, then he won't be treated any different to anyone else and he'll be on the next plane home. There should be no special rules for Novak Djokovic at all. None whatsoever," the prime minister added.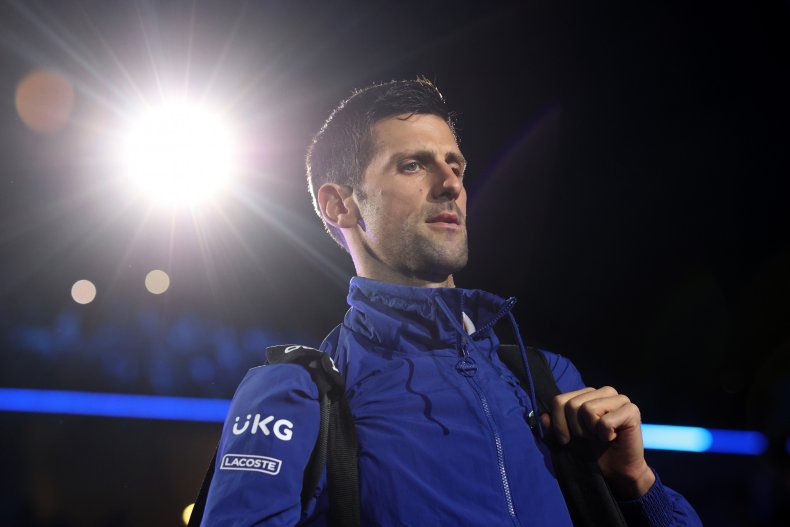 About the writer
Soo Kim is a Newsweek SEO Reporter is based in London, UK. She reports on various trends and lifestyle stories, from health, fitness and travel to psychology, relationships and family issues. She is also a South Korea expert who regularly covers Korean culture/entertainment for Newsweek, including the latest K-dramas, films and K-pop news, and is the author of the book How to Live Korean, which is available in eight languages. Soo also covered the COVID-19 pandemic extensively from 2020 through 2021 after joining the general news desk of Newsweek in 2019 from the Daily Telegraph (a U.K. national newspaper) where she was a travel reporter/editor from 2010. She is a graduate of Binghamton University in New York and the journalism school of City University in London, where she earned a Masters in international journalism. Languages spoken: English and Korean.
Follow her on Twitter at @MissSooKim or Instagram at @miss.soo.kim
You can get in touch with Soo by emailing s.kim@newsweek.com