Novak Djokovic Wins French Open and Gives Tennis Racket to Kid, the Reaction is Priceless
Novak Djokovic made a valiant comeback Sunday afternoon in Paris to win his second French Open and 19th overall Grand Slam title. The world's top-ranked player fell behind two sets to none against fifth-seeded Stefanos Tsotsipas and stormed back to win the final in five sets, 6-7 (6), 2-6, 6-3, 6-2, 6-4.
The two tennis players met at mid-court for a handshake, and Djokovic hoisted his arms into the air to celebrate the victory. What he did next left a little boy in celebratory tears. Djokovic went over to the crowd and handed the racket he used from the match to a young boy, who accepted the gift and cried tears of joy.
Here's the priceless video of the moment at Roland Garros.
Djokovic said in the post-match press conference that he didn't know the child, but the young boy had been vocal the entire match, especially when the champion was down two sets on Sunday.
"Well, I don't know the boy, but he was in my ear the entire match," said Djokovic, who also won the French Open in 2016. "Especially when I was two sets to love [zero] down, he was encouraging me. He was actually giving me tactics as well.
"He was like, 'Hold your serve, get an easy first ball and then dictate, go to his backhand.' It's like he was coaching me, really. I found that very cute and very nice, so I felt like it was, to give the racket to the best person was him. It was my gratitude for him sticking with me."
Here's the video of Djokovic's press conference.
Djokovic's 19th Grand Slam is one shy of the record of 20, held by both Roger Federer and Rafael Nadal. Furthermore, Djokovic is also only the third men's player in history to hold at least two titles from each of the four Slam events — Australian Open, French Open, WImbledon and U.S. Open. Djokovic said he wants to keep on winning at Roland Garros and the other majors.
"I'm very proud, very happy. I don't want to stop there," Djokovic said. "Hopefully I can keep on [winning] here in Roland Garros, at least one or two more times."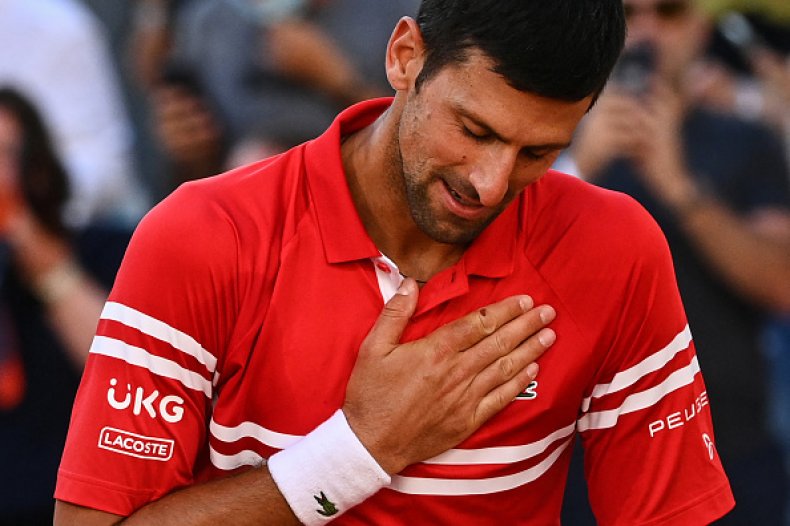 On Sunday, Djokovic seemed gassed by the match's finale.
"It was not easy for me," Djokovic said, "both physically and mentally.''
Sunday's title was the seventh for Djokovic since he turned 30, which is a record among men's players. Nadal is next on that list with six titles after turning 30, and three men—Federer, Rod Laver and Ken Rosewall—each have four titles in their 30s.
The French Open final was the first Grand Slam title for Tsitsipas, who seeks to become the first player from Greece to win a Grand Slam title.
"I'd like to thank the Greek fans, and my team, who are constantly behind me, for my dreams. This is a long journey," Tsitsipas said.