Novak Djokovic Wins Visa Court Battle, Judge Orders Australia to Pay Costs
Tennis star Novak Djokovic won a court case allowing him to stay in Australia for the time being, and avoid being deported by the government over not being vaccinated against COVID.
The case, which is continuing in Melbourne, saw Judge Anthony Kelly rule that the 34-year-old Serbian was able to stay in Australia and that the government must pay his legal costs and had to release Djokovic from detention within half an hour. However, the Australian government warned that the tennis player could still face deportation.
Djokovic flew into Melbourne last Wednesday hoping to defend his Australian Open crown and seal an unprecedented 21st Grand Slam title. Following Monday's court ruling, he may still be able to compete in the Australian Open as planned.
The world No. 1 was originally exempted from the country's vaccine requirements for unspecified reasons, but this angered many Australians, who have had to undergo some of the strictest COVID lockdowns and rules in the world. Residents of Melbourne alone spent 256 days in 2020-21 under severe restrictions, according to the Associated Press. Foreigners are mainly banned from entering Australia, and those who are allowed in must be fully vaccinated or have a medical exemption.
But upon arrival to Australia on January 6, the tennis player was deemed not to have provided adequate evidence of a medical exemption from being vaccinated. He was held at the airport overnight and interrogated before having his visa revoked and being transferred to a Melbourne immigration detention facility pending deportation. He had been held by border officials until the court ruling on Monday.
The debacle has led to an ugly war of words between Australian and Serbian officials. Serbian President Aleksandar Vučić has called the tennis player's treatment at the border in Melbourne "harassment," while Djokovic's father has compared it to the crucifixion of Jesus Christ. Australian Prime Minister Scott Morrison said on the day of Djokovic's detention that "no one is above these rules."
News.com.au reported on Monday on leaked correspondence that revealed Tennis Australia begged the government to check the visa paperwork for Djokovic and other players months before they boarded planes — a move that could have prevented the visa row.
The leaked letters reveal that Tennis Australia had asked senior federal officials: "Is there scope for Tennis Australia to work with Health or Home Affairs to provide certificates for review a number of weeks prior to their departure dates?"
"Health and Home Affairs are unable to provide or review certificates. Certificates are reviewed at check in," a reply from the Department of Sport stated.
"All travellers who wish to be considered 'fully vaccinated' for the purpose of their travel must provide a vaccine certificate which fulfils the requirements as stipulated above. Travellers need to ensure their certificate is compliant."
COVID Vaccine Exemption
Djokovic's lawyers argued Saturday that the tennis player secured a COVID vaccine exemption from Tennis Australia and the Australian government because he had tested positive for the virus in December, and therefore had some immunity to qualify him to enter the country.
The Australian Border Force said on Friday that after further investigations into two other people connected to the Australian Open, one voluntarily left the country and another was taken into detention pending deportation. The Czech Embassy said one of them was 38-year-old doubles player Renata Voráčová, adding that she won't play in the tennis tournament.
Last week, Australian Open tournament director Craig Tiley said that 26 people connected with the tournament had applied for medical exemptions and only a "handful" were granted.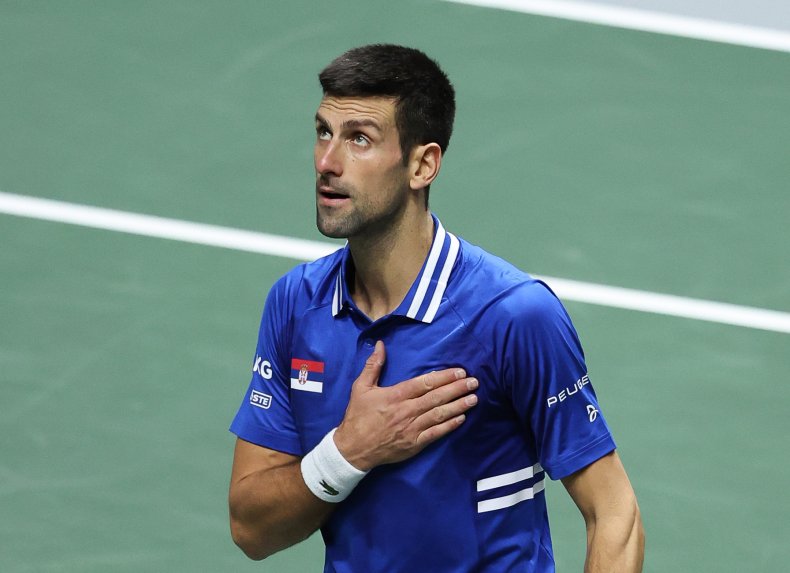 Update at 5:10 a.m. ET: This article was updated to remove the 8 p.m. local time deadline set by the judge and to say that Djokovic may still be cleared to play at the Australian Open.