Novak Djokovic's Father's Video Posing With Putin Supporters Sparks Outrage
Novak Djokovic's father Srdjan has sparked outrage after being filmed posing for pictures with supporters of Russian President Vladimir Putin at the Australian Open.
Srdjan Djokovic was seen standing with a man holding a Russian flag carrying Putin's face. The man was also wearing a T-shirt printed with the pro-war Z symbol.
The tennis tournament, being played at Melbourne Park, banned Russian and Belarusian flags and symbols after a Russian flag was displayed during Ukraine's Kateryna Baindl's game against Russia's Kamilla Rakhimova on the opening day.
Djokovic won through to the semi-final of the men's tournament on Wednesday, after defeating Russian Andrey Rublev. There was a show of support for Putin after the game outside the Rod Laver Arena.
A group of fans wearing the colors of Serbia were seen chanting in support of Russia after their tennis hero took a step towards another Grand Slam final.
Tennis Australia addressed the incident in a statement, which read: "A small group of people displayed inappropriate flags and symbols and threatened security guards following a match on Wednesday night and were evicted.
"One patron is now assisting police with unrelated matters.
"Players and their teams have been briefed and reminded of the event policy regarding flags and symbols and to avoid any situation that has the potential to disrupt. We continue to work closely with event security and law enforcement agencies."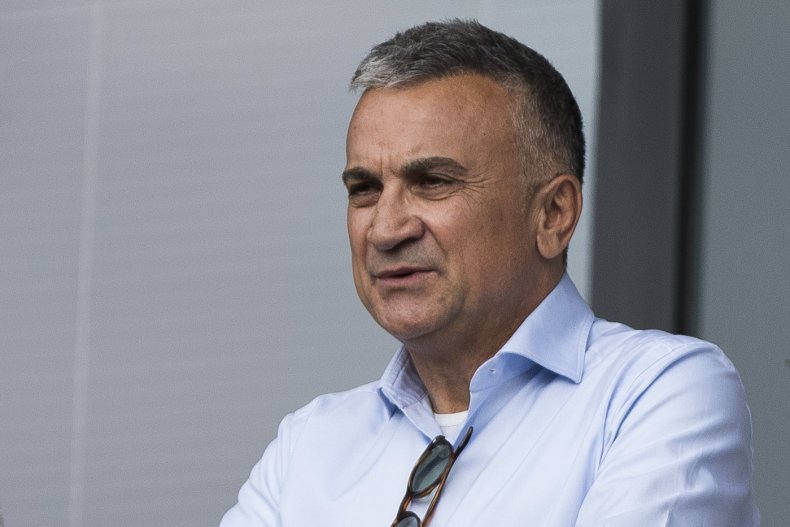 The photos and video have caused outrage on social media, with Ukrainian tennis player Alexandr Dolgopolov leading the attack.
He tweeted about the video and photos: "Absolutely disgusting 🤮Politics should be kept out of sports they said. These people have absolutely no business in being on tennis tournaments, including @DjokerNole father, if they openly praise a genocidal regime."
Another unhappy tennis fan tweeted: "It is a scandal that Russians are allowed to participate in any international sporting events! (The man in the film is Novak Djokovic father). Djoko, @AustralianOpen, I hope you're ashamed!"
A third added: "Srdjan Djokovic father of tennis player Novak pictured with Putin supporters at Aus Open. Think I know who I will not be supporting next time Novak is playing and it definitely will not be him."
While a fourth believed the incident will tarnish Djokovic's legacy, tweeting: "That's why Djokovic will never, ever be the GOAT. Even with 25 Grand Slams. It takes more than just playing tennis to be that. #Russia #Djokovic"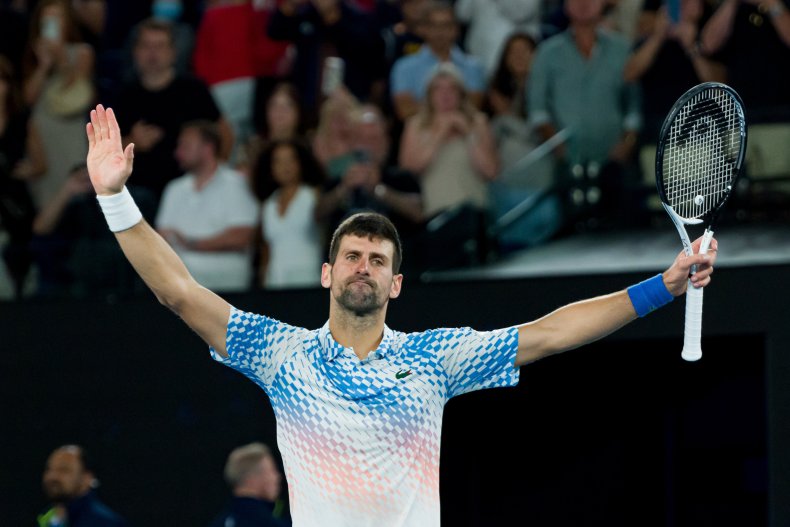 There had been a ban on Russian and Belarusian players at tennis tournaments, with Wimbledon in the U.K. not allowing them to play there last year.
The Australian Open has been a successful one for players from those countries this time around, though they have to play under neutral colors and not the ones of the country of their birth.
In the women's tournament, Belarusian players Victoria Azarenka (who is a two-time winner in Australia) and Aryna Sabalenka both made it to the semi-finals. They will not meet in the final as Elena Rybakina of Kazakhstan knocked out Azarenka on Thursday morning.
On Friday, Russia's Karen Khachanov plays in the men's semi-finals, where he faces Stefanos Tsitsipas of Greece.
Do you have a tip on a sports story that Newsweek should be covering? Do you have a question about the Australian Open? Let us know via entertainment@newsweek.com.