Novavax Explained: How the COVID-19 Vaccine Differs From Previous Shots
Novavax is moving closer to being approved in the U.S. as the newest inoculation against COVID-19, raising hopes that its more established technology will win over vaccine skeptics and increase global vaccination rates.
The Food and Drug Administration (FDA) on Wednesday gave emergency use authorization for the Novavax vaccine. While the vaccine is on track to become the fourth authorized inoculation against COVID-19, public health officials and others say it could play an important role as the pandemic drags on.
Both the Pfizer and Moderna vaccines, the most widely used, rely on messenger RNA (mRNA). These newer technologies prompt the recipient's cells to produce a small amount of the virus that causes COVID-19, generating an immune system response. Johnson & Johnson's one-shot vaccine creates immunity through an adenovirus that carries genetic code on the spike proteins associated with COVID-19. The FDA in May placed limits on the vaccine over concerns of rare side effects, including blood clots.
The two-dose Novavax contains the protein spike of the virus that causes COVID-19 and a Matrix-M adjuvant to boost the immune system's response. Protein-based vaccines are already widely used for other ailments, including hepatitis B and whooping cough.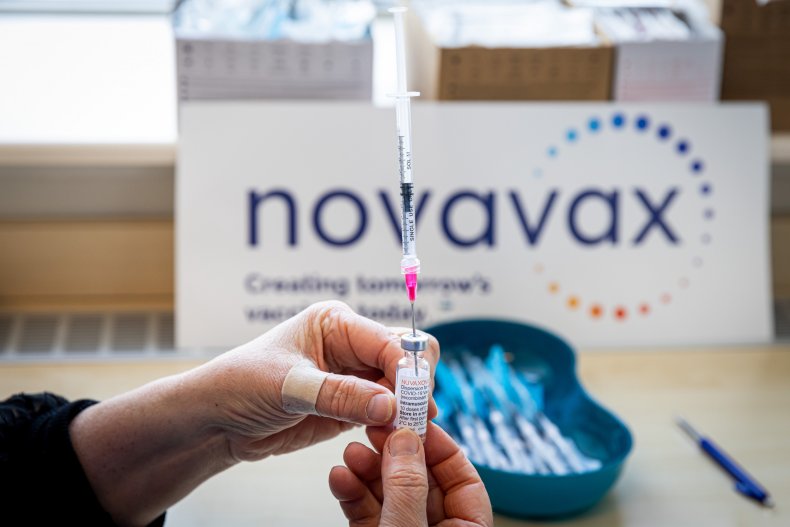 "This authorization reflects the strength of our COVID-19 vaccine's efficacy and safety data, and it underscores the critical need to offer another vaccine option for the U.S. population while the pandemic continues," Stanley C. Erck, president and CEO of Novavax, said in a statement.
The Novavax vaccine is 90 percent effective in preventing mild, moderate or severe COVID-19, according to the FDA. The clinical trial to gain approval was conducted in the U.S. and Mexico before the emergence of the Delta and Omicron variants. But the World Health Organization notes that data suggests it's effective against Delta.
Centers for Disease Control and Prevention (CDC) still needs to sign off on the new vaccine, which has already been approved in 38 countries. But the Biden administration announced this week it had already secured 3.2 million doses of Novavax as it continues its efforts to increase vaccination rates.
About two-thirds of the U.S. population is fully vaccinated, according to the CDC. There are already some indications that vaccine-hesitant Americans will be more receptive to Novavax.
"Novavax relies on more conventional vaccine technology shown in clinical trials to have fewer side effects, but safety of spike protein still in question," vaccine skeptic Robert F. Kennedy Jr. said on Twitter in January.
Nearly half of unvaccinated adults cited concerns about side effects as their reason for not getting the jab, found a survey last year from the U.S. Census Bureau.
Data from trials of the Novavax vaccine also found that it produces fewer side effects than the Pfizer and Moderna shots, reports Medical News Today.
Because Novavax isn't made using fetal-derived cell lines, the company has presented it as an alternative for those opposed to using other inoculations on religious grounds.
The Pfizer and Moderna vaccines need to be stored at ultra-cold temperatures, creating logistical challenges to delivering doses overseas or to remote areas. But Novavax only needs to stored at 2 to 8 degrees Celsius, about the temperature of an average refrigerator.
President Joe Biden said last year that having more vaccines will help efforts to inoculate the populations of India and other developing countries.
"The problem is, right now, we have to make sure we have other vaccines, like Novavax and others, coming on, probably," he said.
Last year, Dr. Ashish Jha, who was later appointed White House coronavirus response coordinator, said in a tweet that "Novovax [is] essential to vaccinating the globe."
Newsweek has reached out to the Biden administration for comment.