British Prime Minister Boris Johnson always had a fondness for Winston Churchill and a more than incidental similarity in gusto, mannerisms and even physique, at least until his recent health kick.
Johnson had already written a biography on the war-time leader by the time historian Andrew Roberts, a Conservative himself, said that the prime minister was inspired by "Churchill's spirit of 1940" in his handling of the COVID-19 crisis.
Whether or not Boris Johnson is Churchillian is argued—loudly and often—from both sides, but the ruling Conservative government does have a Churchillian task on its hands to repair the economy and get things back to a "new normal."
In this "new normal," where war metaphors are thrown around regularly, there is one date that sticks out in the calendar as a D-Day for Britain's future—November 1.
It is the first day after the end of the furlough scheme, where workers have been at least partially kept in work with the government paying their wages; it is the day after the current deadline for Brexit trade deal negotiations to conclude; it will be towards the start of an increase in COVID-19 cases expected alongside a spike in flu as cold weather forces more indoors; it's the date the Christmas marketing campaigns begin which retail has traditionally relied on; and, if previous years are anything to go by, will be the week after the Budget 2020 statement by Chancellor of the Exchequer Rishi Sunak, where government spending plans for the next financial year are revealed.
So what happens then? And will anything be answered for sure?
"The end of October is a cliff-edge in many ways," Carsten Jung, senior economist for progressive thinktank IPPR, tells Newsweek.
"The big unknown is where the economy is going to be this autumn. People thought we would have a quick, V-shaped recovery but it's now looking slower. Will the economy have sufficiently recovered by the time the support schemes are ended?"
Britain's furlough scheme has already cost around £40bn ($54bn) to the British taxpayer, with little or no way of recouping that money directly. Germany introduced a similar "Kurzarbeit" part-time working scheme, which has just been extended to 24 months at an estimated extra cost of €10bn ($11.9bn).
The British scheme, while broadly welcomed across the political spectrum, is seen as unsustainably expensive. It would cost up to £14 billion-a-month to reinstate in its existing form and is seen by some to be just delaying the inevitable—a sharp spike in unemployment as the "Pret economy," as one Financial Times columnist put it, continues to struggle.
Unemployment is likely to reach at least 2.5 million, around 7.5 percent of the total workforce, according to the Bank of England. That's not unprecedented, even being higher in the last decade in the aftermath of 2008's global economic crash, but the number of people temporarily out of work has been.
"Recovery isn't here yet and withdrawing the schemes early somehow pretends recovery's here and that's a recipe for disaster," Jung says.
"At the end of October, up to three million people might still need the support of the scheme. When the scheme is withdrawn, these people would fall into unemployment. That's a huge increase."
The graphic below, provided by Statista, illustrates the cost of claims made under the U.K.'s job rention scheme.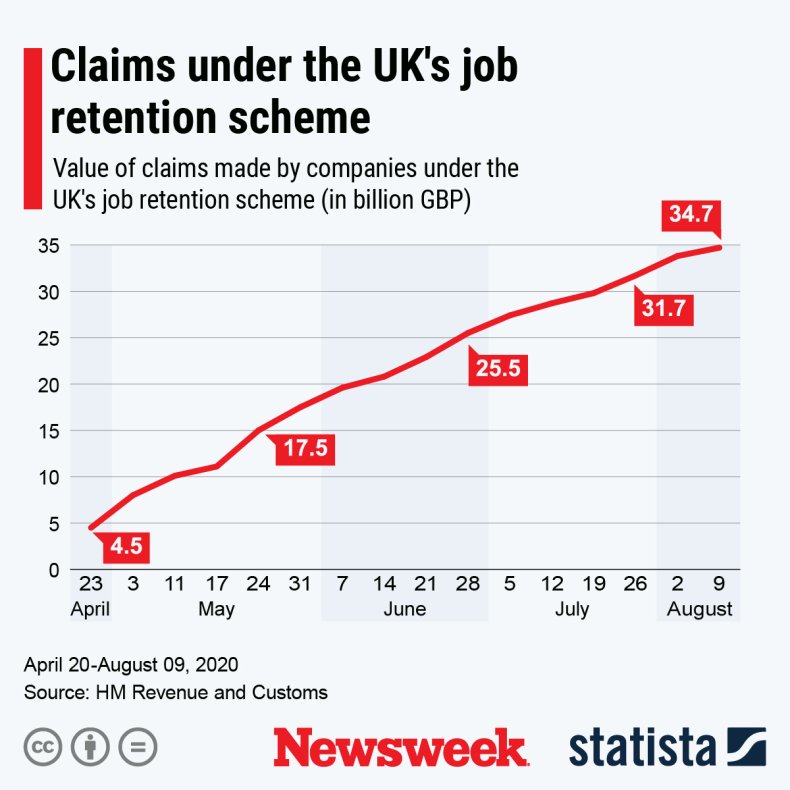 Approximately 7.5 million people were temporarily out of work in June, either on the furlough scheme or otherwise, and it is being taken as a possible worst-case scenario for job losses, around 22 percent of the total workforce. This would mirror record highs of nearly 20 percent unemployment seen in the U.S.
But Britain has even more on its plate. The 2020 Budget is a balancing act for British Chancellor Rishi Sunak and a vital piece of Boris Johnson's political puzzle.
Retail spending is back to pre-COVID levels, according to the Office for National Statistics, but debt is very high. Debt as a percentage of GDP has nudged above 100 percent for the first time since the 1960s so Sunak is left trying to balance the books in a very difficult position.
The Conservative Party traditionally advocates small government, low taxes and a budget surplus. But given record spending already in 2020 and rumors around Westminster about tax increases, that tradition is likely to be thrown out of the window.
"Even a Treasury source admitted that the political reality is that 'the only place you get the money is from the better-off,'" Nigel Green, CEO and founder of financial consultancy DeVere Group, has said.
"It's clear the Budget will deliver a considerable financial hit for higher earners. Sunak should resist the simple 'soak-the-rich' measures. He should not try to tax his way out of the downturn—instead, he must drive long-term sustainable economic growth policies. Whilst this way would be more effective, it is harder to do both economically and politically, and is, therefore, unlikely to happen."
This gets worse if a so-called second wave of COVID-19 cases, seen in parts of France and other parts of Europe, hits the U.K.
England's Chief Medical Officer Chris Whitty has already warned that the limit of what can be opened safely has been reached so as schools reopen, other businesses might have to close.
It is here on the economy where the comparison with Churchill hits the rocks. He was trusted to win World War II by the British public but was voted out as the opposition Labour Party promised to "win the peace" with the introduction of the Welfare State.
This came after Churchill as chancellor in charge of the economy in the 1920s was responsible for placing Britain back onto the gold standard. This was a big factor, economist John Maynard Keynes believed, in causing the Great Depression.
The advantage for the Conservatives is that the next general election is still far away, scheduled for May 2024, so they have time to prove the policies they think can work will work. Of course, if they don't work, there will be nowhere to hide as the impacts will already be fully felt.
This is also true of Brexit, Britain's withdrawal from the European Union, already concluded in an official sense but there is a lot of debating still to do before the transition agreement ends at the end of 2020.
The European Union's chief negotiator Michel Barnier has set the deadline for October 31 for negotiations to conclude and a deal can be in place so it can be passed through before the end of the year.
There is so much rhetoric that should be taken with a pinch of salt but both sides have said they are willing to walk away without a deal.
"An agreement is still possible and this is still our goal, but it is clear it will not be easy to achieve," the prime minister's spokesperson has said, admitting it was "very difficult to make progress."
Without a deal, Britain moves from free trade with the EU, its biggest trading partner, to World Trade Organization (WTO) rules, with quotas introduced and restrictions put in place.
There are many more issues for Boris in November, including when the U.S. formally withdraws from the Paris agreement on climate change on November 4, as Extinction Rebellion protests about the climate continue in the U.K. November also marks the start of the Christmas period of retail which has traditionally accounted for over 20 percent of annual retail sales. That will be a test of whether retail sales really are back to pre-COVID levels.
And there are six pre-existing problems for the economy that need addressing, according to the independent Institute for Fiscal Studies, including poverty, living standards and productivity. Those issues have not gone away.
While it might not be a fight on the beaches or on the landing grounds, November 1 will be a key point of Boris Johnson's time as prime minister, whether he lasts in the role for over a decade or, as Newsweek has previously reported, he resigns or is removed much earlier.
If Boris really is to become "Churchillian," this era of politics will not be that dissimilar to the thinking seen in World War II.
"I think that no idea is so outlandish that it should not be considered and viewed with a searching, but at the same time, I hope, with a steady eye," Churchill famously said in 1940.
Johnson is hoping for an outlandish idea that allows Great Britain to stand out above everyone else.